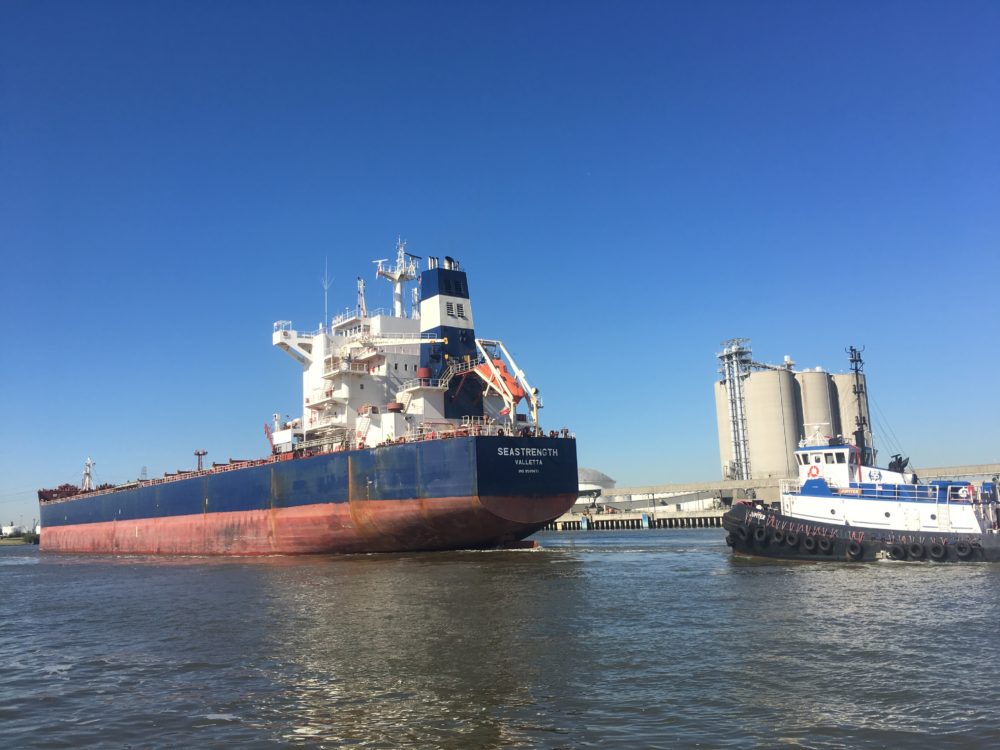 The U.S. Coast Guard is letting about one ship per hour through the closed stretch of the Houston Ship Channel and inspecting them for any contaminants on the outside.
On Monday, six ships went through and none of them were found to have any oil on them, USCG Lt. Cmdr. Caren Damon said.
The Coast Guard closed a stretch of the ship channel downstream from the ITC Deer Park facility on Friday after gasoline chemicals from the burned-down facility leaked into the water.
This means more than 50 ships are in waiting mode, and refineries and businesses are not receiving or getting out their product.
Maria Burns, director of the University of Houston's College of Technology, told the Houston Chronicle this could cost industry that relies on deliveries about $1 billion (News 88.7 reached out to Burns directly and through a UH spokesperson but did not hear back by deadline).
But Captain Bill Diehl, president of the Greater Houston Port Bureau believes it won't do much harm in the long term.
"All it is is that the commodities back up and it takes us a little couple days to unwind once the ship channel opens again," he said.
Patrick Jankowski, regional economist with the Greater Houston Partnership, said there will be some costs as a result of the days-long closure.
"There will be increased fuel costs as you rev up the engines, there may be penalties for the delay each day something is delayed for shipment. There will probably be some cargos that will be routed somewhere else," he said. "But by and large, if you've got a contract to deliver crude to a refinery in the ship channel, or plastics to a plant on the ship channel, I mean, there are not that many other places you can deliver it to in the U.S."
The industries along the Houston Ship Channel are affected, Jankowski said, but probably only in the short term.
"Maybe you produce 400 barrels of gasoline a day or something like that and now you're not and so for the near term you don't do that," Diehl said. "But once you get the oil, then you're back up, you push a little more."
Refineries can also draw from storage tanks along the ship channel.
"The products, whether it's coming in from the Permian [Basin], domestically, into the port, it can be put in a tank while maybe a ship delay or if the ship can't get here, we can draw down those tanks also," Diehl said.
But who is definitely affected are the ship channel pilots. Diehl said they are paid by the job, and many of them are unable to finish theirs right now.