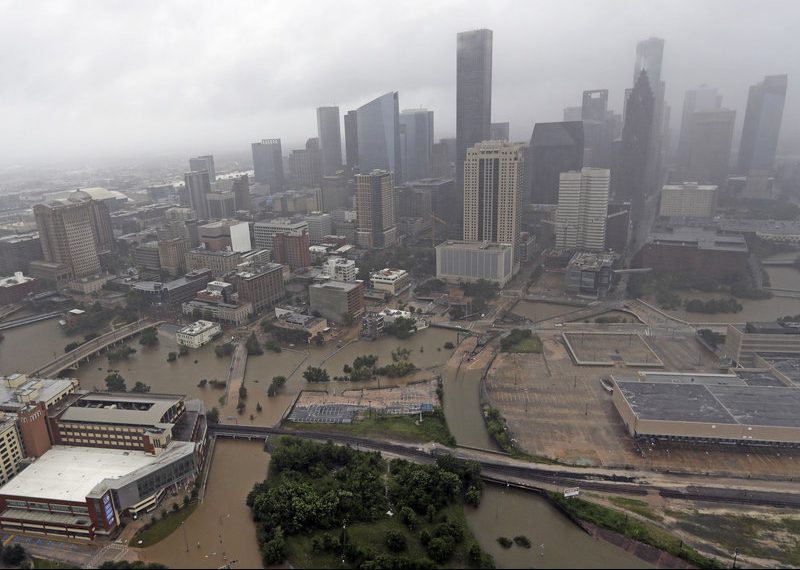 More than 475,000 people in Harris County currently live in multi-family units that are located in a flood risk area, according to a new report by the Greater Houston Flood Mitigation Consortium.
The study looked at how flood risk is exacerbating the challenge of finding safe, affordable housing in Houston, especially in the wake of Hurricane Harvey, which damaged thousands of units across the county.
"What we heard from our focus group participants was that good properties outside of a flood risk area were becoming increasingly out of reach, particularly for affordable housing," said Susan Rogers, one of the study's co-authors and the director of Community Design Resource Center at the University of Houston. "I think though we need to focus, particularly for low income and vulnerable families, on areas that are outside of risk. Because just losing a car can propel a family into an economic crisis."
According to the report, 165,793 units – 26 percent of all multi-family units – are located within a floodplain.
The researchers said they focused on renter households, in part because they represent a significant chunk of the population. Currently, 45 percent of households in Harris County are renters. That number is even higher in the City of Houston, with 57 percent of households renting.
"Many of those renters are from very low and extremely low income households, and that supply is not keeping up with the demand and so it's creating a very big challenge, which is amplified by the flood risk," said Kyle Shelton, one of the report's co-authors and the director of strategic partnerships at Rice's Kinder Institute for Urban Research.
The report found that half of the renting households in Harris County spend more than 30 percent of their incomes on housing.
The researchers also looked at four neighborhoods in greater depth: Greenspoint, Gulfton, Northshore and Westwood/Alief.
"Fifty percent of the units in those neighborhoods are in a flood risk area," said Rogers. "There's not a single one of those neighborhoods where fair market rents are affordable to the people who call them home."
Roughly two thirds of all renter households in those four areas made less than $35,000 a year.
Greenspoint was one of the areas hardest hit by Harvey, with over 3,000 units impacted. It's also one of the areas with the biggest gap between median hourly wage and the wage needed to afford fair market rent, according to the study.
"Even if you're on the second floor in a flooded apartment, you've lost your car, potentially access to work and a number of other things" said Rogers.
A widening gap
The report found a growing gap between the supply and demand of affordable housing in Harris County. "Based on historic and projected demolition and construction, the Harris County region is falling behind on protecting and constructing new affordable housing, squeezing the most vulnerable families even before another disaster hits," reads the report.
For example, each year the county loses an average of 1,850 multi-family units due to demolition. On top of that, between 1990 and 2017, the average number of new units being built each year (6,112) lagged the average number of new renting households (7,946).
To tackle this widening gap, the report proposes a three-pronged approach: preserving existing affordable housing, building new affordable units, and protecting vulnerable families from flood risk.
"The affordable housing challenge is not just a housing challenge," said Rogers. "It's also stagnate incomes, people not making enough money to be able to afford housing and a number of other challenges that hit housing from a different direction."
In a statement issued in response to the study, Houston Mayor Sylvester Turner said: "Many of the recommendations cited in the report are already being implemented in some form, from building more affordable housing to creating land trusts to ensure long term affordability."
A full copy of the report can be viewed, here.