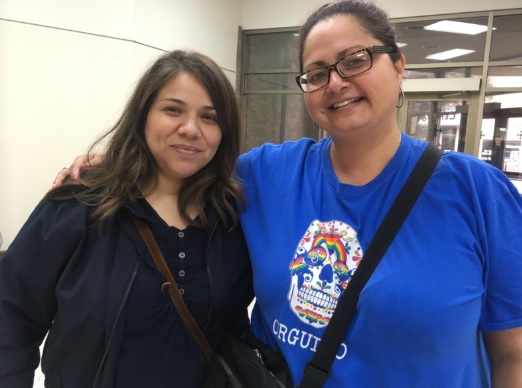 Kirstjen Nielsen, the secretary of Homeland Security, visited the Rio Grande Valley on Thursday to meet with local law enforcement.
Nielsen was scheduled to meet with more than two dozen sheriffs in McAllen as part of a roundtable discussion. They'll discuss their involvement in the 287(g) program, which allows local and state law enforcement to collaborate with immigration officials.
Nielsen will also discuss operational challenges and outline strategic objectives.
But local activist Gabriela Zavala hoped the conversations touched on more than just policy.
"I wish that they would visit and see what we see, talk to the people that we see and see the situation that's really at hand," Zavala said, who assisted migrants at the McAllen bus station. "I think it would change their perspective of the types of policies that they're passing."
This week the federal government announced they would release detained migrant families in the Rio Grande Valley Border Patrol Sector because Customs and Border Protection said they don't have enough space.
"The current increase in RGV apprehensions has resulted in the limited availability of space in the RGV Central Processing Center and Stations," said CBP in a statement. "To mitigate risks to both officer safety and vulnerable populations under these circumstances, and due to limited bed space, CBP will begin releasing families in the RGV Sector with a Notice to Appear (NTA) / Own Recognizance (OR)."
Some local organizations and Valley residents, like Ricardo Garza, a staff attorney with the Texas Civil Rights Project, question the timing of the mass release of people as Nielsen arrives on the border.
"The attempt to paint the border as some kind of warzone when we know that it is not something new for this administration and for this government," said Garza. "I wouldn't be surprised if that was their intent."
The Texas Civil Rights Project also tweeted about CBP's recent move and said it appeared to be a manufactured crisis.
"In last year's family separation crisis, CBP and DHS sent parents apprehended in South Texas all over the country because of alleged spacing issues," the tweet read. "There is nothing to indicate that things are different now in terms of capacity."
As recently released migrants waited to board a bus to their next destination, some held bags of clothing from local support organizations.
Cindy Candia-Luna is a cofounder of Angry Tias and Abuelas, which advocates for asylum seekers. Candia-Luna helped migrants at the bus station and answered their questions about their upcoming trips. She also gave them a list of phone numbers for legal aid attorneys for when they arrive at their final destination.
Candia-Luna said she's happy families are being released, but didn't like the way it was done.
"They get released here at Catholic Charities in McAllen and she [Sister Norma Pimentel, executive director of Catholic Charities Rio Grande Valley] doesn't even get aid from the government," Candia-Luna said. "The numbers are out of control."
Helping migrants is something Candia-Luna feels personally.
"I usually say 'I'm sorry for what we did to you, for what our government did to you,' " Candia-Luna said. "I did that in a summer, and it was tough, but they deserve an apology for the way that our government treated them."
CBP said it will continue to work with local and state stakeholders as well as NGOs while the temporary measures are in place.