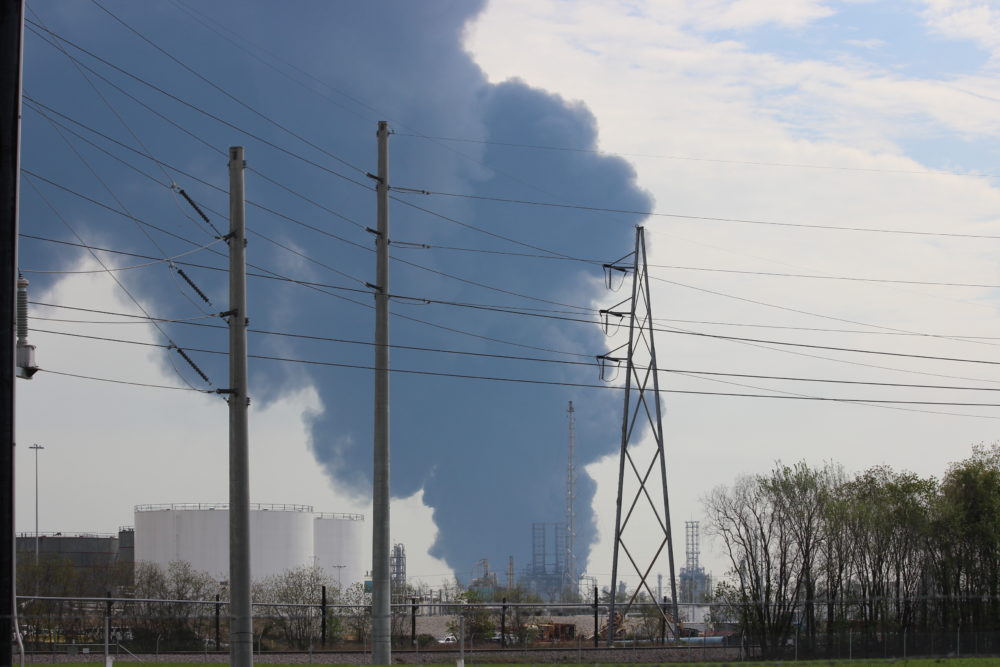 Updated on Thursday, March 21, 2019, at 6:50 p.m.
Experts are evaluating whether the fire at the Deer Park facility owned by Intercontinental Terminals Company (ITC) has impacted the Houston Ship Channel and bayous in the Houston region, the unified command that's responding to the incident said on Thursday. The facility is located about 20 miles east of Houston.
The unified command includes the City of Deer Park, the Texas Commission on Environmental Quality (TCEQ), the Environmental Protection Agency (EPA), and the U.S. Coast Guard.
They said the Captain of the Port will take immediate action to cease operations in the impacted area if air or water sampling indicates a safety risk to operations on the Houston Ship Channel.
TCEQ is sampling water from Tucker Bayou to the Houston Ship Channel and at drainage outfalls adjacent to the facility.
The collected samples were first submitted by TCEQ's contractor to a certified water laboratory early Wednesday. But results for certain compounds can take 24 hours while others can take as long as 72 hours, to be processed and finalized. EPA began collecting water samples in Tucker Bayou also on Wednesday, and in Buffalo Bayou on Thursday.
Teams are looking out for and working to contain any chemicals that may be coming from the site, which include the industrial chemicals stored there and firefighting foam used to fight the fire and suppress vapors.
Water quality
The city of Deer Park said that run-off of foam and chemicals resulting from the fire response do not pose a threat to the quality of the city's drinking water. Laboratory testing of the city of Deer Park's water revealed no evidence of benzene. However, the city said that Deer Park residents who use wells north of Texas State Highway 225 should have their water tested before using.
Earlier on Thursday, the cities of Deer Park and Galena Park lifted the shelter in place orders they had issued in the morning due to increased levels of benzene caused by the massive fire at a petrochemical storage facility located in Deer Park.
Robert Hemminger, Emergency Services Director with the City of Deer Park, said the order had been lifted because of a "sustained period of improved readings."
"According to the Texas Commission on Environmental Quality (TCEQ), Harris County HAZMAT teams and a private contractor on-site at Intercontinental Terminals Company (ITC) Deer Park site, air quality readings are improving, and over the last few hours, they have been significantly reduced," Hemminger said in a news release. Harris County Public Health supported the lifting of the shelter in place order.
The City of Deer Park is officially lifting its Shelter-in-Place order as of 11:40AM. Please see the attached message…. pic.twitter.com/S8SMcYzcMC

— City of Deer Park (@DEERPARKTXGOV) March 21, 2019
Shelter-In-Place lifted in the City of Galena Park.
Esmeralda Moya, Mayor

El estado de "Refugio en sus Lugares" ha sido desactivado en la Ciudad de Galena Park.
Esmeralda Moya, Alcaldesa pic.twitter.com/xBRegiGNrQ

— City of Galena Park (@CityGalenaPark) March 21, 2019
The Department of Health and Human Services has determined that long-term exposure to benzene causes cancer in humans.
ITC spokeswoman Alice Richardson said at a news conference held at 11 a.m. the company believed the increased emissions of benzene could have been caused by a leak in one of the tanks that was compromised in the fire and lost its roof.
She said the wind could have removed part of the foam blanket that covered the tank. It contains pyrolysis gasoline, which has benzene. Response crews were applying more foam to contain the emissions.
Harris County officials said the National Guard and hazardous materials teams were assisting with the clean-up and air monitoring around the ITC facility.
The fire was extinguished on Wednesday around 3 a.m., but a flare occurred on Wednesday afternoon. It was put out by firefighting crews.
The Harris County Office of Emergency Management (OEM) said in a statement put out on Thursday morning that benzene readings had crossed the county's "very conservative air quality standards," which are based on the standards set by the Occupational Safety and Health Administration (OSHA).
Emergency officials said the level of benzene detected should not cause symptoms even in the area impacted.
ITC said in a news release that onsite responders were "reporting increased levels of benzene." The company said the benzene levels were "below those that represent an immediate risk."
Harris County Judge Lina Hidalgo said at a news conference held early on Thursday that the "the possibility of vapor escaping is one we accounted for, just as the possibility of flare ups." She said the county and other agencies continue monitoring the air quality.
You can watch Judge Hidalgo's news conference here:
LIVE: Harris County Judge Lina Hidalgo gives update on air quality in east Harris County. https://t.co/1hLZqT6JuN

— Office of Homeland Security & Emergency Management (@ReadyHarris) March 21, 2019
Environmental groups said residents who live near the facility have experienced various symptoms, including headaches, nausea and nose bleeds. According to the Centers for Disease Control and Prevention (CDC), long-term exposure to the highly flammable chemical causes harmful effects on the blood.
Emergency responders continue to monitor air quality as ITC coordinates its response with the Environmental Protection Agency, the TCEQ, Harris County, and other federal, state and local agencies.
Posted 10 a.m.: Trending graphs showing air quality data from the area around the Intercontinental Terminals Co. fire are available on our incident webpage: https://t.co/02MGzl3zy8 pic.twitter.com/RExNSDfe16

— Texas Commission on Environmental Quality (@TCEQ) March 21, 2019
School canceled in Deer Park, La Porte and Pasadena
The Deer Park, La Porte and Pasadena school districts canceled classes for Friday, March 22, as a precautionary measure.
You can visit the website readyharris.org/deerparkfire to obtain real-time information about air quality readings and obtain tips on public health.
The Ask My Nurse hotline by Harris Health System is open from 8 a.m. to 8:30 p.m. 7 days a week. The number is 713-634-1110 and nurses on the line will help with questions about sign and symptoms.
If you have any health concerns or symptoms you believe may be related to this incident, you should contact your personal physician, the Poison Control Center (1-800-222-1222) or 911.
ITC released a report on air quality written by the Center for Toxicology and Environmental Health (CTEH), a company they hired.
You can read the report by CTEH here: