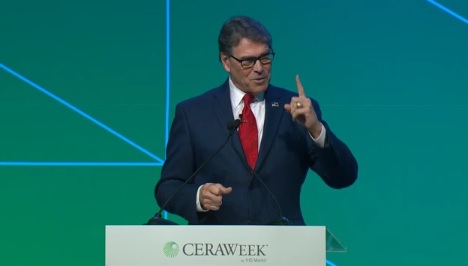 U.S. Energy Secretary Rick Perry says the United States has entered a new energy era thanks to innovation and openness to foreign markets. He was in Houston on Wednesday speaking at CERAWeek, a week-long annual event that gathers worldwide leaders and experts from the energy sector.
Perry, the longest-serving Texas governor who held the office from 2000 until 2015, commended the growth of renewable sources of energy in the Lone Star State. "Texas now produces 15 percent of its total energy from wind and solar," he said. "That is more, percentage wise, than our friends in Europe."
Perry also talked about projections that the United States will become a net oil exporter in the next two years, touting it as an achievement that proves the nation's progress.
He also pointed out increasing exports of other energy sources and noted that "today we export American LNG (Liquefied Natural Gas) into 34 countries spanning five continents. U.S. coal exports had their second best year ever."