The Houston Police Department and other law enforcement agencies from the region arrested 156 parole violators during a two-week special operation conducted in February. The operation is the second since HPD Chief Art Acevedo announced a multi-agency initiative to focus on felons who have violated the terms of their parole.
The initiative was launched partly due to the crime spree committed in July 2018 by Jose Gilberto Rodriguez, a parolee who cut his ankle monitor.
This year's operation was conducted from February 11 to February 24. "We have saved lives as a result of this effort. We're going to save lives as a result of this effort," said Acevedo during a news conference held at HPD's headquarters.
As part of the ongoing collaboration, the Texas Department of Criminal Justice is sending more information about parole violators to HPD's command center, particularly about those who are deemed the most dangerous and have cut their ankle monitors.
Acevedo said the plan is to conduct these special operations every three months. "We bring up our game to a higher level during those two weeks," the chief said, although he added each participating agency also arrests parole violators on a regular basis.
Here is a breakdown of the arrests: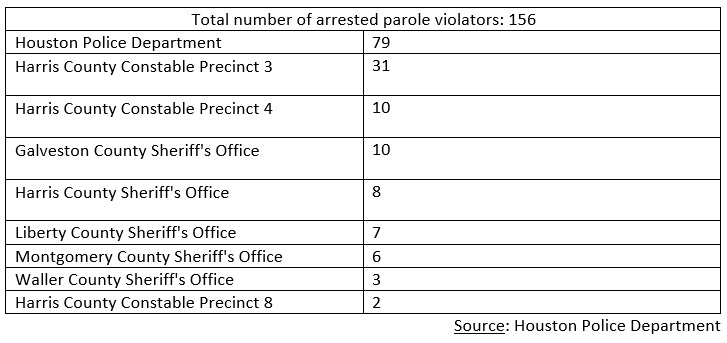 You can watch Chief Acevedo's news conference here:
HPD Chief @artacevedo & area law enforcement announce results of parole violator roundup #hounews https://t.co/H8jaS5Vm7k

— Houston Police (@houstonpolice) March 12, 2019