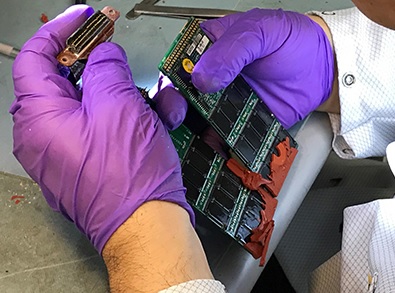 The pilots of the cargo plane that crashed into Trinity Bay on February 23 lost control of the aircraft approximately 18 seconds before the cockpit voice recorder (CVR) stopped recording, according to the investigation the National Safety Transportation Board (NTSB) is conducting.
The NTSB said in a news release that the review of the cockpit voice recorder also indicates the crew of Atlas Air Flight 3591 were in communication with Houston air traffic controllers and were being provided radar vectors for the approach into Bush Intercontinental Airport.
NTSB investigators are also validating the data recorded by the flight data recorder, which arrived at the agency's lab on Sunday night.
Technical experts in the CVR group will convene in the coming week to review the entire recording and produce a transcript of the audio.
Emergency workers have recovered the bodies of two of the three people who were aboard the plane. Those were of 44-year-old first officer and co-pilot Conrad Aska and 36-year-old passenger Sean Archuleta.
The Chambers County Sheriff's Office reported over the weekend that partial remains recovered last week from Trinity Bay are those of 60-year-old Capt. Ricky Blakely. He was piloting the airplane, which was carrying packages for Amazon and the U.S. Postal Service from Miami to Houston.