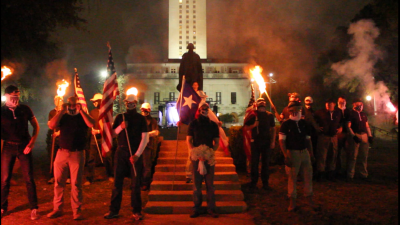 Activity by white supremacist groups spiked nationwide over the past year. One of the most active is a Texas-based organization with Houston ties.
The Anti-Defamation League tracked 1,187 instances of propaganda by white supremacist groups in 2018, nearly triple the number in 2017. More than a quarter of those stemmed from one Texas group: Patriot Front.
"It's an alt-right group. It's a relatively new group that started last year. Their founder and leader is a guy named Thomas Rousseau who's from Dallas," said Dena Marks, senior associate director of the ADL's Southwest Regional Office. Patriot Front leaflets campuses and neighborhoods and organizes flash demonstrations.
"There was one that happened last year at an ice house on West Alabama, where some Patriot Front members came in and started yelling at people who were holding an immigration information session there," Marks said. She asks that anyone finding Patriot Front flyers notify the ADL.