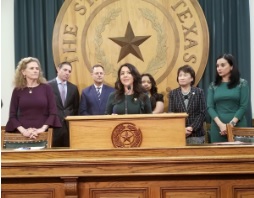 Texas lawmakers want to end a backlog of untested rape kits. A bipartisan bill introduced Tuesday aims to help thousands of women find justice and closure. The legislation is named after a sexual assault survivor who was denied justice after waiting decades for her evidence to be tested.
Lawmakers first learned about the backlog of untested rape kits in 2011. After hearing reports of women having to wait decades, the legislature passed a bill requiring a statewide audit of all untested rape kits. At the time, the backlog neared 20,000.
Lawmakers during the 2017 session passed legislation aimed at reducing the backlog. It ranged from a tracking system for each individual rape kit to a crowdfunding effort that raised more than half-a-million dollars towards expediting the testing of evidence.
But advocates said a large backlog remains. Dallas State Representative Victoria Neave is hoping to do more this session so that survivors are able to see justice before the statute of limitations ends.
"Every rape kit is not just a number sitting on a shelf. Every rape kit represents a survivor. Every rape kit tells a story," Neave said.
She introduced a bill named after Lavinia Masters. In 1985, then 13-year-old Masters was raped in the middle of the night in her family's Dallas home. Her case and the DNA collected sat on a shelf for 21 years.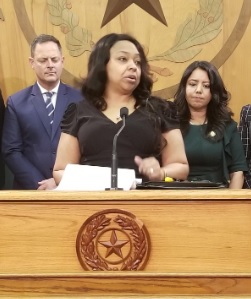 "My evidence on my life sat on a shelf, waiting, and I sat alone the darkness, alone, afraid, terrified, traumatized, wondering when would my first responders come to my rescue," Masters said.
After decades of waiting, Masters learned from investors that her case had gone beyond the state's statute of limitations of 10 years, and the man that raped her had sexually assaulted two other women before he was arrested.
Masters hopes her story will inspire lawmakers this session to pass additional legislation aimed at ending the backlog and inspire other survivors to seek justice.
Women like Danielle. She's a junior at the University of Texas at Austin who asked that Texas Public Radio not use her full name for fear of being ostracized by family and friends.
"Before college, my freshman year, I went to a fraternity party, and I started talking to a boy. He invited me up to his room. I had never drank before college so I was very drunk for one of the first times in my life, and I told him I didn't want to have sex but he did it anyway," Danielle said.
She said between the invasive procedure of collecting evidence for a rape kit and hearing news stories of the state backlog that year, she decided not to report her sexual assault.
"Because with that wait period it would take so long, and that's not something I was prepared for," she said.
Danielle said she didn't want to have to replay that night over and over again in her head because she expected to wait years to have evidence from her case tested.
"These processes really do cause a lot of re-traumatization and are just really hard on the survivor in general," Danielle said.
Neave hopes to help restore survivor's faith in the system by spearheading an effort this session to ease the backlog of rape kits and future delays with bipartisan legislation like House Bill 8.
"Sexual assaults happen everyday, so we need a new update on the audit. So that's part of the testing. We also have timelines for testing and analysis for the newly collected kits," the representative said.
House Bill 8 also calls for prohibiting law enforcement agencies from destroying rape kits related to an uncharged or unsolved case until the later of: (1) the length of the statute of limitations or (2) 50 years. Additionally, the legislation proposes to toll the statute of limitations for sexual assault and aggravated sexual assault until the rape kit is tested and increase the time that the Texas Department of Public Safety maintains rape kits classified as "non-reports" from two years to five years.
Neave has also introduced two other bills to help victims of sexual assault. House Bill 616 calls for allowing health care facilities or individual Sexual Assault Nurse Examiners (SANE) nurses to apply for direct reimbursement for forensic sexual assault exams from the Crime Victim Compensation Fund. According to the representative, that would streamline the reimbursement process and allow for faster reimbursement for health care facilities and less administrative burdens for law enforcement.
House Bill 282 requires law enforcement officers to be trained on trauma-informed interviewing techniques when speaking to survivors of rape and sexual violence.
During his State of the State address, Gov. Greg Abbott prioritized the passage of legislation aimed at ending the backlog of untested rape kits and forensic evidence.
Lawmakers will hear testimony on these bills sometime in the next two weeks.
Ryan Poppe can be reached at RPoppe@TPR.org and on Twitter at @RyanPoppe1.