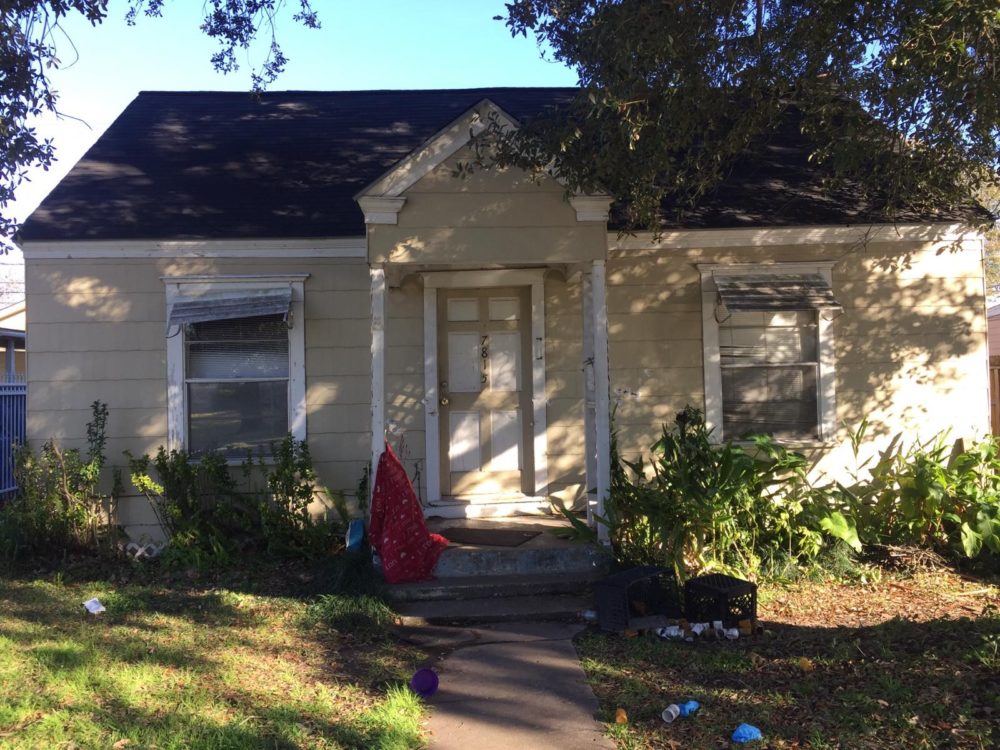 It started with news of a drug raid gone terribly wrong in southeast Houston.
The two homeowners were killed and five Houston police officers were wounded during a shootout, while serving a search warrant.
Now, the FBI is investigating what happened, the lead officer in the raid and his partner are facing criminal charges and the Houston Police Department has announced sweeping changes.
Below is a timeline of events and what we know so far:
January 28:
Shortly before 5 p.m., undercover officers with the Houston Police Department's narcotics division execute a no-knock search warrant at 7815 Harding St. in the Pecan Park neighborhood in southeast Houston.
According to HPD Chief Art Acevedo, the first officer who made entry was attacked by a pitbull and shot and killed the dog.
Acevedo says Dennis Tuttle, the homeowner, shot at that first officer with a .357 Magnum revolver and hit him in the shoulder. When the officer fell onto a couch in the living room, Tuttle's wife, Rhogena Nicholas, "started making a move for" the officer's shotgun and was consequently shot and killed by another officer.
Tuttle was killed in the continuing shootout. Four officers were shot – two of them in the face, one in the neck and one in the shoulder – and one suffered a serious knee injury that required surgery.
At a press conference about the raid with Chief Acevedo and Mayor Sylvester Turner, Houston Police Officers Union President Joe Gamaldi becomes angry about the officers shot and appears to threaten people critical of police:

"We are sick and tired of having targets on our back," he says. "We are sick and tired of having dirtbags trying to take our lives when all we're trying to do is protect this community and protect our families. Enough is enough... If you're the ones that are out there spreading the rhetoric that police officers are the enemy, just know we've all got your number now, we're going to be keeping track of all of y'all, and we're going to make sure that we hold you accountable every time you stir the pot on our police officers."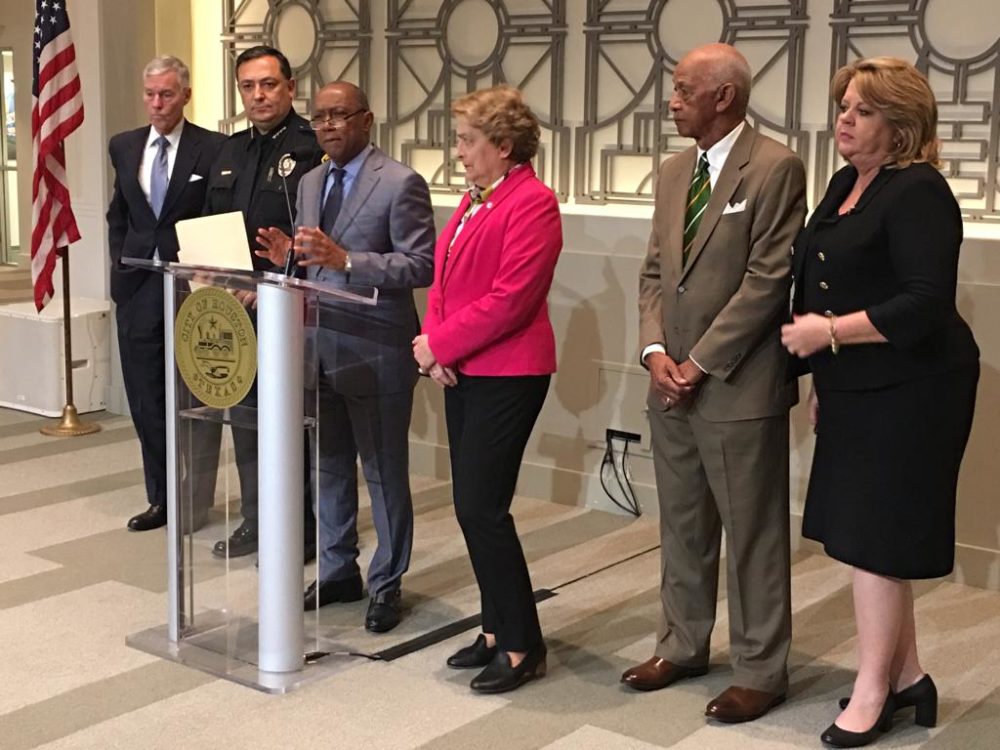 January 29:
Neighbors and family members of the killed couple paint a picture of them that doesn't fit those of dangerous drug dealers.

"I don't buy it at all," Tuttle's sister, Elizabeth Ferrari, told the Houston Chronicle. "Not one hot minute."

"When you're scared, when someone knocks down your door, of course, you're going to react," one neighbor told ABC13.

At a press conference at Memorial Hermann Hospital, Chief Acevedo reveals officers found marijuana and a white powder – which later turned out to be cocaine – at the house. No other drugs were found.
January 30:
Chief Acevedo releases the search warrant for the no-knock raid on Twitter. The officer who signed the affidavit wrote that a confidential informant purchased heroin from the house at 7815 Harding St. and told police that he saw more in there as well as a semi-automatic handgun.
The warrant gives officers permission to enter the house without first announcing themselves based on probable cause that knocking "would be dangerous, futile, or would inhibit the effective investigation of the offense."
January 31:
Acevedo says HPD had received a call from someone who said her daughter was doing drugs in the house and that there were drugs and heroin, which started an investigation into 7815 Harding St.
Addressing HPOU President Gamaldi's comments, Acevedo says they were "over the top" and not helpful in the police department's relationship with the community.
He says HPD's internal affairs division and the Harris County District Attorney's Office are investigating the operation.
February 7:
The Houston Police Officers Union confirms that one officer connected to the raid is relieved of duty pending the investigation.
February 9:
The search warrant return shows property seized from the raid includes 18 grams of marijuana, 1.5 grams of cocaine, two shotguns and two rifles. Again, no heroin and no handgun.
February 15:
Documents show the lead officer in the raid, Gerald Goines, is accused of lying on the affidavit to obtain a search warrant. Goines' informants that internal affairs investigators spoke with deny having ever been to the house on Harding Street, let alone having made a drug buy there.
Acevedo says he expects criminal charges.
February 18:
At a town hall meeting with Chief Acevedo and Harris County DA Kim Ogg, frustrated community members and activists request the end of no-knock search warrants and criminal charges for all officers involved in the fatal raid.
February 20:
At a press conference, Acevedo announces the FBI has opened a civil rights investigation into allegations that the search warrant was based on fabricated information.
A new HPD policy goes into effect, requiring no-knock search warrant requests to be approved by the chief first.
Acevedo says the department will move quickly to equip SWAT officers and those serving search warrants with body cameras.
The Harris County District Attorney's Office announces it is reviewing all 1,400 cases – including 27 active ones – that Goines worked on during his 34 years at HPD.
The same day a drug case against Courtney Jacobs is dismissed
February 21:
Officer Goines, who was shot in the face during the raid, is released from the hospital. He and Officer Steven Bryant are suspended with pay, pending the investigation. Bryant had first claimed to have witnessed the drug buy, but later told investigators that he had retrieved the two bags of heroin from Goines' car.
February 25:
A second case involving Gerald Goines is dismissed, a crack cocaine possession case against Treveon Cornett.
March 4:
April 1:
Neighbors' cellphone video of the raid's aftermath emerges and poses new questions. It shows two shots were fired in quick succession 30 minutes after the raid was over and officers seemed to negotiate with someone in the house long after Tuttle and Nicholas were presumably already dead.
May 13:
An independent forensics team finds multiple pieces of evidence left behind at the scene. It also finds no evidence that there was any shooting from inside to outside of the house. They say blood of the dog that police said was attacking the first officer through the door and consequently shot was found 15 feet away from the door.
May 15:
June 20:
The Harris County District Attorney's Office warns HPD that it will serve the department with grand jury subpoenas if it doesn't provide records related to all confidential informants who worked with Narcotics Squad 15 – the team that conducted the raid – from January 1, 2014, to the present. HPD complies four days later.
July 25:
Attorneys for Rhogena Nicholas' family hold a news conference to reveal new forensic evidence that seems to contradict the police narrative of what happened. Attorney Mike Doyle says ballistic reconstruction and DNA testing show that Nicholas "was shot by someone outside the house firing through the wall where she could not be seen." Police said an officer shot Nicholas when she was trying to take another officer's shotgun.
The attorneys file a petition in Harris County probate court to depose an HPD captain and lieutenant who supervised the narcotics squad involved in the raid.
July 31:
The Harris County Commissioners Court approves the hiring of additional prosecutors to work on the Harding Street raid investigation, more than doubling the size of the office's Civil Rights Division.
August 23:
DA Kim Ogg announces that her office has charged former HPD narcotics officer Gerald Goines, who is accused of lying on the affidavit to obtain the search warrant for the raid, with two counts of felony murder in the deaths of Nicholas and Tuttle.
Former officer Steven Bryant is charged with tampering with a government document for allegedly lying on his offense report.
November 20:
The FBI arrests former HPD officers Gerald Goines and Steven Bryant, along with Patricia Garcia, a neighbor on Harding Street who called 911.

Goines is charged with two counts of violating the victims' fourth amendment rights, which protect against unreasonable searches. The indictment alleges that Goines' search warrant for their house included false statements, which ultimately led to their deaths.

Goines is also charged with three counts of obstructing an official proceeding by falsely stating on two separate occasions that a confidential informant had purchased narcotics at the Harding Street home, and falsely stating once that he had purchased narcotics there.

Both Goines and Bryant are charged with obstructing justice by falsifying records. According to the indictment, Goines' tactical plan and offense report contained false information, while Bryant falsely claimed that heroin from Goines' vehicle had been purchased from the Harding Street house. The indictment also alleges that Bryant falsely claimed that he had previously worked with Goines on the Harding investigation.

Garcia is charged with lying to 911 operators. Prior to the drug raid, on Jan. 8, she allegedly called 911 several times saying her daughter was inside the house. She also falsely claimed the residents were drug dealers who had machine guns inside the home, according to the federal charges.
January 15, 2020:
February 12, 2020:
The Harris County District Attorney declares a second man "actually innocent" after reviewing his case, which relied on testimony from Gerald Goines. His brother was also declared innocent earlier that month.
July 1, 2020:
The Harris County District Attorney's Office charges four more former narcotics officers from Goines' squad – including two sergeants and a lieutenant – with tampering with a government document and related offenses. Goines and Bryant are also facing additional charges. Altogether, DA Ogg announces 15 new charges.
The Houston Police Department releases its audit report of the narcotics division on Twitter in response to the DA's office telling the Houston Chronicle that it has not told HPD to withhold the report.
July 2, 2020:
State Rep. Gene Wu, D-Houston, calls HPD's audit a "joke," saying it doesn't address systemic problems in the narcotics division. Wu announces he and state Sen. Paul Bettencourt will work together to file legislation aiming to improve police transparency and prevent future tragedies.
January 25, 2021:
DA Ogg announces six more officers of Narcotics Squad 15 have been indicted.

Officer Felipe Gallegos is indicted for murder and faces life in prison.

Officers Oscar Pardo, Cedell Lovings, Nadeem Ashraf, Clemente Reyna, and Thomas Wood are charged with engaging in organized criminal activity and other first-degree felonies that could result in life sentences. Prosecutors say their roles were part of an ongoing attempt to steal overtime from the city.

HPD Chief Art Acevedo defends the officers, saying they acted appropriately during the raid and were not involved in the alleged illegal activity to obtain the search warrant.
January 26, 2021:
Officer Gallegos' attorney, Rusty Hardin, holds a news conference with Gallegos and his family, alleging DA Ogg had political motivations for the murder charge. He says Gallegos shot Tuttle after he shot several officers.
The same afternoon, the Houston Police Officers Union holds a news conference, condemning the indictments.
"This is a stretch by this DA," HPOU President Douglas Griffith says. "She has overreached, overstepped, and our officers will be proven innocent at the end of the day."