The body of former President George H.W. Bush has arrived in College Station, where he will be buried at his presidential library grounds in Texas A&M University.
More than 1,000 student cadets lined the route of the motorcade carrying Bush to his final resting place. An honor guard the casket down the steps of a special funeral train.
Former President George W. Bush and other family members stood on the Texas A&M University campus as a band played the school's "Aggie War Hymn" fight song.
The casket was loaded into a hearse bound for his nearby presidential library, where Bush will be buried following a private graveside ceremony.
Funeral in Houston
On Thursday morning, a funeral was held at Houston's St. Martin's Episcopal Church. Afterwards, a custom made train left a Union Pacific facility in Spring around 12:30 p.m. to transport the body of George H.W. Bush to College Station.
The number "4141" train that left from the suburb north of Houston was painted to resemble Air Force One.
It took Bush's casket, family and close friends about 70 miles (115 kilometers) through five small towns on a journey that's expected to take about two-and-a-half hours. During the trip, people gathered near the train tracks to wave and say their last goodbye.
Thursday's funeral in Houston followed three days of events in Washington honoring the 41st president.
About 1,200 mourners, including former President George W. Bush and other family members, attended the service. Bush's grandchildren served as honorary pallbearers and as readers.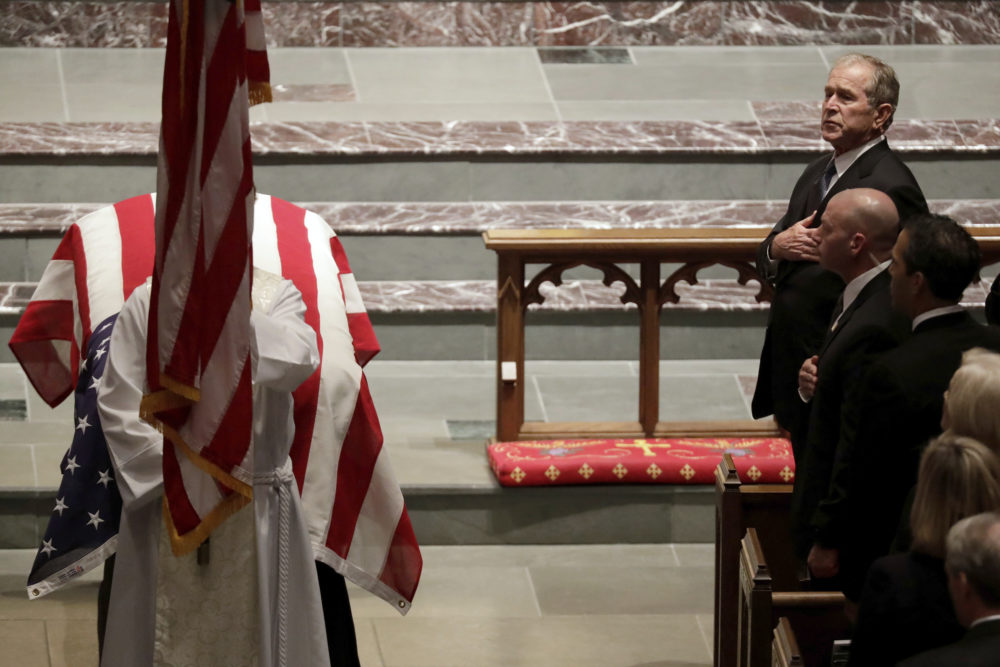 The eulogists included Bush's grandson, Texas Land Commissioner George P. Bush, and James Baker, Bush's secretary of state and lifelong friend.
An honor guard escorted the flag-draped casket of George H.W. Bush to the altar. After the casket reached the alter, attendees stood and sang "The Star-Spangled Banner."
Bush was always very supportive of Houston's sports teams and some of the Bayou City's most popular athletes, such as former Rockets player Yao Ming and Texans defensive end J.J. Watt attended the funeral, along with Astros owner Drayton McLane.
The final ceremony will take place on the grounds of the Bush Presidential Library at Texas A&M University's campus in College Station. George H.W. Bush will be buried in a private service alongside his wife Barbara and his daughter Robin.
Bush died on November 30 at age 94.