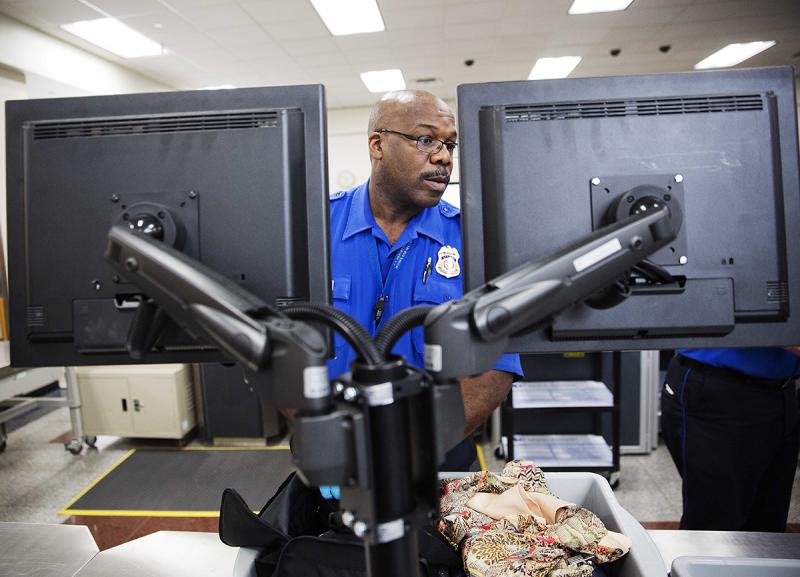 More than 771 million people passed through airport security across the country last year. And mixed in among the liquids and wrapped presents, Transportation Security Administration agents are finding something else in passengers' carry-ons: thousands of loaded guns.
From 2015 to 2017, the TSA found at least 9,866 firearms in carry-on baggage at airports nationwide. Four of the top 10 airports were in Texas. Dallas-Fort Worth came in at No. 2, and Love Field at No. 9.
Unlike laptops or liquids under three ounces, firearms are listed on TSA's prohibited items list, meaning that, like aerosol containers and lighters, they're not allowed in the cabin and can only be packed in a checked bag.
Guns & America, a national public radio journalism collaboration, analyzed data released by Transportation Security Administration. And it showed a dramatic increase in the number of guns found at airport security checkpoints. The TSA found 3,896 guns at U.S. airports last year — 49 percent more than the 2,608 found in 2015.
More than 85 percent of these guns were loaded, and more than 3 in 10 firearms found were "round-chambered" and ready to shoot.
The analysis of TSA data paints a picture of the firearms floating around our communities every day. Many of the guns found at airport security were left in the bottom of bags or in purses, forgotten until their owner slid their carry-on bag through screening equipment.
Forgotten Guns
Carrying a gun through a TSA checkpoint is illegal. But outside airports, because of the growth in state-issued concealed carry permits, many jurisdictions let permit-holders carry loaded firearms in holsters or in a bag.
"They don't think twice about it," said Jeff Price, a former assistant security director at Denver International Airport. "They think 'I have a permit,' and that permit I know is good across state lines. They don't think that does not apply on an airplane."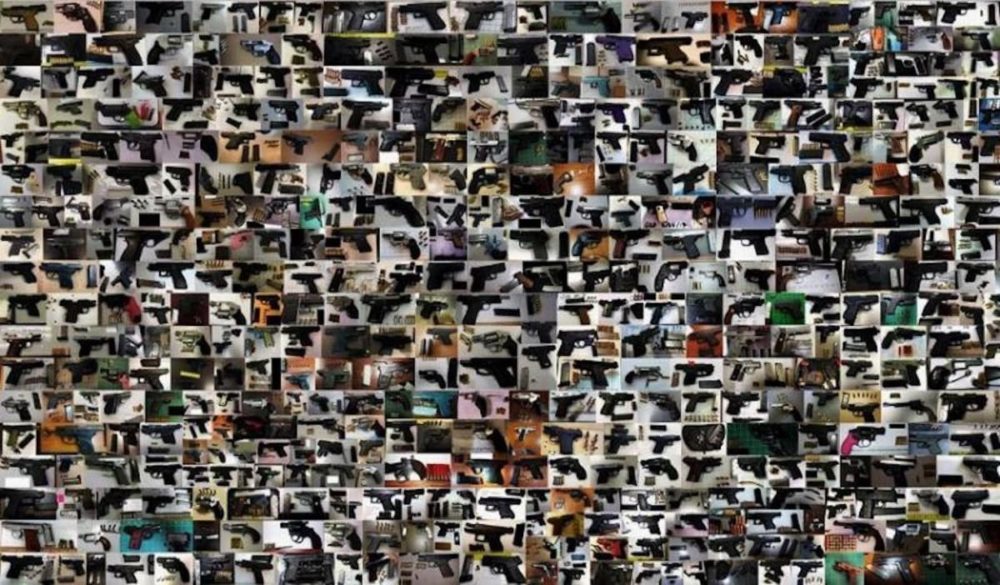 According to the Crime Prevention Research Center, a conservative nonprofit,
more than 17.2 million
people have concealed handgun permits in 2018, up more than 5 percent
this year
.
"It's hard to speculate," said TSA spokeswoman Carrie Harmon. "Most passengers say that they forgot was in their firearm was in their carry-on bag. We want to remind people, you need to check your bags when you pack them."
It's not just firearms that are illegal to carry through TSA; transporting ammunition in your carry-on is also prohibited.
According to the Guns & America analysis, 8,474 of the guns left in carry-ons found by TSA over the course of these three years were loaded.
Location, Location, Location
In 2017, the most recent full year of available data, TSA agents found the most guns in carry-ons at:
Hartsfield–Jackson Atlanta International (ATL) in Atlanta.
Dallas/Fort Worth International (DFW).
Austin–Bergstrom International Airport (AUS).
George Bush Intercontinental Airport (IAH) in Houston.
Phoenix Sky Harbor International Airport (PHX) in Phoenix.
ATL, DFW and IAH are among the world's busiest airports.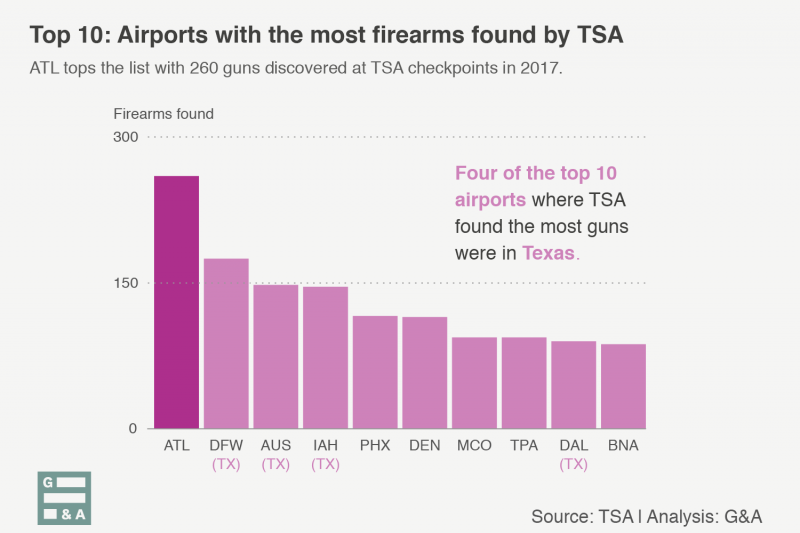 When you adjust the numbers to account for the number of passengers at each airport, however, the rankings show a different picture.
TSA releases the raw numbers of guns its agents discover in baggage in weekly reports. Guns & America analyzed TSA data to compare the rate at which agents find guns at each airport.
Among the 84 U.S. airports with more than 1 million passengers in 2017, Birmingham-Shuttlesworth International (BHM) in Alabama saw the highest rate of firearms found per passenger: 3.68 per 100,000 passengers.
In Atlanta at ATL, that rate was 0.52 per 100,000 passengers. At DFW, it was 0.55 per 100,000.
Like Birmingham, at smaller airports in cities such as Tulsa, Oklahoma City, Boise and Spokane, TSA agents discovered more guns per passenger than at the larger, busier airports.
While passenger volume can impact the number of guns found, Guns & America's analysis of TSA data found airports with high passenger volume in states with strict gun laws, like LAX in Los Angeles and New York's JFK, saw a lower number of guns discovered in carry-ons in 2017.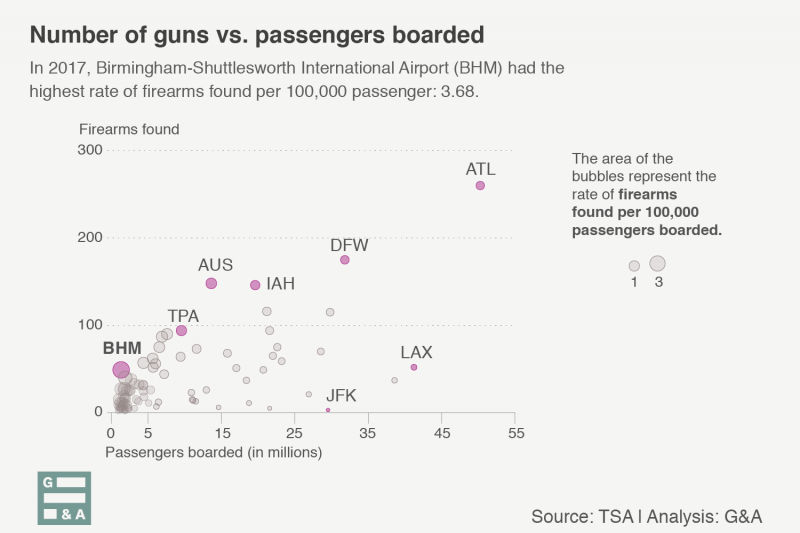 The Process
When a TSA agent finds a firearm in a carry-on, they contact airport police. Police then take possession of the weapon and determine whether or not there will be criminal charges.
The TSA can then also levy a civil penalty, which can be as high as $13,300.
When guns are found at DFW, for instance, agents do a background check on the passenger. If travelers pass and have a valid license to carry, they are allowed to take the gun back home or to a car.
If they do not have a license, a case is usually filed with the local district attorney's office. The offensc can be classified as a misdemeanor or a felony, depending on the perceived intent of the gun owner.
"You would think everyone would know what's in their luggage," said Larry Moore, criminal division chief in the Tarrant County District Attorney's Office.
Plus there's the practical implication: Finding a gun slows down a TSA checkpoint, diverting passengers to other lanes. And that commotion, or lack thereof, could determine whether police issue a typical citation or arrest the passenger.
"It really depends on the person," Price said. "If they truly forgot it and [they] realize they forgot it, the commotion more is, they're apologetic all over the place."
For those who want to travel with a gun, domestic U.S. airlines expect you to inform them, pack it in a hard case, unloaded and separate from ammunition in your checked bag.
As the holiday travel season reaches a fever pitch, the TSA says to check your bag before you arrive, and always get to the airport early, regardless of whether or not you plan to travel with your gun.
About The Data
TSA publishes its data on firearms found in checkpoints as images. To gather the data, Guns & America used a technique known as OCR, and manual data input. The TSA doesn't update those images retroactively, so end-of-year totals calculated by Guns & America may vary from final annual numbers reported by TSA.
Guns & America used the Bureau of Transportation Statistics data for the number of passengers by airport as it compares to the number of firearms discovered. Only the the number of people who boarded a flight that started at a U.S. airport were included to calculated the rate, as a proxy of people who crossed a TSA checkpoint.
Originally published as a collaboration between KERA.org and Guns&America.