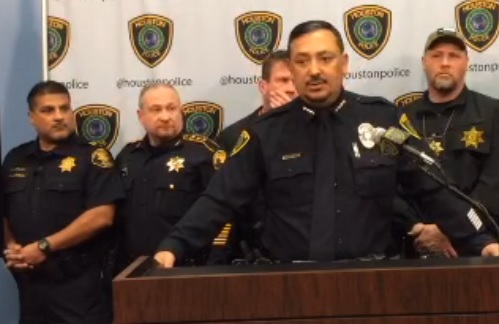 Houston Police Chief Art Acevedo announced Tuesday that a recent multi-agency regional operation resulted in the arrest of 164 individuals who had open parole violation warrants.
The operation went from November 5 until November 18. Besides the Houston Police Department, the Harris County Sheriff's Office participated in it, as well as Sheriff's Offices from surrounding counties such as Chambers, Galveston, Montgomery and Waller.
Deputies with the Constable's Offices for Harris County's Precincts 3, 4 and 8, also participated in the operation.
Acevedo explained representatives from the law enforcement agencies involved in the operation met in mid-September to plan a regional approach to handling parolees who have violated their terms.
He added the plan is to conduct similar operations on a quarterly basis. "This is a beginning," noted Acevedo, "this is the first of a collective regional effort to hold parolees accountable."
The Police Chief also highlighted the Texas Department of Criminal Justice is now sending immediate warnings about high risk parolees who are violating the terms of their parole to HPD's Real Time Crime Center, which is located at the department's headquarters in downtown Houston.
You can see booking photos of the arrested parolees here.
You can watch Chief Acevedo's press conference here:
Chief @ArtAcevedo, Area Agencies News Briefing on Dozens of Arrests of Parole Violators https://t.co/V5zInbXNLE

— Houston Police (@houstonpolice) November 27, 2018