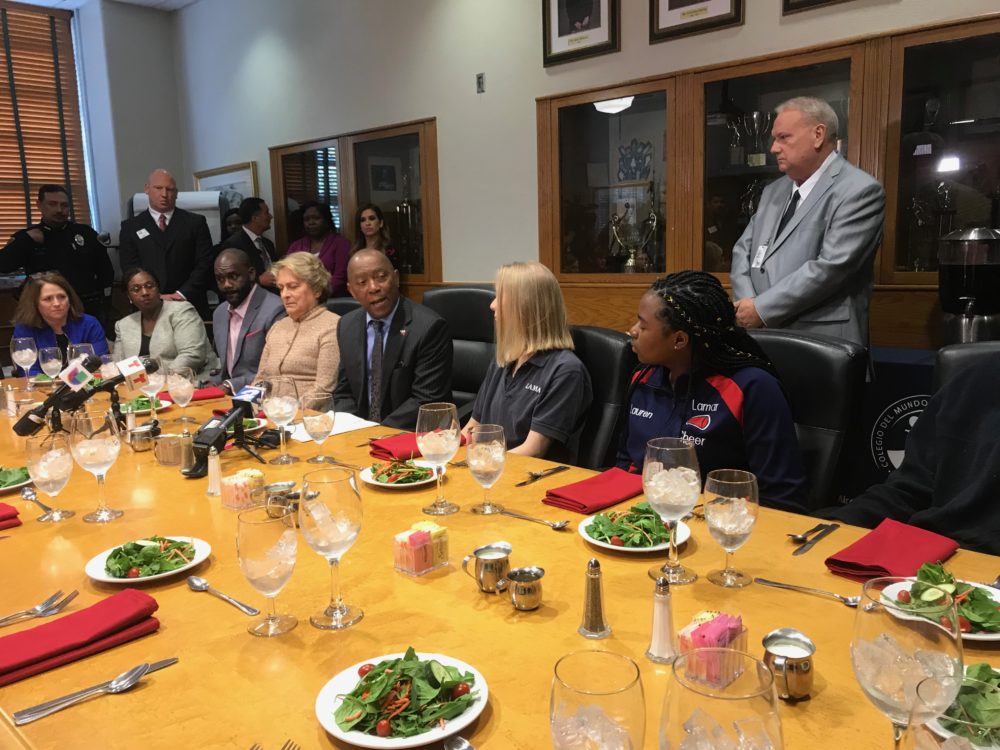 Over salads and desserts, Houston Mayor Sylvester Turner met with student leaders at Lamar High School to discuss recent gun violence in the River Oaks neighborhood surrounding the school.
The Mayor's visit followed multiple instances of gun violence involving students. On November 13, Lamar senior De'Lindsey Mack was shot to death near that HISD high school. Approximately a week before that fatal incident, two Lamar students died in an apparent murder-suicide at a nearby apartment, as reported by the Houston Chronicle.
According to Turner, his decision to visit Lamar came after he received a letter from a student, Elizabeth Nelson-Fryar.
"I read the letter not one time; I read the letter several times. In fact, I kept the letter," Turner said. "We're looking at — I'm not even gonna say leaders for tomorrow. They're leading right now. It's because of their direct involvement and Elizabeth writing to me that we're here today."
Nelson-Fryar is a 17 year-old senior at Lamar. In her letter, she told the Mayor that she was losing hope. Turner said it was that sentiment that grabbed his attention.
"What's the use of educating our kids if they're getting educated but they're losing hope along the way?" Turner asked.
After the lunch discussion, Nelson-Fryar told reporters she is hopeful change will come.
"I think it's really important for everybody to not be afraid to go to school, to walk home," she said. "You can make changes happen, you just have to ask for help."
Turner said there are a number of things the city will continue to work on, such as implementing recommendations from his Commission Against Gun Violence, improving resources for mental and behavioral health, and improving communication between students and their families, their schools and local officials.
He also said that prevention of gun violence will be a top priority heading into the next session of the Texas Legislature, which will begin in January, and he made a point of encouraging community members who have any information about the recent violence to tell somebody.
"Let's not protect people who are going to hurt students," he said. "That's not snitching. I'm from the hood. I still live in the hood. I'm proud of where I am. But if you're going to hurt people in the community, in the neighborhood, you are not a credit to the neighborhood."
Various other local officials were present for the discussion, including Houston Police Chief Art Acevedo, Interim HISD Superintendent Grenita Lathan and HISD District 7 Trustee Anne Sung.
Here is a copy of Nelson-Fryar's letter to the Mayor, courtesy of ABC13:
Mayor Turner,

My name is Elizabeth Nelson-Fryar. I am a seventeen year old high school student at Lamar High School. We are the second largest school in Houston and we need help. In five days, four of my classmates have been shot, three of them have died. We have had a shooter come onto our campus two years in a row. Today, a fellow senior was murdered during lunch on the street in front of my school. We were on lockdown for almost four hours. We have been through so much emotional and mental pain these past five days, and we need help from government officials like you to keep us safe. We cannot do this alone, and we cannot afford to waste anymore time. The longer we wait, the more children will be killed. I am losing faith in our country, state, and beautiful city every time I walk into school and see our nation's flag at half mast. I was at the student walkout at city hall last year where you spoke to us. You told us we needed change, we deserved change. Where is that change, sir? We waited. We waited, and more kids, our friends and peers, died because of the wait. This is not the world I want to live in. I will see to it that change is made, but I need, the youth of Houston, need you and our elected officials to protect us.

My mother is a teacher. My brother is in school to become a teacher. While I might be graduating this year, my family will be teaching in your public schools. I cannot and will not stand by and watch those I love get hurt. Please, Mayor Turner. Please help us.

Best regards,

Elizabeth Nelson-Fryar