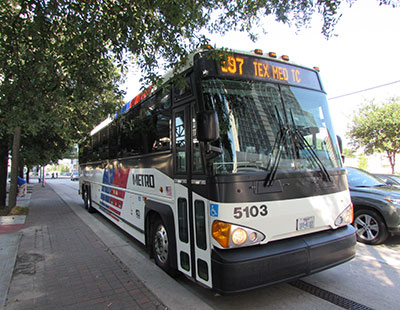 After gathering input over the past year on how to expand public transportation in the region, METRO says it will soon hold another series of meetings to see what people think of their draft Regional Transit Plan.
METRO Chairman Carrin Patman said they're also expecting feedback from a new group of Harris County decision-makers.
"We have a new county government, there are some changes on the congressional level, and we need to take all those things into account," said Patman. "Because some of the opinions of some of the stakeholders may have changed too."
As the population grows, METRO says it needs to find better ways to move people to the region's many employment centers. In the past, most people commuted into downtown Houston. But now, commuters are headed to places like the Med Center, the Energy Corridor, and The Woodlands.
Patman said they also want to tackle mobility challenges within the City of Houston, like providing better connections between downtown and The Galleria.
"The question is what form that will take," said Patman. "What we've been looking at is the concept of bus rapid transit along part of Richmond, dropping down to Westpark, and connecting with the Post Oak BRT. But when we go back out for the public engagement process we'll get a lot of input into that."
Metro CEO Tom Lambert told News 88.7 he expects the next round of public meetings after the first of the year.
"What I think we'll do is we'll have another workshop with the board, to make sure we get good guidance from the board, and then roll out in January where we're going with engaging the public to make sure we're on the mark in where we need to go," said Lambert.
"I would like for the public, one, to give us a real good gut check. Are we accomplishing what they want us to accomplish?"
Metro is rolling out the draft plan as it prepares to put a bond referendum on the ballot in 2019 that would pay for millions of dollars in projects.