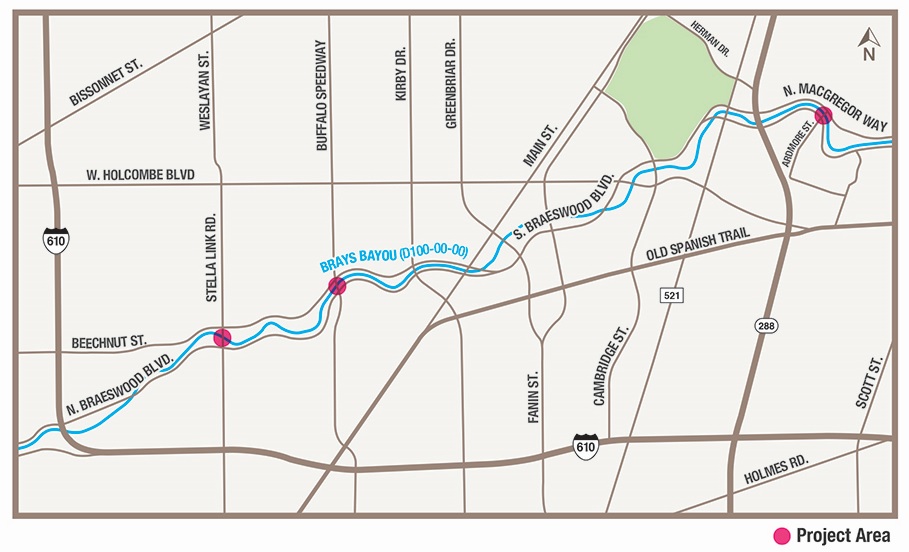 Three bridges located over Brays Bayou will have higher, wider and longer spans that will improve the flow of stormwater in south central Harris County thanks to a construction project by the Harris County Flood Control District scheduled to start Monday.
The Buffalo Speedway, Ardmore Street and Stella Link bridges will be the 18th, 19th and 20th bridge modifications constructed by the Flood Control District as part of $480 million Project Brays, a cooperative effort between the Flood Control District and the U.S. Army Corps of Engineers.
The construction project will entail excavating tens of thousands of cubic yards under the bridges to match the existing channel width, as well as removing and replacing storm sewer systems and water lines.
Project Brays includes the widening of 21 miles of Brays Bayou in 13 separate channel modification project segments, the modification of 32 bridges, and the construction of four stormwater detention basins with a combined capacity of 3.5 billion gallons.
When Project Brays is complete, it is expected to provide a 1 percent (100-year) level of flood protection upstream (west) of the Sam Houston Tollway. In areas downstream (east) of the tollway, Project Brays will reduce the number structures at risk from a 1 percent (100-year) flood from 16,800 to 1,800.
Construction of all three bridges will be coordinated to reduce traffic disruptions.