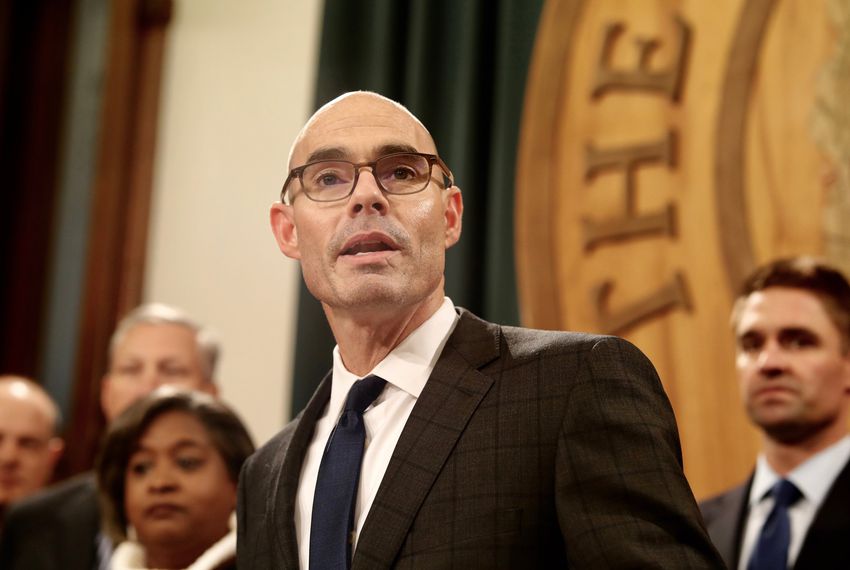 State Rep. Dennis Bonnen announced Monday that he has support from 109 members to become the next speaker of the Texas House. That number, if it holds, is more than enough votes for him to win the gavel.
The Angleton Republican's announcement comes after four other speaker candidates — Republicans Tan Parker, Four Price and Phil King, along with Democrat Eric Johnson — dropped out of the race in the last 48 hours. All four endorsed Bonnen upon removing their names from consideration. Bonnen said during a news conference at the Texas Capitol on Monday afternoon that his team plans to release the list of 109 members supporting his bid soon.
"We are here to let you know the speaker's race is over, and the Texas House is ready to go to work," said Bonnen, who was flanked by at least two members of the hardline conservative Texas House Freedom Caucus — Jeff Leach of Plano and Mike Lang of Granbury — and state Rep. Tom Craddick, a Midland Republican and former speaker, among other Republican and Democrats. When asked by reporters what the House's No. 1 priority would be during the 2019 legislative session, Bonnen suggested school finance would be at the top of members' lists.
To be clear, Bonnen needs to retain at least 76 supporters until the full 150-member chamber votes on a new speaker. That floor vote will happen on the first day of the Texas legislative session in January. In the meantime, the GOP caucus, which makes up a majority of members, is set to meet Dec. 1 to rally around its preferred speaker candidate. The Democrats, who will likely hold 67 seats next session, are also trying to stay united in hopes of influencing the vote.
During Monday's press conference, Bonnen dumped cold water on rumors that there would be no Democratic chairs under his leadership — adding that he would adhere to the House tradition of being a "bipartisan chamber."
"We are excited to bring the house together, to be unified and to do good work for the people of Texas," he said.
Bonnen, who has been in the House since 1997, is chairman of the tax-writing Ways & Means Committee. His oplder brother is Republican state Rep. Greg Bonnen of Friendswood.
If he succeeds in the speaker's race, Dennis Bonnen will replace San Antonio Republican Joe Straus, who announced in Oct. 2017 that he wasn't seeking re-election this year. Bonnen was considered a top Straus lieutenant in recent sessions, and Straus released a statement of support soon after the press conference.
"Having worked closely with Dennis Bonnen in his roles as speaker pro tempore and one of our top committee chairs, I have confidence in his leadership, intelligence and commitment to the Texas House," Straus said. "I trust that, under Dennis' leadership, the Texas House will continue to be a place where members work together and put the best interests of Texans first."
The Texas Tribune is a nonprofit, nonpartisan media organization that informs Texans — and engages with them — about public policy, politics, government and statewide issues.