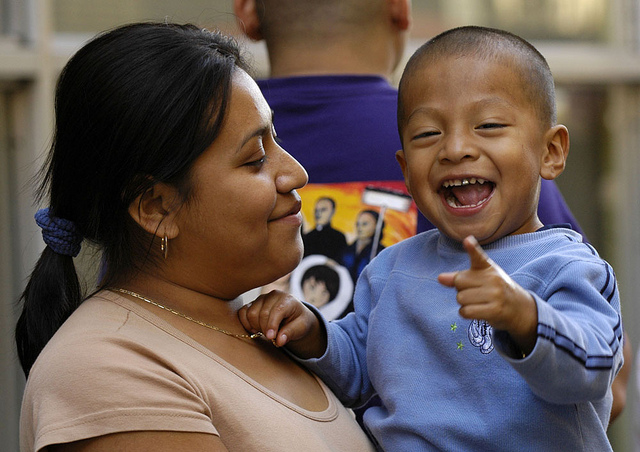 UPDATE (November 20, 2019): The Latina wage gap has increased since this story was published a year ago. New research found that Hispanic female workers are paid 53 cents on the white, non-Hispanic male dollar. Because of that, Latina Equal Pay Day is now November 20. The day indicates how many days into 2019 a Latina would have to work (after earning a year of wages in 2018) to catch up to the wages her white male counterpart earned in 2018 alone. In Texas, the gap narrowed slightly. Latinas in Texas now earn 44.7 cents for every white, non-Hispanic male dollar.
A new report by the Economic Policy Institute shows Latinas would have to work all of 2017 and until November 1, 2018 to earn the same average wages as white men did in 2017 alone.
That's because nationwide, Hispanic women earn 54 cents for every dollar white men earn. However, in Texas, Latinas would have to work even longer.
"Texas, sadly, is the third worst state for Latinas when it comes to the wage gap. They only make 44 cents to every dollar made by white non-Hispanic men," said Maya Raghu, Director of Workplace Equality at the National Women's Law Center.
By comparison, white women in Texas earn 73 cents for every dollar a white man earns. Raghu also said pay inequity hasn't improved much over time.
"The wage gap for Latinas has barely budged in about 30 years," said Raghu.
She said Latinas tend to be over-represented in low wage fields, and under-represented in high wage fields, which is partly because of educational attainment.
But discrimination is also a factor. One study shows when you control for education, experience and location, Latinas still earn some 30% less than white men.
COO of the progressive Center for Public Policy Priorities, Dr. Frances Deviney, said there are public policy solutions that can help lessen the wage gap for Latinas.
"Some of them are based on educational attainment," said Deviney, "making sure that we give every Texan the opportunity to access post-secondary education and making it affordable and high quality."
In 2013, some 19% of Latinas between ages 25-29 had completed a college degree nationwide, compared to 44% of white women, according to a 2015 government study.
Deviney also said it's important to pass laws, like the Lilly Ledbetter Fair Pay Act of 2009, that ensure all people are being paid equal wages for the same type of work.