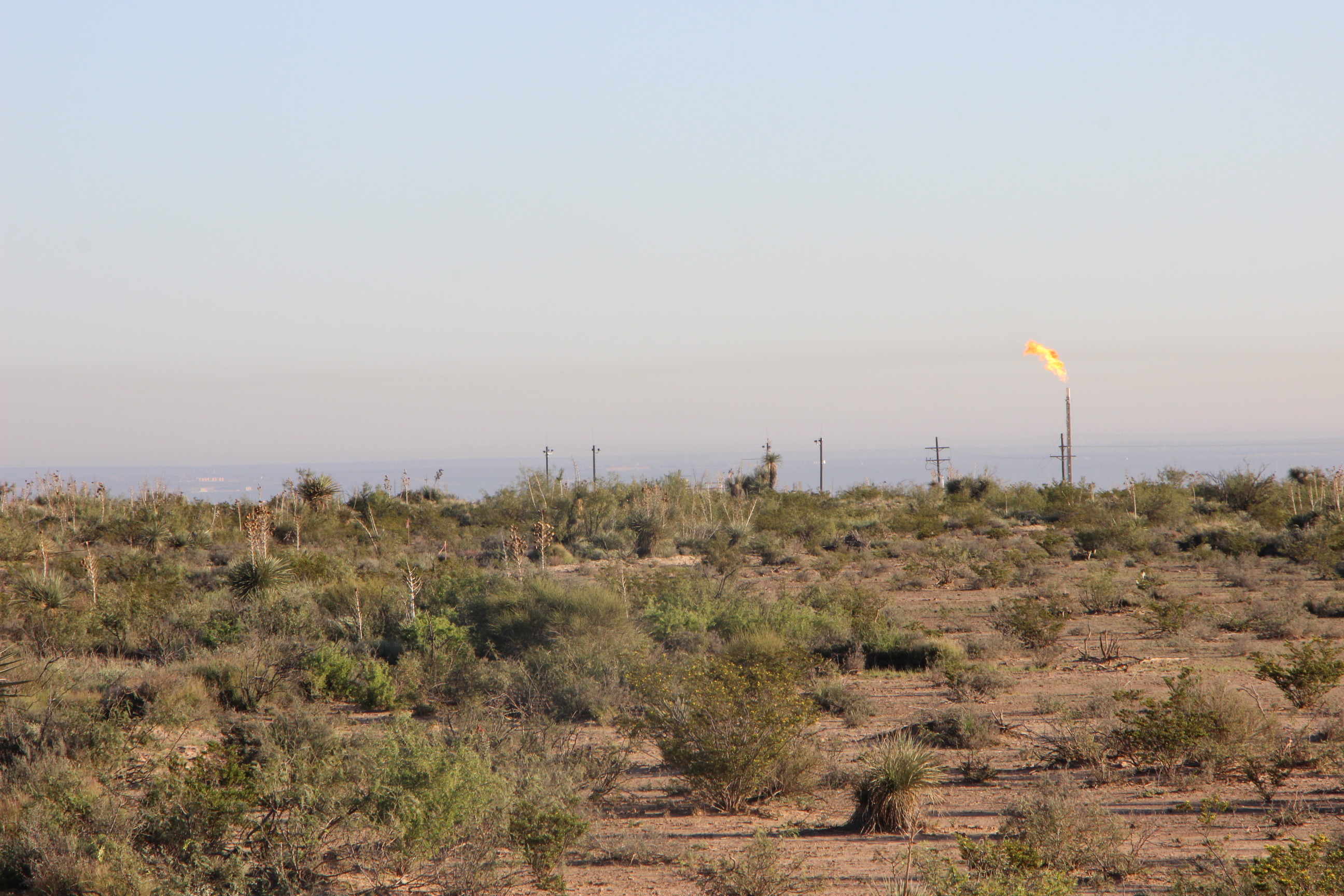 A couple years ago, Jim and Suzanne Franklin's quiet country life outside the West Texas town of Balmorhea was a lot different.
"At night, used to, this was so dark," Jim says, pointing to the skies. "You had the most beautiful view of the Milky Way."
Now, Suzanne says, the night horizon off their small front porch is lit up by flames at oil and gas sites.
"You start here and you just start counting, one, two, three, four…" she says, pointing in all directions across the wide-open views from their house. "And it just keeps going on around."
Across the West Texas oilfield, energy companies have more natural gas on their hands than they know what to do with. So, they're increasingly burning it off into the air.
Flaring, as it's called, has recently hit record highs, and that's alarmed critics who worry about local air pollution and the effect on dark skies. Companies say there's not a lot they can do about it at the moment, though they're trying.
It's a situation with an uncertain future, because it largely depends on how aggressively industry decides to act.
The Franklins live in what's called the Delaware Basin, part of the wider West Texas oilfield that's booming with new industry activity and increased oil and gas production.
On the highway in front of their house, they're seeing more and more big rigs fly by.
As drillers pull growing amounts of oil from the ground, a lot of extra gas comes up with it. The gas is a byproduct that's not worth as much as the oil, and pretty much all of the pipelines that could bring the gas to market are full up.
So, companies burn it off.
Suzanne says the fumes from a flare near her house have been making it hard to breathe.
"We used to keep our windows open, but we don't anymore," she says. "Can't do it with the gas anymore."
Some companies are exploring solutions.
"As a company, we don't want to flare gas," says Kelly Swan, a spokesperson for Oklahoma-based WPX Energy. The company is drilling a couple hours north of where the Franklins live.
"We have an economic incentive to capture as much gas as we can," he says. Houston Public Media spoke with Swan at a brand new natural gas processing plant the company built near the Texas-New Mexico border.
Statewide, the amount of gas being flared is still only about 2 percent of all the gas that's produced. But here and around the world, companies say they'd still rather not flare.
Swan says when his company started drilling in West Texas, they knew if they didn't build out some kind of infrastructure, they'd have to flare a lot. So, they designed the plant to harness as much gas as possible.
"This is what I would call a long-term solution to flaring," Swan says. "Because as long as there are wells here in the area, this plant is going to be here too."
Some of the biggest oil companies are trying to cut down on flaring. ExxonMobil has committed to a 25 percent flaring reduction by 2020, while Shell and BP have signed onto a global effort to drop "routine" flaring levels to zero by 2030.
But for some companies, this just isn't as big of a priority. Smaller, independent companies – which there are many of in West Texas – can't necessarily afford to focus on capturing gas.
"It's not going to just happen on economics and pipeline capacity alone," says Colin Leyden, a regulatory and legislative advocate with the Environmental Defense Fund. The group put out a report last year tracking how much different companies flare.
"There was a pretty wide variance in performance, with some companies flaring up to 9 percent of all the gas that comes out of the ground along with the oil that they're drilling for."
Leyden's group applauds companies that do plan ahead, but he says the industry should do more on that front. He notes flaring rates jumped a few years ago even when there was enough pipeline space on the market.
Industry watchers expect flaring to drop as new pipelines get built over the next year or so, but in the meantime, Suzanne Franklin says she's had enough.
"I'm ready to move back to town somewhere," she says. "I'm looking for 10 acres, close to town. In town, you don't smell anything."