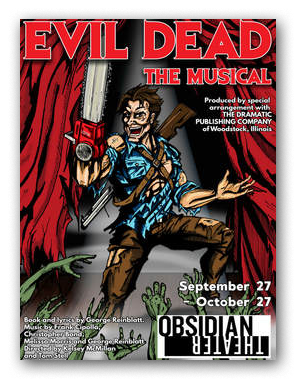 At first glance, a story about violent demons, hand dismemberment, and the Book of the Dead might not sound like prime material for a musical. Yet, at the same time, the sheer campiness of Sam Raimi's The Evil Dead trilogy fits the bill perfectly.
Combining elements of all three original films, Evil Dead: The Musical follows a group of college students who spend spring break at a creepy, abandoned cabin in the woods. They find the fabled Necronomicon (the aforementioned Book of the Dead), accidentally summon demons, and are slowly picked off and transformed into sardonic, wit demons that must then be dispatched by the remaining protagonist, Ash Williams.
And while the subject matter might sound a little dark, it's treated with irreverence and wit — and deliberately doesn't take itself too seriously.
Houston's Obsidian Theater is performing the show through Oct. 27, and, in the audio above, Houston Matters producer Joshua Zinn talks with directors Tom Stell and Kelsey McMillan about paying homage to Raimi's original trilogy and what makes it suitable for musical adaptation.