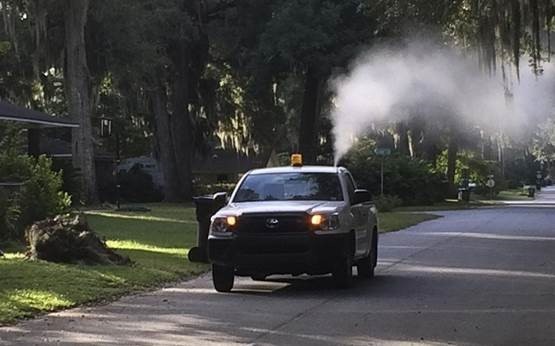 Missouri City said it's increasing mosquito spraying, in response to last week's heavy rains.
In a statement, officials said last week's heavy rain lead to a citywide increase in the mosquito population. That's why the city said it has added two additional sprays, through the end of October.
#NewsAlert: Due to Recent Heavy Rains and Increase in Mosquitoes; City Officials Adding Extra Spray Days, Starting Today—9/15. Spray days will now be on Saturday, Monday and Thursday in all communities between 9 p.m. and 5 a.m.

Learn more: https://t.co/Ph2LeYbJcC

— Missouri City, TX (@MissouriCityTX) September 16, 2018
"The City will proactively continue to monitor this issue, and will keep residents informed of spray schedule plans as we move forward," said City Manager Anthony J. Snipes, in a statement. "Mosquitoes can be a health hazard and the spraying program is a key prevention measure we have in place to keep the populations low."
Missouri City said Cypress Creek Pest Control will spray in all communities, between 9 p.m. to 5 a.m.
The city of Seabrook said it's also seeing a major increase in mosquitoes, and it's spraying every night until further notice.
The recent rains and warm temperatures have created an ideal environment for a mosquito bloom. We will spray each day that weather permits. Residents should protect themselves by using DEET or other approved products and remove standing water from buckets, gutters, etc. pic.twitter.com/N8icwdDlGY

— Seabrook, Texas (@SeabrookTX) September 12, 2018
Late last week, the city of Sugar Land said one of its residents tested positive for the West Nile Virus at a local hospital. In response, the city is increasing spraying to twice a week.
A person who lives in Sugar Land recently tested positive for the West Nile Virus at a local hospital. Residents are urged to take precautions. The city will increase mosquito spraying to twice per week and will continue to trap and test mosquitoes. https://t.co/x0rNFDWezg #SLTX pic.twitter.com/ouTtWmTCmI

— City of Sugar Land (@SugarLandtxgov) September 14, 2018