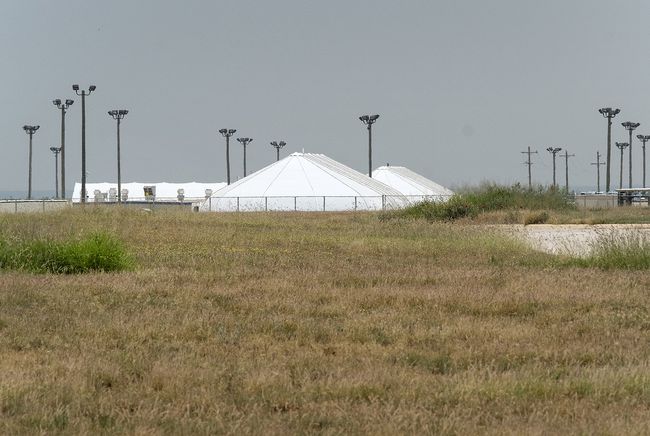 For weeks, word has circulated on social media and among immigration advocates that a toddler died soon after leaving an Immigration and Customs Enforcement facility in Texas.
Efforts to investigate were stalled by a lack of public information from the child's mother and her pro-bono lawyers, who said only the child had died "after being detained by ICE in unsanitary conditions." Earlier this month, after publicly pleading for more information, state officials received a private tip that allowed them to launch two investigations. Meanwhile, ICE insisted that no child had died in one of its facilities, but said it couldn't investigate the allegations without more information.
The family's story has now been made public in a VICE News investigation.
Yazmin Suárez told the news outlet in a story published Monday evening that she and her daughter, Mariee, crossed the border from Guatemala in March and were soon sent to an ICE family detention center in Dilley. There, according to the story, 18-month-old Mariee developed an infection and respiratory symptoms that ultimately led to her death. She died of viral pneumonitis six weeks after being released from the facility, VICE reported. She would have turned two this month.
According to the VICE story, which cites a review of the toddler's medical records as well as interviews with her mother, Mariee developed a cough, congestion and fever in the facility. After being released from Dilley, Mariee went to three hospitals in the Northeast and died after being unhooked from a respirator at the Children's Hospital of Philadelphia.
"A mother lost her little girl because ICE and those running the Dilley immigration prison failed them inexcusably," said R. Stanton Jones, a partner with Arnold & Porter, a Washington, D.C. law firm representing the family pro bono. "Instead of offering safe harbor from the life-threatening violence they were fleeing, ICE detained Yazmin and her baby Mariee in a place with unsafe conditions, neglectful medical care, and inadequate supervision. … The medical care Mariee received in ICE detention was woefully inadequate, neglectful, and substandard."
Yazmin Suárez told VICE she is pursuing legal action against ICE. The agency did not respond directly to the accusations about the toddler's death, but a spokeswoman said "ICE takes very seriously the health, safety and welfare of those in our care." Comprehensive medical care is provided to all ICE detainees, she added.
Five pediatricians who reviewed the toddler's medical records told VICE she received the care they would have recommended. But doctors have long complained that conditions in detention centers are not suitable for children.
The Dilley facility, in South Texas, is one of two family detention centers in Texas and has the capacity to hold 2,400 people.