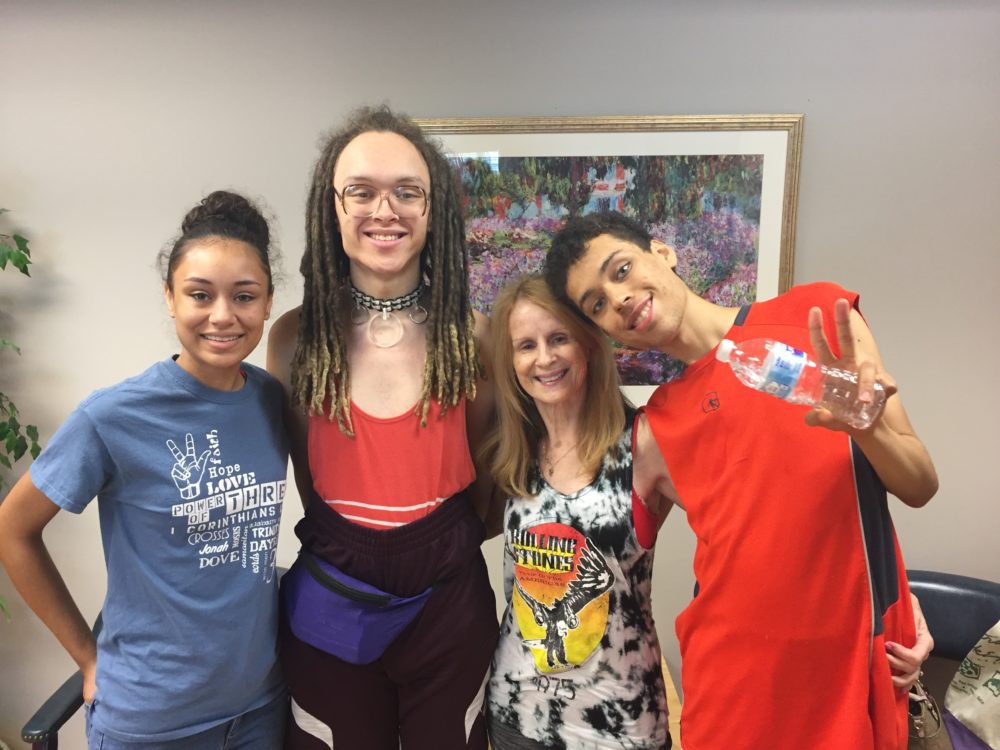 Ever since Evan Johnson was 3 years old, he's attended public schools in the Cy-Fair Independent School District, northwest of Houston.
He's a tall and lanky 21-year-old, with a creative streak and a passion for trains.
That changed last fall, when Cy-Fair district administrators told his mother, Melissa Johnson, that he'd be better served somewhere else.
"And it sounded like, 'Oh my gosh! This beautiful place — Why haven't they sent him here sooner?!" Johnson recounted.
It's called the Academic and Behavior Support School West. It's one of two special ed schools run by the Harris County Department of Education, which has its own board and collects its own taxes. The agency technically isn't a school district, but it still enrolls over 200 special needs students through contracts with dozens of school districts in Greater Houston.
Johnson hoped that Evan would get to work with a board-certified behavior analyst — support that he needs to manage his autism. Evan also has a speech impediment and epilepsy.
But on his second day at the campus last November, something went wrong. Johnson got multiples messages to come and get her son.
"When I saw Evan, my heart sank into my stomach," she said. "I had never seen him in such a state. His shirt was bloodied. His lips were split and bleeding. He was crying. He had abrasions all over his body."
What happened to Evan ended up triggering a state investigation, exposing what some call a loophole in how state administrators keep an eye on some special needs students in Harris County.
Johnson said that first, the staff at ABS West told her Evan was responsible because he was punching and hitting. But then she saw a video recorded inside the classroom. According to Johnson, the video showed the teacher threatening to punch her son in the face.
"It brought tears to my eyes because Evan was crouching in the corner and the teacher was sitting in a chair in front of him and other people were standing up over him," she said.
Then, Johnson said, one staff member pulled the teacher away while others restrained Evan, slamming him against the wall several times and later pinning him to the floor. News 88.7 has not been able to view the video independently.
Months later, just talking about the ordeal upsets Evan.
"I'm nothing but a freak!" he exclaimed, as his mom tried to calm him down.
"Evan, Evan, tell me how you really felt that day — Did it hurt? Yes. Did you cry? Yes. Did you want me? Yes."
Johnson believes that Evan was illegally restrained — state law says it's supposed to be only for emergencies — and complained to the Texas Education Agency about that and other alleged violations, including that the facility failed to give him proper behavior interventions or prescribed psychological services.
What's more, her attorneys argued the alternative schools with the Harris County Department of Education have so little state oversight that vulnerable students are at risk.
"Sadly, I feel that they're dumping grounds for children that districts don't want to handle," said Dustin Rynders, a supervising attorney at Disability Rights Texas.
Rynders explained that state education administrators fail to oversee the Harris County Department of Education, because students are counted as if they're still enrolled at their original campus.
"But it is still completely inexcusable that you would have two specialized campuses that have been around for a long, long time with rampant allegations and complaints and that the Texas Education Agency has never directly monitored them in any way," Rynders said.
News 88.7 asked the superintendent of the Harris County Department of Education about these allegations.
The superintendent, James Colbert, Jr., said that they did their own review of what happened to Evan.
"And I think there has been over-characterization of that incident," Colbert said. "There were some things certainly that one of our staff members didn't do properly and we addressed that administratively."
Colbert added that he can't talk about specific disciplinary action, but, overall, he defends the schools, especially since his own personal and professional background is in special education.
"I would never let us do anything wrong to a child and try to detriment their growth. And anyone who characterizes that are either misinformed or are just completely wrong, in my opinion," Colbert said.
As for the state investigation into what happened to Evan Johnson, the Texas Education Agency has closed its case, with a mixed decision.
It maintains that it can't monitor the Harris County Department of Education directly because it's not a traditional school district.
But the state agency sent a stern message to the Cy-Fair Independent School District, which contracted with the county facility for Evan's education.
State officials told Cy-Fair administrators that they're accountable for how he was treated at the alternative school.
Meanwhile, Melissa Johnson still hopes Evan can get the services he needs back in Cy-Fair, where he is about to start his final year in public education.