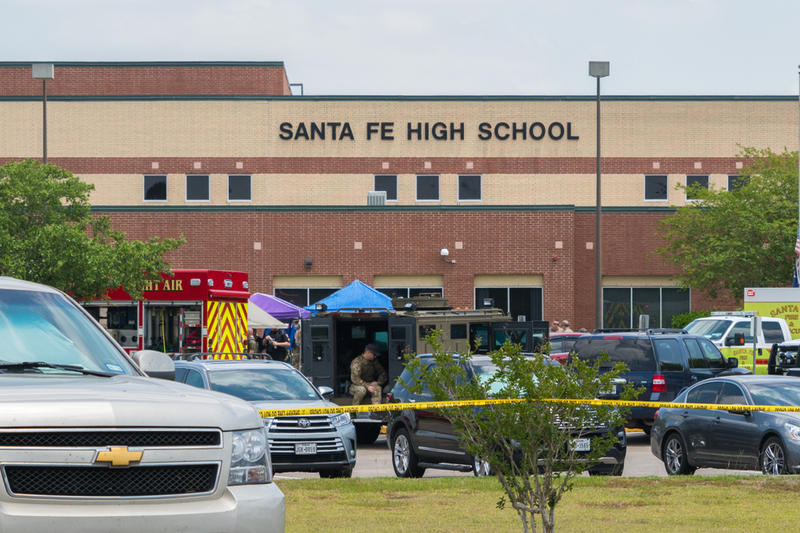 Back-to-school shopping has been different this year, as Annette Holder helped her son Clayton get ready for freshman year at Santa Fe High.
The school's new metal detectors mean more composition books, fewer three-ring binders, or really anything with metal.
It's just one way heightened security is shaping school in the Santa Fe Independent School District, in the wake of a mass shooting that killed 10 people and wounded 13 others last May. More than 4,000 students in the rural district start class Monday.
Holder said that she pushed for the metal detectors and is happy with the added security, which includes more police officers, a more secure lobby, and panic buttons and new locks in classrooms.
"I know that our school district is working really hard to make our kiddos safe," Holder said. "As I told my son, I think he will be safer now than he would have ever been."
Still, other families have said the upgrades — worth over $1 million — make the campus feel like a fortress and hope school will feel normal.
The Santa Fe school district also plans to have mental health teams on campus throughout the year. They're supposed to assess threats and work with police to prevent any incidents.
"We ask that our community continue to keep our victims and their families in their prayers as this will be a difficult time for all. We are blessed to be a part of such a giving and strong community that continues to stand strong together," said Patti Hanssard, assistant superintendent, in a community message last week.
The changes come as districts across Texas look for ways to harden security. State lawmakers recently recommended more mental health resources and more funding to arm some school staff as ways to make Texas schools safer. More districts are opting to do that with the state's school marshal program, so staff can carry concealed weapons and respond to an active shooter, if necessary.
Holder said that it's also up to parents to stay involved and not feel complacent. She plans to volunteer on her days off as a parent patrol at Santa Fe High. She doesn't want students or parents to feel complacent.
"Because being involved is what's going to help us stay on our toes, and keep our kids feeling like they're safe, and the ones that may have a tendency to not want to follow, that they're being watched more carefully," she added.