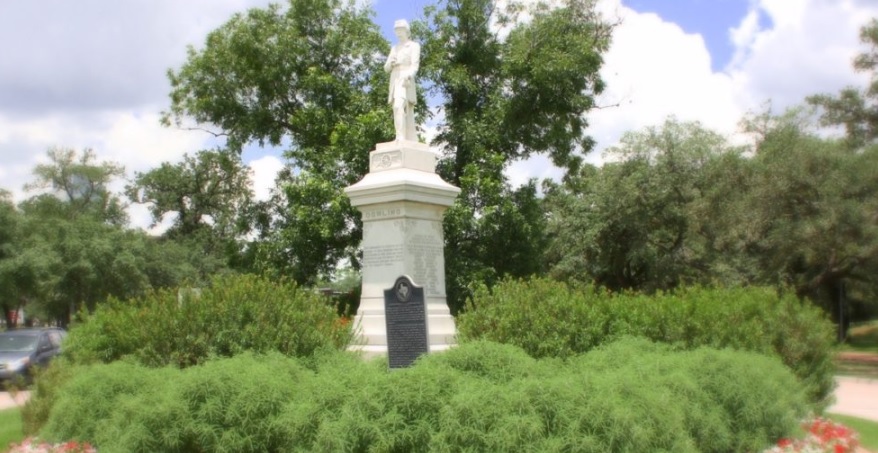 A Houston man who tried to blow up a Confederate statue in Hermann Park last year has been sentenced to six and a half years in federal prison.
The Department of Justice said Andrew Schneck, 26, was sentenced for attempting to maliciously damage property receiving federal financial assistance. Back in March, Schneck pleaded guilty.
Following the 78-month sentence, Schneck will have three years of supervised release. He has also received a $10,000 fine.
On the evening of Aug. 19, 2017, a Houston park ranger observed Schneck kneeling among the bushes in front of the General Dowling Monument located in Hermann Park.
Schneck was holding two small boxes with various items inside to include what appeared to be duct tape and wires. After placing the boxes on the ground per the ranger's request, Schneck took a drink of clear liquid from a plastic bottle, spit it out and poured the remainder on the ground.
The ranger then noticed a timer and wires in the box and notified the Houston Police Department (HPD).
The HPD Bomb Squad tested the clear liquid and a white powdery substance found in a small, black aluminum tube which revealed they were nitroglycerin and hexamethylene triperoxide diamine (HMTD), respectively.
HMTD is a high explosive organic compound used as an initiating, or primary, explosive. Nitroglycerin is used as an active ingredient in the manufacture of explosives. ln its pure form, nitroglycerin is a contact explosive with physical shock causing it to explode and which degrades over time to even more unstable forms. Nitroglycerin is highly dangerous to transport or use.
The FBI Explosive Unit Laboratory examined the items in Schneck's possession on Aug. 19 and determined them to comprise a fully functioning improvised explosive device.
Schneck has been and will remain in custody pending transfer to a U.S. Bureau of Prisons facility to be determined in the near future.
The FBI and HPD conducted the investigation.
Schneck also had a previous conviction in 2014 for storing mass quantities of explosives at his parents' Houston home.
The judge said that previous conviction, coupled with the attempted bombing prompted the sentence, out of concern for public safety.