The largest health insurer in Texas changed an ER claims review process Monday.
Blue Cross Blue Shield of Texas said its 500,000 HMO members may have to pay the entire cost of an out-of-network emergency room bill, if they go for something not serious or life-threatening.
The insurance carrier said the stricter review policy is designed to help make health care costs more affordable. In an April 18 memo, Blue Cross first explained the change by pointing to examples of people who use out-of-network ERs for things like head lice or sprained ankles.
In our recent News 88.7 In Depth, we reported backlash from physicians in Texas prompted the insurance company to delay rolling out the new change.
In a statement provided to Houston Public Media, the Texas Medical Association said it's disappointed Blue Cross Blue Shield of Texas is moving ahead with the change.
"Unfortunately, even the announcement of this plan has already planted a seed in patients' minds that they'll be left with a big bill if they go to the emergency room for the 'wrong reason,'" said TMA President Dr. Douglas Curran. "We encourage TDI to join us in monitoring this closely to make sure no patients are denied necessary care."
MORE: Understanding New BCBSTX ER Claims Policy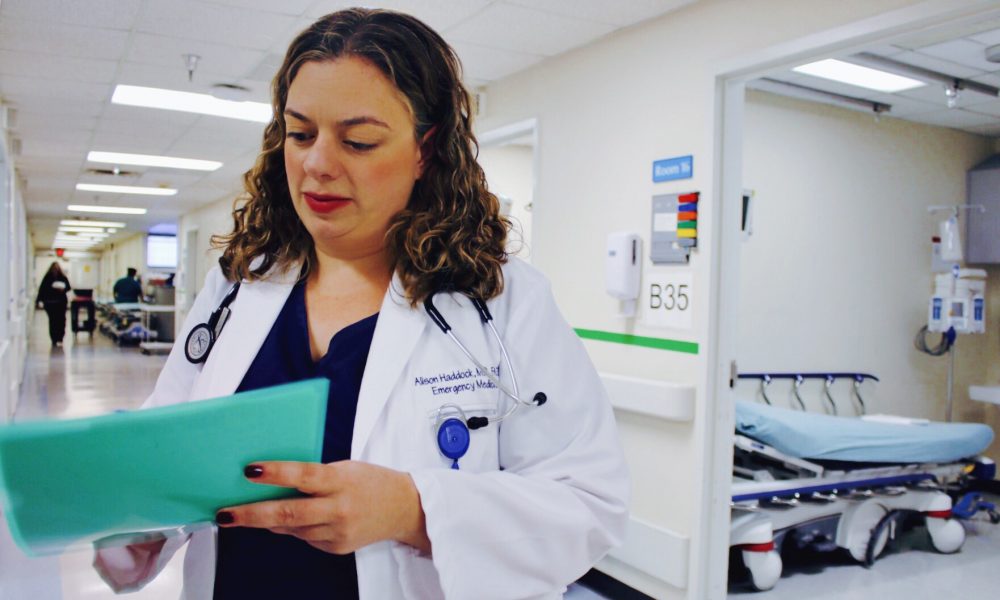 Dr. Alison Haddock, board member of the Texas College of Emergency Physicians, previously told Houston Public Media she feels this change requires patients to "self-diagnose."
"I think it's wrong to be putting that extra burden on patients in their times of greatest need," said Haddock, in a May interview. "No one wants to go to ER. That's no one's idea of a great time. But when people look at their situation think, 'I think I'm having a medical emergency,' they have the right to come access our care.... But we also need you to have the right for the insurance company pay appropriately for care that you need. And that's something that people get really nervous about and afraid of, and will potentially delay care and put themselves in great danger."
Haddock believes the change is a violation of Texas' prudent layperson law, which was passed in 1997. It protects patients' rights to seek emergency care without preauthorization for coverage and doesn't allow insurance companies to base that coverage on a final diagnosis; but rather the initial symptoms.
Blue Cross Blue Shield of Texas
BCBSTX previously said it firmly does not believe the change is in violation of the prudent layperson standard.
Over the past two months when this change was pending, Blue Cross Blue Shield of Texas said it provided all requested information about the new review process to the Texas Department of Insurance.
"Combined with continued education and information, we believe this thoughtful, multi-step review process will provide protection for our members from inappropriate billing, egregious charges and fraud, waste and abuse by out-of-network emergency departments," Blue Cross Blue Shield of Texas spokesman James Campbell said, in an e-mail to Houston Public Media.
In a May interview, Dr. Robert Morrow, Southeast Texas Market President for Blue Cross Blue Shield of Texas, told Houston Public Media there is no change to benefits to HMO members: it's a stricter claims review process.
"If you have or think you have an emergency condition, go to emergency room. And if that's the case, it's going to be covered," said Morrow. "It doesn't look at diagnosis that somebody leaves the emergency center with. The review looks at the reason the person sought emergency care…. We follow the law now. That is not going to change."
Morrow said the emergency claims would not be denied without being reviewed by licensed physicians, which would then still open to the appeal process. Morrow added Blue Cross' SmartER website helps inform members where to go for non-emergency care, and tries to direct non-emergencies away from the ERs.
Texas Department of Insurance
The Texas Department of Insurance (TDI) is the state's regulatory body that makes sure companies are in line Texas' insurance laws and patients' rights are maintained. In an e-mail to Houston Public Media, a spokesman for TDI said the agency has worked with BCBSTX over the past couple of months, to make sure consumer protections were in place.
TDI stated those protections are:
Emergency room claim reviews will be done by a doctor.
Any claim denials would come only after a review of medical records by a BCBSTX medical director. When the medical director is contemplating a denial, the provider will be offered a peer-to-peer conversation.
Consumers will be able to appeal if the claim is denied as not medically necessary. This would include an appeal to an independent review organization.
Freestanding emergency rooms speak out
Texas became the first state to allow freestanding ER's almost a decade ago, in 2009. Now, there are more than 200 such facilities across the state. Proponents of the BCBSTX review change say overuse of these centers with non-emergencies propels rising healthcare costs.
But in a statement, the Texas Association of Freestanding Emergency Centers (TAFEC) said, in part:
"While the reasons for issuing this intimidating, anti-patient, anti-ER policy were presented as positive (saying that non-essential ER use by members "drives up cost for our members" and taxes "limited ER resources"), in reality, what they were doing then and now served to accomplish just two things—and neither are to the benefit of Texans: drive down the use of ER care (regardless of need) and increase the profits of Texas' largest insurance provider at the expense of everyday Texans and their medical providers.
An attack on state and federal law, this policy—which was originally scheduled to go into effect on June 4, 2018, created so many questions and concerns for the Texas Department of Insurance (TDI), that the Department decided this patient penalty policy could not go into effect at the time."
You can read the full statement here.