The young man in a grey t-shirt and faded jeans stood suspended above the muddy Rio Grande on the Gateway International Bridge — an official port of entry that connects Mexico to the United States.
It was June 19. He had little more than an old backpack to his name, but he also had the hope of a new life free from persecution and the promise of a family waiting for him across the river. If only he were allowed to take a few crucial steps forward.
The 22-year-old, Marcos Samayoa, traveled here from the town of Mazatenango in southwest Guatemala. And his family's story has been touched by virtually every facet of President Donald Trump's hardline immigration policy.
Samayoa's wife and four children, including a then-5-month-old baby, were separated after crossing the same bridge just a few weeks earlier. All were facing more stringent guidelines for seeking asylum in the United States. And Samayoa had already spent two days and nights sleeping on an old piece of cardboard at the halfway point of the bridge, his way blocked by three armed Customs and Border Protection agents who simply told him to wait.
In Samayoa's backpack were a few dog-eared pages stamped with the insignia of Guatemala's national police. Two pages explained the threats that had long been facing his wife, Sandy. (The Texas Tribune is not publishing Sandy's last name, which is different from her husband's, or some details of those threats because of their sensitive nature). Another page explained more recent evidence of persecution against the couple, which they believed originated from members of the MS-13 gang in Guatemala.
Sometime in February, Sandy started getting anonymous phone calls: "If you don't listen to me, there will be consequences. If you don't pay attention to me, I'm going to go get your husband and your kids." She turned off her phone, but then armed men began to show up at the house — first circling around in a black motorcycle, then banging on the door.
Eventually the family moved, took the kids out of school and decided to head north. Sandy and the kids went first; Marcos came later.
Samayoa planned to use that document to convince immigration officials he deserved asylum in the United States. However long he had to wait on the bridge, Samayoa said, it was better than returning home.
Still, it wasn't easy. Samayoa watched as CBP agents ushered other families through, but not him – with no explanation. He also knew that Sandy had already made it across with her four children and was pursuing her own asylum case.
But he wasn't sure how, where or when everyone crossed, or where they all were now. All he knew was that they'd been separated: "She's in one place, and my kids are in another." Reporters lent him a cellphone to call Sandy's mother, Hilda, who had lived in the United States for many years. But all she could tell him was that Sandy had been locked up in an immigration detention center, while all four kids were somewhere else. He still didn't know where.
The night after reporters met Samayoa on the bridge, the city was hit with torrential rainfall for hours. He spent another night there even as strong winds blew the rain sideways, and tornado and flash flood warnings punctuated the evening and early-morning hours. And Samayoa's mother-in-law, Hilda, called a reporter's cellphone back with a message.
It turned out that Marcos' wife, Sandy, was not making progress in her own attempt to seek asylum in the United States. An officer with U.S. Citizenship and Immigration Services had decided her case didn't pass muster, and she faced immediate deportation. She had asked for an immigration judge to review the decision, but Hilda wasn't optimistic. Sandy had far more documents and facts to back up her own asylum case than her husband Marcos, Hilda pointed out. If Sandy couldn't convince an immigration official of her own need to leave Guatemala, Marcos would be in even worse shape.
"Don't turn yourself in at the bridge," she asked reporters to tell Samayoa. "Turn back. We came here, only to suffer."
"They're not getting the warmth of their mother"
Samayoa stood on the bridge at what might be considered an apex of President Donald Trump's crackdown on immigration. Across the U.S.-Mexico border, news media were snapping pictures of armed agents standing at the halfway points of bridges between the two countries, refusing to let anyone without proper documents through.
Two and a half months earlier, U.S. Attorney General Jeff Sessions had announced a "zero tolerance" policy of criminally prosecuting every adult who crossed from Mexico into the U.S. illegally — which involved forced separation of parents from their children, since children could not go to jail with them. (Just one day after reporters met Samayoa on the bridge, Trump signed an executive order ending the family separation policy — but by that point, thousands of children had been placed in federally overseen shelters across the country, and reuniting them with their parents would not be easy.)
The policy was intended to deter illegal crossings. But families seeking asylum "the right way," as some Trump officials put it, were also getting separated — even before "zero tolerance" was implemented. It is legal to present oneself at an official port of entry, such as an international bridge or an airport, and ask for asylum. Yet a Congolese woman identified as Ms. L was taken from her 6-year-old daughter after arriving at a bridge in San Diego last November, according to a lawsuit filed by the American Civil Liberties Union.
The same thing appears to have happened to Samayoa's wife, Sandy, and their four kids. According to Ruby Powers, a Houston-based immigration lawyer who reviewed Sandy's asylum case paperwork, the mother and children crossed the border at the Gateway International Bridge — the same place where Samayoa got stuck. The family had decided to avoid rafting across the river or walking through the desert, because they did not want to cross the border illegally; "I'm not a criminal," Samayoa had insisted while sitting on the bridge. Yet his wife and children were separated anyway. (The three older children, ages 5, 8 and 12, are not his biological kids.)
In a statement released in late June, the Department of Homeland Security said it would only separate families at ports of entry in limited circumstances: If the agency wasn't sure the parent was indeed the parent, if there was suspicion of abuse or if the parent may have committed some other criminal act. It's not clear if any of that occurred in Sandy's case.
Sandy and the kids arrived at the bridge in late May — May 27th, Sandy's mother Hilda recalls, because she got a phone call from them. They'd also encountered armed Customs and Border Protection agents at the halfway point, but they weren't worried. As they prepared to sleep on the bridge that night, the family told her, "Mama Hilda, we're about to give ourselves over. We're going to see you soon. ... We want you to take us to eat pizza or hamburgers."
"They talked to me with that joy, with that enthusiasm, with that excitement," Hilda recalled in Spanish from her apartment in California earlier this month. But a few days later, Sandy called her again. Everything had changed.
After declaring themselves at the bridge, Sandy and the kids were taken to a CBP processing facility known as the "hielera," or the icebox, for its cold temperatures. That's where agents took her kids away from her.
"[She] told me, mami, I'm here, they caught me," Hilda remembers. "I'm here with the kids, but they just told me that they're going to take the kids away from me." Sandy went to Port Isabel Detention Center in South Texas, while the kids ended up in a children's shelter operated by the Texas-based company Southwest Key in Phoenix, Arizona.
Powers said Sandy's story was one of the most heart-wrenching among the dozen or so separated parents she interviewed. "Everybody's kids were 5 to 13, or 7 to 13," she said. "Nobody had a baby that young."
"She told me that the guard said they had to take her baby away," Powers remembered. "[Sandy] said, 'But I'm still breastfeeding him, you know.' And they said, 'It doesn't matter.' She said, 'No, but I'm breastfeeding.' And they said 'No, we still have to take them.' "
CBP officials did not respond to a request for comment.
Even though Hilda had escaped Guatemala for the U.S. years earlier, she'd always been close with Sandy and the kids as they grew up. From Mazatenango, they'd send her text messages all day: before going to school, after coming home, before going to sleep.
The 8-year-old boy, "he's the boy who, whatever he sees, he speaks up about — the good and the bad, he says it," Hilda said. The 5-year-old boy, "he's a beautiful child, he's a gift. His joy is contagious." The 12-year-old is smart, but reserved. Hilda said she sent a Southwest Key caseworker copies of their passports and birth certificates, as well as her own passport and birth certificate, but she could never get custody.
While in the shelter, the kids called Hilda every Tuesday and Friday. The older ones spoke to her for about 10 minutes at a time. In Port Isabel Detention Center, Sandy talked to the kids briefly, too. "But I don't know how they are, really," she told Hilda on the phone in early July. "They keep on saying that they want to leave that place."
The 5-year-old boy's contagious joy seemed to be gone on the phone, Hilda said. "It breaks my heart to talk to him." On the phone from Southwest Key, he told her that the other kids called him choco — which means "one-eyed" in Guatemalan Spanish — because his eye hurt.
The kids weren't allowed to hug or touch each other, a common policy in children's shelters. "I am worried," Sandy said. "Worried that they're not getting the warmth of their mother," or of each other.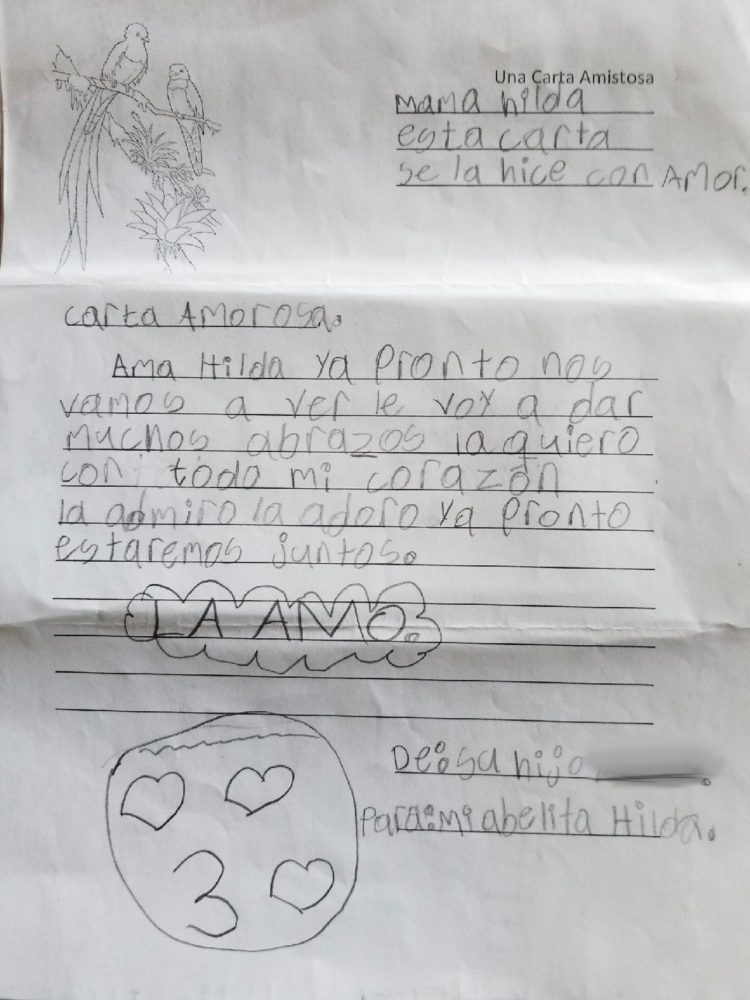 The kids couldn't have private conversations, either. Every time they spoke to Hilda or Sandy, they were on speakerphone. Once, Sandy asked her 5-year-old son if his eye, which had been hurting, was feeling better: "He answered, 'nothing, nothing.' I said, 'What do you mean, nothing ... does your eye hurt?'" After that, Sandy remembered, she heard someone in the background yell at him: "Tell her, talk to her." The other kids were teasing him as he spoke to his mother.
"Our first and primary concern is safety," said Jeff Eller, a spokesman for Southwest Key. "We have appropriate touching policies to make sure that kids are safe and that staff is safe as well." He added, "we deem it critically important to be part of the [phone] conversation in order to keep the child safe."
Meanwhile, Sandy's husband, Marcos, had still not managed to cross. After Marcos spent days on the bridge, the CBP agents still would not let him through, he told Hilda by phone. They claimed they were only letting families cross the bridge. Through a woman that Sandy had met in Matamoros during her journey across the border, Hilda sent Marcos $100. She hadn't heard from him since. (Last month, administration officials insisted they had not turned anyone away at ports of entry and were simply asking people to wait until they had more resources to process them.)
Hilda reassured Sandy over the phone that they would all be together again soon. She was busy redecorating the small apartment she shared with her partner. The room for the kids would be painted with blue and cream colors. The curtains would have elephants, from the kids' favorite cartoon; she cannot remember what the cartoon is called.
"I told my daughter, yes, this is painful," Hilda said. "But if they let you stay here, it'll be worth it."
"Dumped at the bus station"
In late June, close to a month since Sandy had been separated from her kids, there was good news. The case filed on behalf of Ms. L, the Congolese mother separated from her 6-year-old daughter, was moving forward. San Diego-based federal judge Dana Sabraw had ordered the government to reunite "tender-age" children under the age of 5 — which would include Sandy's now 6-month-old son — with their parents by July 10. Kids over the age of 5 are subject to a July 26 reunification deadline.
The following morning, there was more good news. Sandy went before an immigration judge, who decided she deserved more time to argue her case for asylum. It was a rare success, according to Powers, the immigration lawyer who ended up meeting with Sandy for the first time that afternoon. She'd sat in on or heard about some 20 such hearings in recent weeks, and Sandy's was the only one she knew of with a positive outcome.
"This is so scary – they're in jumpsuits, they're detained, they're separated, they're traumatized," Powers said. "They're supposed to tell their whole life story over the phone to somebody who's asking all these probing questions, and then a judge with a robe up high on a bench is asking them more questions.
"She must have had some fire inside her to stand up for herself. That's the only way she was able to do it." Powers declined to discuss the specifics of Sandy's case, but said she believed it would pass the more restrictive standard that the Trump administration has established for asylum-seekers.
But there were still a lot of questions. Sandy was stuck in Port Isabel, thousands of miles away from Phoenix, where her kids were. The Department of Homeland Security initially said in a statement that Port Isabel Detention Center would be "the primary family reunification and removal center for adults in their custody." Less than a week later, the language changed : Port Isabel would now be "the primary facility to house alien parents or legal guardians going through the removal process." Would Sandy's kids be sent to Port Isabel? Would she only get one back by the deadline, or all three?
And had Sandy indeed been identified as the parent of her children? The government initially claimed that each parent would easily be matched to each separated child — but immigration officials were asking Sandy to take a DNA test, and they were asking for the same documents that Hilda already had sent to Southwest Key.
Seemingly overnight, the number of children the government believed to be separated from their parents changed from around 2,000 to "under 3,000." The vast majority of those kids were over the age of 5; only a few dozen were of "tender age." Still, it was baffling how anyone could pull the reunification off by July 10, even for just a few dozen toddlers.
The week before the deadline, Elizabeth Badger, a lawyer based in Boston for the non-profit group Kids in Need of Defense, worked furiously to get Sandy released from Port Isabel. On Friday — just five days before the deadline — a team of lawyers arrived at the detention center hoping to see Sandy. But officials with Immigration and Customs Enforcement (ICE) told them that Sandy had been moved, even though federal records still indicated she was at Port Isabel.
On Sunday, two days before the deadline, an online database showed that Sandy was now detained at the Eloy Detention Center in Arizona, about an hour away from the kids.
The next day, when Badger called ICE officials in Arizona, "they were very frantic," she remembered. "They said, 'she's slated to be reunified.' But they didn't have any details. So we couldn't plan for anything." They couldn't tell her if Sandy would get all of her kids back, or just the child under 5.
That was the last time Badger was able to speak to anyone at ICE about Sandy. The rest of the day, and the following day — July 10, the reunification deadline — she was never able to get through.
Meanwhile, newspapers were reporting on an elaborate, secret plan for reunifying families outside of the public eye. It would happen in unnamed "ICE locations" all over the country.
ICE officials had asked the United Catholic Conference of Bishops to put together a plan for about 18 families set to be reunited in Phoenix that day, according to Laurie Melrood, a family services consultant for immigration services organizations based in Tucson. She arranged to drive up to help give people counseling and support. On Monday, she collected bags full of stuffed animals, colored pencils, crayons and drawing paper. Early Tuesday morning, she drove to Phoenix.
The plan seemed straightforward at first, Melrood said. A Catholic community services group in Phoenix rented a building — a former old-age home — and worked around the clock for three days and nights to put together a dormitory before the deadline. There was a kitchen, bedrooms, and meeting rooms for the families to talk with lawyers and counselors. There were toys for the kids. Sheets, towels, bathing supplies. The children would get picked up from their Southwest Key shelters, reunited with their parents at local ICE offices, and taken to the new dormitory.
Melrood hoped that by giving families a place to sleep and shower, the temporary dorms would serve as a "sort of deprogramming, and getting ready for the long trip" to wherever they wanted to go next. They'd get a legal orientation, counseling and packets of food for their bus journey — including ramen noodles that could be heated up at Greyhound bus stops.
"All these things that really needed to have happened in order for a sane sort of exit from that nightmare," Melrood said. But on the day of reunification, "that didn't happen. It just didn't happen at all."
It's not clear what went wrong. For hours, Melrood and more than a dozen volunteers waited at the Phoenix building to receive the families. Then, around 3 p.m., they received a call that no one was coming. ICE had given families a choice, they were told: Go to a place to decompress, have some food and meet with volunteers, or go straight to the bus station. Everyone chose the bus station.
Melrood is not so sure. She spoke with parents at the bus station who said they'd never heard about any choice when ICE released them, and Hilda didn't seem to be aware of that possibility either. Melrood assumes "the right hand and the left hand were working at odds with each other." Instead of being taken to the prepared dormitories, families were "dumped at the bus station," Melrood said. "They got one burrito," bus tickets, "and that was it."
At first, ICE told Sandy that they were releasing her with all four kids at 11 p.m. So she called Hilda, and with the help of attorneys on the ground, five tickets were purchased for a 12:30 a.m. bus leaving from Phoenix. But then ICE released Sandy at 4 p.m. She was left at the bus station, with four kids, including a 6-month-old baby, for eight hours.
ICE did not respond to a request for comment.
"There could have been a lot more cooperation between immigration and NGOs that would have made the release process smoother," said Badger, the lawyer who helped get Sandy out of detention. "We're really happy that she is with her family, and that's what matters."
A tough road ahead
The day after the family arrived in Hilda's California apartment, the space looked different. Just a week earlier, as Hilda waited for them, it was the shell of a home, just a place to stay for a grieving grandmother waiting by the phone for a call from her daughter. Today was different. There was a box of baby wipes and diapers near the entrance and a bouncy chair front and center. A snug, sleeping baby boy was surrounded by three brothers who had their eyes glued to the flat screen. The World Cup was playing.
It was a typical family evening, except for the ankle monitors, the dark circles under Sandy's eyes and the kids, huddled together. Sandy explained that she could no longer breastfeed the baby: "I have no milk. I was nursing him, but they took him away." She smiled down at the baby.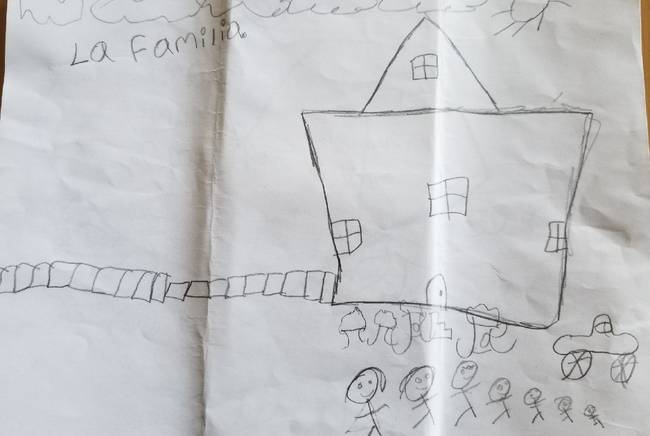 A day later, Sandy looked more refreshed. She was wearing a denim dress, wet hair pulled back and fresh makeup perfectly done. The household had more energy. Toys were scattered everywhere, Hilda was washing dishes, Sandy scurried inside to grab the baby and change his diaper. She said she was happy. She was finally back with her kids after they were separated nearly a month and a half before.
The 8-year-old smiled at a reporter, asked if he could touch the microphone. Sandy spooned formula into a bottle. "This is what I have to do," she said, shrugging as she slid the plastic nipple in the baby's mouth. The baby suckled for a minute or two. Sandy switched the baby to her other arm, when the white liquid came flying out of his mouth. He couldn't hold the formula down.
The road ahead for the family will be long. Sandy has been permitted to move forward with her attempt to stay in the United States, but she's not fully eligible for asylum. That's because she'd tried to cross unsuccessfully into the U.S. many times before and had been deported. Only this last time had the family learned of the concept of asylum and decided to head to a port of entry to ask for it.
Sandy is eligible for what's called "withholding of removal" — literally, she will have to ask the judge not to remove her from the United States. If she's granted this status, she'll be able to work. But she can never get permanent residency status. She cannot include her four children in her case; all of them must apply for asylum separately, which will require far more lawyers and resources. For now, she wears an ankle monitor and must check in at an ICE office regularly. If the ankle monitor battery goes dead, or she can't make it to a check-in, she could be deported.
Still, about a week and a half ago, at her mother's apartment, she felt some peace — at least as much peace as she could feel until her husband, Samayoa, could make it there too. It still wasn't clear exactly where he was.
"I just want to move on," Sandy said. "I'm happy to be back with my kids. I need to move on for them ... to be reunited like this, it's something truly beautiful."
She smiled again, and immediately looked down at her ankle monitor. She lifted her leg and said, "It's ugly, right?"