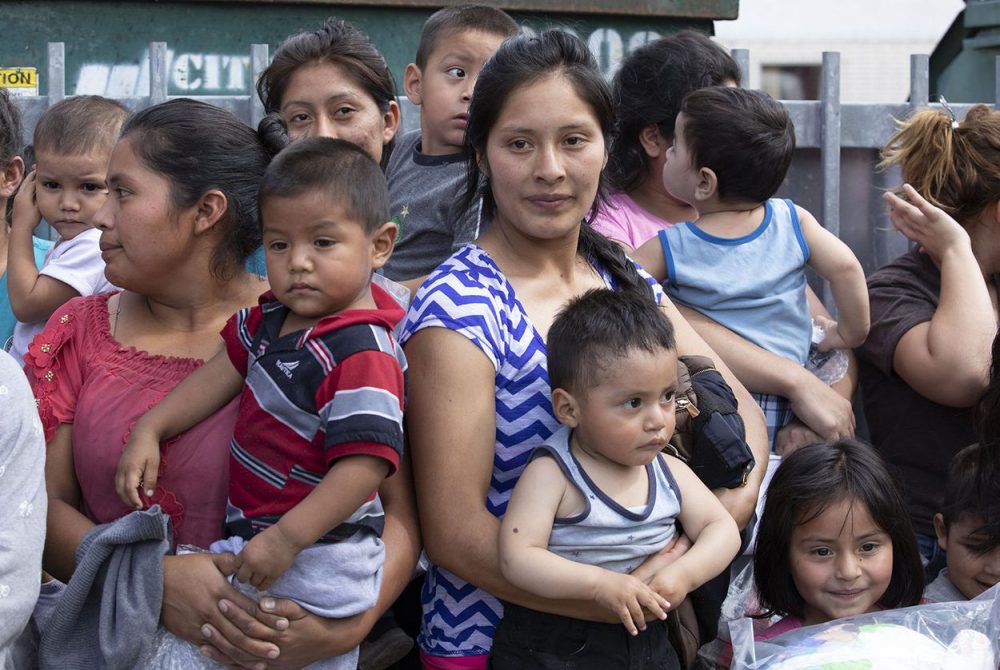 If Texas ever really played counterpoint to national political trends, it's not doing it now. On many issues, the state is behaving a lot like the rest of the country, according to the latest University of Texas/Texas Tribune Poll.
Start on the Mexican border. Texas Republicans running for president have sometimes had difficulty explaining their border policies to voters in places like Iowa and New Hampshire. It happened in some measure to George W. Bush and, famously, to Rick Perry: Remember that "I don't think you have a heart" line about U.S.-born children of undocumented immigrants during a 2012 presidential debate?
That might've been a good answer at home, but it didn't play on the road.
That was six years ago. The latest UT/TT Poll shows Texas Republicans breaking pretty much the same way Republicans elsewhere broke on the immigration story of the moment. As they have for years, more than half of the self-identified Republicans among the state's registered voters listed "immigration" and "border security" as the top two problems facing the state.
But the Republican consensus splintered over separating children from parents who illegally enter the U.S. – with about a third opposed to the policy. Instead of that being the kind of local reaction you might expect along the biggest part of the U.S.-Mexico border, it turned out to be just the local version of a national break among Republican voters so significant that the president reversed his political position with an executive order.
Texas Democrats were predictably and overwhelmingly opposed to the administration's new "zero tolerance" policy on the border. Overall, more Texas Republicans approved of the separation than otherwise (46 percent to 35 percent), but the gender gap was unnerving in an election year: Republican women oppose separations, 37 percent to 42 percent, while Republican men support them, 56 percent to 30 percent.
Texans are more like the country in liberal ways, too. Texas Democrats used to be more like Texas Republicans on the death penalty, but now they're more like national Democrats — an unusual change of direction on what had been a pretty stable issue in terms of public opinion. In this year's poll, 85 percent of Republicans favor the death penalty for violent crimes, compared with 88 percent in a February 2015 UT/TT Poll. That's an insignificant change, but look at the Democrats, who dropped from 61 percent support then to 46 percent support now.
Both parties are loosening their resistance to legal marijuana. More than half of Texas registered voters now say it should be legalized. Republicans in Texas added a decriminalization plank to their platform this year, saying the penalty for small amounts ought to be more akin to a traffic violation than a bank robbery: more tickets, fewer incarcerations.
More often, the poll provided evidence that politics in Texas is just as dispiritingly polarized as it is in the rest of the country.
The Texas Republicans whose two favorites in the last presidential race faltered (Cruz and Perry) are now unreservedly in President Donald Trump's corner. Not by a little, but by a lot: 87 percent of them approve of the job Trump is doing, including 55 percent who strongly approve.
Democrats are just as emphatic, in the opposite direction: 84 percent disapprove, including 75 percent who disapprove strongly.
That political polarity shows up in national polls, and it was all over the Texas responses.
Texas Republicans are so with Trump that they're against the nation's top law enforcement agency: 45 percent of Texas Republicans have a negative opinion of the FBI, while 27 percent have a positive opinion. Democrats were 62 percent positive and just 11 percent negative.
They're so bound to the party that they're ignoring the results of Robert Mueller's probe into Russian tampering with the 2016 elections. On one hand, 58 percent of voters said they've heard a lot about the investigations. But 81 percent of Republicans believe that the purpose of the inquiries is to discredit the president, and 78 percent said Mueller hasn't uncovered any crimes.
He has obtained 17 indictments and 5 convictions. Wouldn't you know that if you'd been following this closely?
They're so in sync with the president that they reach for their noses when you ask these football-crazy conservatives about the NFL — an organization he condemned after players began protests against police shootings by sitting out or kneeling during the national anthem. Only 14 percent of Republicans have a favorable impression of the league, while 65 percent have an unfavorable one. Democrats are lukewarm on this one —38 percent favorable and 28 percent unfavorable — but they're more positive than not.
You know politics has soured when it comes between Texans and football.
The University of Texas at Austin has been a financial supporter of The Texas Tribune, a nonprofit, nonpartisan news organization that is funded in part by donations from members, foundations and corporate sponsors. Financial supporters play no role in the Tribune's journalism. Find a complete list of themhere.