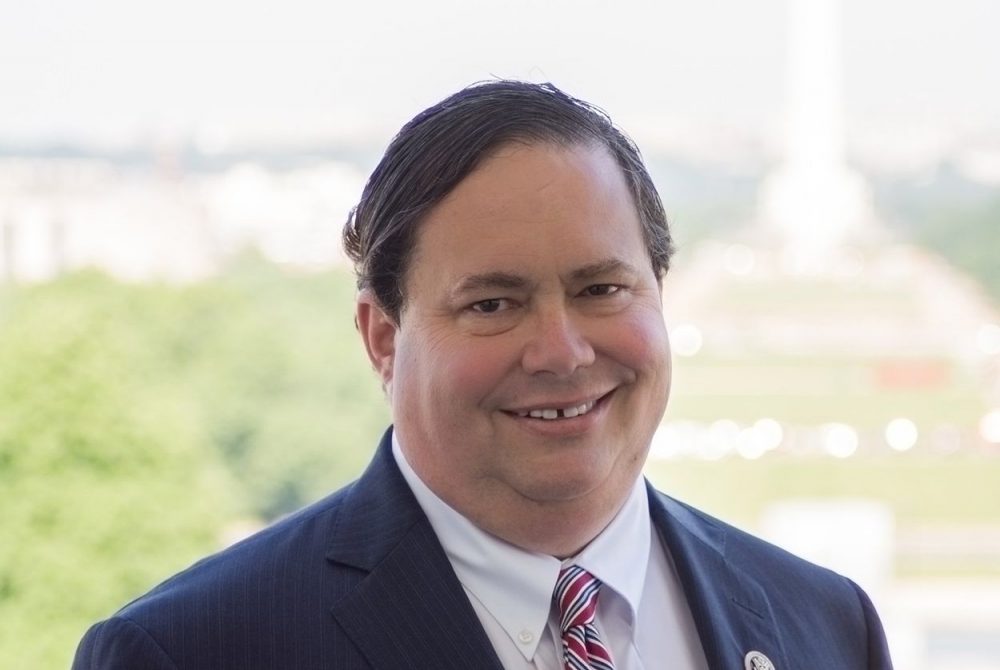 Voters in the 27th Congressional District are preparing to go to the polls for a third time this year on Saturday for a sleepy special election in which both parties are working to rally their fatigued troops behind a single candidate in the nine-person field to replace former U.S. Rep. Blake Farenthold, R-Corpus Christi.
Farenthold abruptly resigned in April amid the fallout from sexual harassment allegations and an ethics investigation by the House Ethics Committee. He had announced four months earlier that he wouldn't run for re-election, creating an open race to succeed him.
Saturday's election is to determine who completes Farenthold's current term, which ends in January, and it's separate from the November election, the winner of which will take over the seat for a full two-year term after that.

Despite nine candidates on the ballot, Republicans are hoping their general election nominee, Michael Cloud, can win outright Saturday and avoid a runoff that would keep the seat empty for at least two more months and leave the counties with the bill for yet another election this year. Democrats, meanwhile, believe the crowded race provides an opening for their consensus candidate — Eric Holguin, also his party's pick for the fall — to advance to a second round.
Even if Holguin makes the runoff, few are predicting the solidly red district could flip. Still, Democrats view it as an opportunity to at least build some momentum in the run-up to the November elections, and Republicans acknowledge there is an inescapable element of uncertainty in the low-turnout environment.
"I think the odds are highly favorable of [Cloud] winning the special election at least in a runoff, but the turnout's so low, anything can happen," said Michael Bergsma, the Republican Party chairman in Nueces County.
Gov. Greg Abbott announced the special election two months ago following Farenthold's resignation, and it was not without drama. Before calling the special election, he sought — and received — clearance from Attorney General Ken Paxton to suspend state law to speed up the timeline to fill the seat, citing the Coastal Bend-area district's urgent need for representation as it recovers from Hurricane Harvey.
Farenthold has been dogged for months over his refusal to pay back $84,000 in taxpayer money used to settle a 2015 sexual harassment claim, after originally promising to refund it late last year. Once Abbott picked a date for the special election, he pressed Farenthold to pay back the $84,000 directly to local taxpayers by covering the costs of the special election, a request Farenthold rejected.
In addition to the three Democrats and three Republicans on the ballot Saturday, there is Libertarian Daniel Tinus and independent candidates Judith Cutright, a Corpus Christi communications consultant, and Chris Suprun, a Dallas paramedic. Suprun is best known as the Texas elector who voted against Donald Trump in 2016.
Early voting for the special election started June 13 and ends Tuesday.
GOP leaders back Cloud
In making the case for an outright win Saturday, Cloud, a former Victoria County GOP chairman, is echoing Abbott's argument that the district needs new representation as soon as possible to deal with the Harvey aftermath. The sprawling district covers a large portion of the Gulf Coast and reaches northwest toward Austin.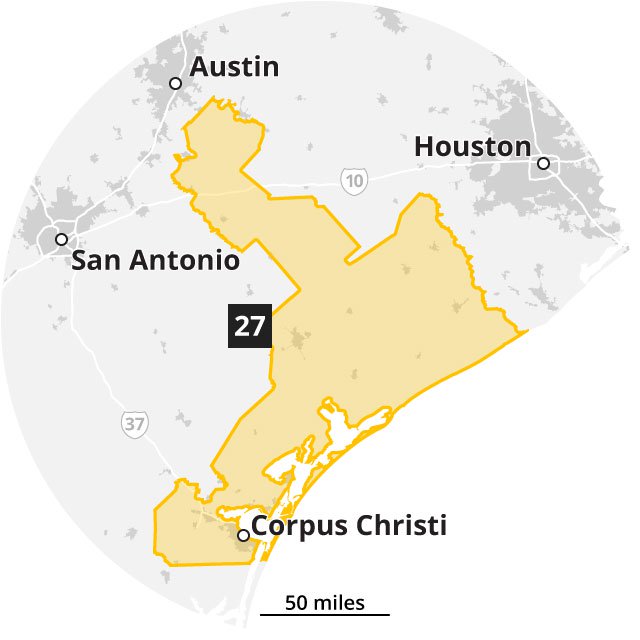 "Much of our district's still recovering from Hurricane Harvey and the burden really is on county government," Cloud said in an interview. "If we can pull out 50 percent and gets things moving and get our district represented, I think that would be a big win for the district."
The GOP unity push kicked into high gear Thursday, when Abbott endorsed Cloud, saying in a video that Cloud will fight for post-Harvey resources for the district and — in a thinly veiled reference to Farenthold — "restore integrity to the office." The governor did not get involved in the primary or runoff.
Weeks before Abbott weighed in, Cloud picked up the support of his primary runoff rival, Bech Bruun, who appeared with Cloud at a news conference in Corpus Christi and said he hoped his endorsement would help Cloud dodge a runoff. Cloud's campaign has sent out mailers highlighting the endorsement by Bruun, the former chairman of the Texas Water Development Board, under the headline "Republicans Unite Behind Michael Cloud."
Cloud's campaign has also aired a TV ad urging Republicans to coalesce behind him — and warning of the consequences if they do not. "Don't let liberals win this seat," a narrator says over ominous images of Nancy Pelosi, the U.S. House minority leader, and Hillary Clinton, the 2016 Democratic presidential nominee.
Still, there is a third Republican in the special election, and he remains something of a wild card. Marty Perez, a Corpus Christi doctor, has injected almost $130,000 in to his campaign, mostly using it to run unpolished TV ads emphasizing how the district has been left without representation and asking voters to "let him come in and drain the swamp so that we can have a clean slate."
In one of Perez's ads, he rehashes attacks against Cloud from last month's runoff, alleging Cloud "has sold his very soul to the devil" as the beneficiary of support from the Club for Growth, a national conservative group. Its super PAC arm unloaded hundreds of thousands of dollars helping Cloud win the runoff, though Cloud had no formal control over the spending, much of which targeted Bruun.
Democrats also seek unity
A unity movement is also afoot on the Democratic side. Holguin, a former staffer at the New York City comptroller's office, has collected support from some of the top Democrats in the state, including gubernatorial nominee Lupe Valdez and state party Chairman Gilberto Hinojosa — as strong of a signal as possible to Democratic voters in TX-27 that there is no other viable option for them.
Also on the ballot Saturday is Holguin's runoff opponent, Raul "Roy" Barrera, but he appears to have stopped campaigning after May 22.
"We're just letting everyone know that we need to unite our Democratic vote behind my candidacy so that there isn't any spoilers" Saturday, Holguin said in an interview, adding that if he makes the runoff, he believes it will be a "completely different race" that will draw much more attention and enthusiasm.
Holguin emphasizes that opportunity in a TV ad where he says the communities of TX-27 have been "forgotten" and voters have a "true shot at reversing" that Saturday. The commercial also alludes to the GOP frontrunner, telling voters their support is "vital to ensuring our district doesn't get stuck in the clouds."
Pat Tally, who chairs the Victoria County Democratic Party, said there has been "a lot of pressure for people to please consolidate and get behind one person so that we cannot have all of our numbers" spread across different candidates. Democrats, she added with a chuckle, are not always good at that.
The third Democrat on the ballot Saturday, Mike Westergren, is a Corpus Christi lawyer and former state district judge who unsuccessfully ran for Texas Supreme Court in 2016. Westergren said he got in the race out of a desire to help Harvey victims, realizing there are "still a lot of unmet needs, and they need a congressman."
Westergren is not a fan of the push to fall in line behind Holguin, particularly the state party's involvement in the race.
"I've been a Democrat all my life, and they're not supposed to get involved, but they are," Westergren said. "I don't think that's right."
(A party spokesman said Hinojosa endorsed Holguin due to the "overwhelming support" he received in the May 22 runoff, when he defeated Barrera by over 20 points. There is no law or party rule that prevents a party official from endorsing a campaign, the spokesman added.)
With candidates scrambling to educate voters about the special election, there has been little discussion about the issues since the runoffs. Holguin and Cloud have exchanged statements over the family separation crisis at the border, with Holguin first offering an "effort to unite" with Cloud in opposition to the situation. Cloud, who regularly notes on the campaign trail that his wife is a Mexican immigrant, said in a statement there needs to be a "solution that keeps the family unit together without compromising on enforcing our law."
Still, the candidates' top focus in the final days before Saturday remains simply getting their voters to the polls one more time.
"I was at church Sunday morning and even my best-est friends were coming up to me," Cloud recalled, "and saying, 'How many times do I have to vote for you?'"