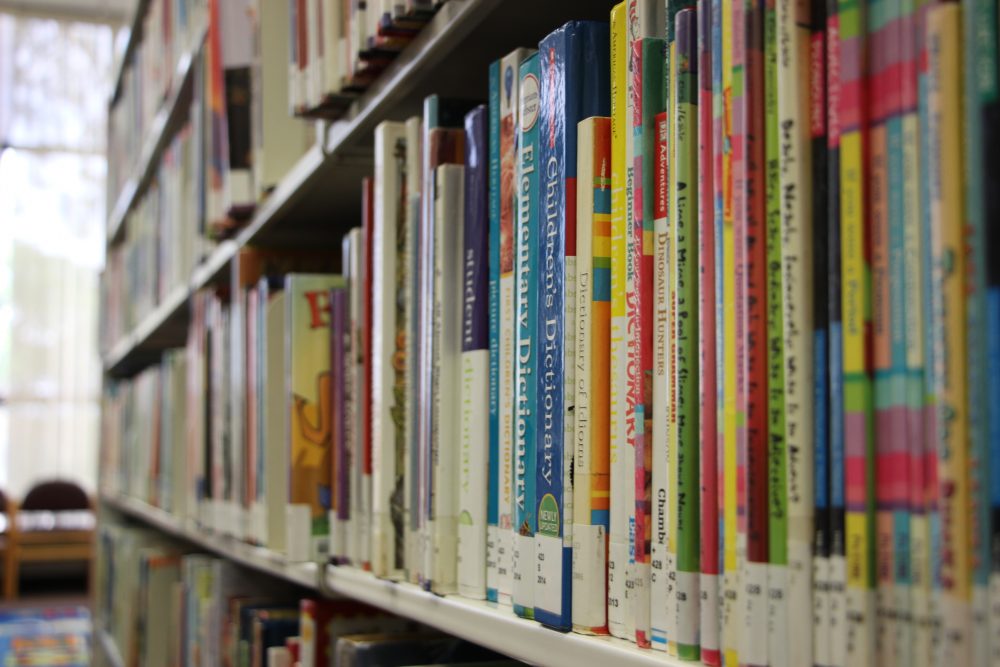 Advancement in technology has significantly changed how some people read (and get) books, ever since the emergence of eBooks, audiobooks, and online shopping. But libraries are still going strong. In fact, Texas libraries reported a 44 percent increase in visits between 1997 and 2016. That's because your local library may have changed quite a bit from when you were a kid.
Houston Public Library goes high-tech
The Scenic Woods Regional Library in northeast Houston opened its new creative digital space, TECHLink, in May. It has a 3D printer, a fully equipped recording studio, a video production space (with a teleprompter and green screen), animation software, a laser engraver, an embroidery machine, and a "Tiny Techs" area for kids.
And, of course, these TECHLink services are free for the public to use.
The Houston Public Library noted staff is available to help users navigate the space, and it expects TECHLink to expand to other locations within the next couple of years.
Houston musician Andrew Karnavas, 34, said he has been recording albums for the past decade, and his last album was recorded in a padded-out walk-in cooler. But now, he tracks and mixes at TECHLink's new recording studio.
Karnavas said he is a huge advocate for libraries, and recorded the "Welcome To The Library" song to help get the word out about TECHLink.
"Maybe you can't keep up with the technology trends the way that the library can now," said Karnavas. "So, this will lead to a population that has more skills, especially in the high-tech areas. And I think that's going to lead to more innovation and more storytelling."
Karnavas said he performs at 20 to 30 libraries around Houston over the summer. Along with being a musician, he's a program director for Just Add Beats, an audio production and entrepreneurship program for kids grades 6 through 12.
"If they have a place in the community where they can come... to continue to push their skills, then that is a wonderful thing," said Karnavas. "And I think libraries are more important than ever.... You're going to see a lot more creative projects and it's also a safe place for kids to collaborate."
Not your "grandmother's library"
According to data from The Texas State Library and Archives Commission, electronic materials (like audio, video, e-books, and databases) have increased nearly 14,000 percent, between 1997 and 2016.
"We saw just last year, our circulation of our e-content [e-books, audio books, music, and videos] up 35 percent," said Laurie Covington, Deputy Assistant Director of Customer Experience for the Houston Public Library. Covington has been with the system since 1999. "We buy more things digitally, and we allow customers to sign up for a library card online. So, they can get instant access to our electronic books, movies, and music."
Covington said they make sure their libraries have strong Wi-Fi signals, plugs for customers to charge personal devices, and technology has even changed the way staff interacts with library visitors.
"We have staff that are roaming throughout the library, with iPads or tablets," said Covington. "They can meet the customer in the stacks, and be able to answer their question without having to go back to their desk to look something up."
"It's not your grandmother's library anymore," said Helen Chou, Senior Manager of International Services at the Houston Public Library.
"We really see libraries as that unique place in the community, where people come here to learn, for very different reasons, often times. But the nice thing is: everybody who walks through these doors is equal to everyone else. In that, they have equal access to learn. And, for us, seeing Houston as the most diverse city, we really believe that one of the best opportunities for learning is from each other. And that's really what we're trying to do at the Houston Public Library, is expand those opportunities to learn from each other."
The Houston Public Library operates over 40 locations and serves about 2.3 million Houstonians. And Chou said their libraries have embraced and evolved with the city's diverse population. For example, Chou said a library recently hosted a Deferred Action for Childhood Arrivals (DACA) information workshop, with pro bono lawyers from the Houston Immigration Legal Services Collaborative.
"Definitely, the climate, the environment around immigrants and refugees has changed. That doesn't mean it's necessarily changed in terms of the interactions between neighbors, here, in Houston," said Chou. "And so, we really try and build resources for community needs. And we've seen a lot of support from the community for building those relationships."
Chou said they host a variety of cultural events, including "The Living Room at HPL," where visitors can meet each other while enjoying food from all over the world. They also have programs like bilingual story time, live language interpretation resources, and continue to hold citizenship and English classes.
"We believe the library should be your community's living room," said Chou. "It's a place where neighbors meet neighbors. And they build relationships and trust. They understand across cultures and across boundaries, by just having those genuine and authentic conversations."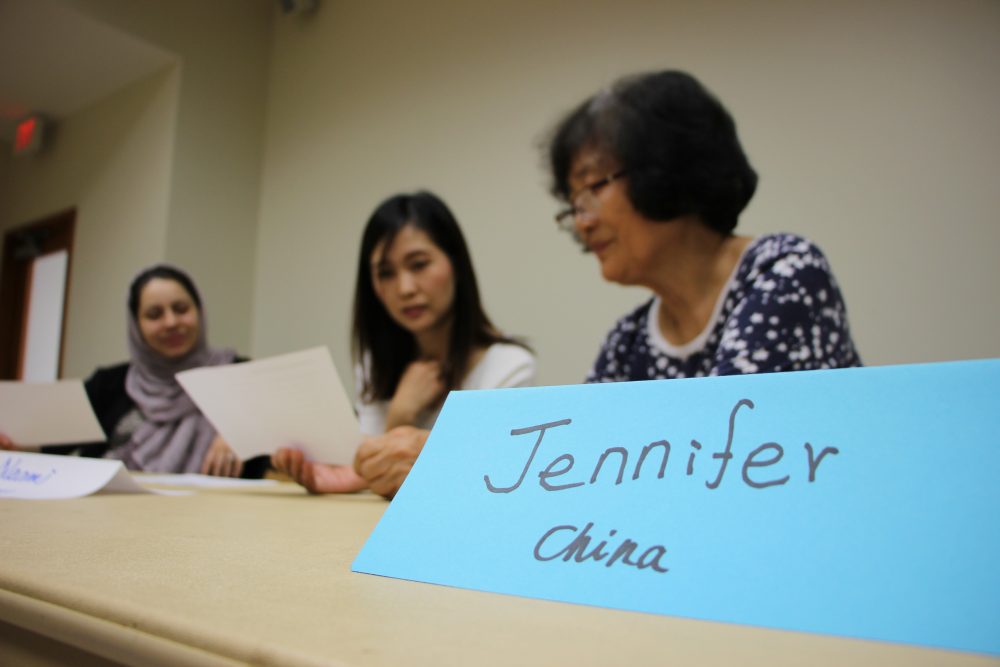 Social services at libraries
Libraries simply aren't just warehouses for stacks of books. In addition to an extreme influx of digital assets, they continue to be beacons of trusted resources within the communities they reside in.
Jennifer LaBoon, president of the Texas Library Association, said libraries are able to help residents in the community because they're embedded in them.
"Some of our libraries are much easier, access-wise, for people in the neighborhood than other social services. And so, they come there looking for assistance and information and the library has evolved to meet that," said LaBoon. "They had to morph and become a place where those people could come to learn about services and social services that are available to them. They've helped them fill out paperwork. They've helped them with citizenship classes. They've done the citizenship ceremonies. They've done all of it. And they are truly making a difference in those people's lives. Because they provided that need, and it may have been a need they were not filling five years ago."
LaBoon said social workers are also popping up at various libraries across the state, including the Dallas Public Library. Jo Giudice, Director of Libraries for the Dallas Public Library, said they have two full-time staff dedicated to working with their customers experiencing homelessness.
"We have spent the past 5 years fine-tuning our program here to find out what our customers need from us and how we can best provide assistance while not being a social services provider," said Giudice, in an e-mailed statement. "The balance we have found is to be a good partner to our social services providers and invite them into the library to provide services."
Laurie Covington, of the Houston Public Library, said public libraries also can help people do things like start a small business, apply for colleges, get a job, and train in digital fluency.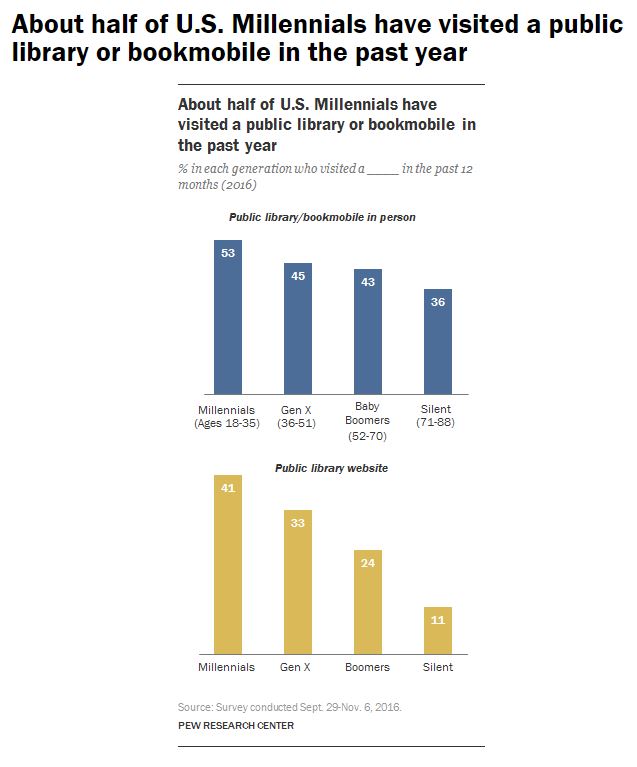 Millennials like libraries
A 2016 Pew Research Center survey found Millennials use libraries the most, when compared to other generations. According to the data, over half of Millennials surveyed, 53 percent, said they used a library (or bookmobile) over the past year. Gen Xers responded at 45 percent, Baby Boomers held 43 percent, and the Silent Generation was the lowest, at 36 percent.
"Most of our resources, in fact, today, are digital resources. But we still know that, despite the digital resources… we still need that 'community center feel'. It particularly speaks to Millennials," said LaBoon. "They like to gather. They like to talk about their interests in social settings, and not just via social media."
Covington said the Houston Public Library takes more advantage of natural lighting in the newer, renovated libraries, and also utilizes more open spaces.
"I think especially when kids have grown up in the library, then they know to continue to use the library," said Covington. "It's a natural progression for Millennials to continue to use the library as they become adults. So we continue to offer programs for all ages."
But, you don't have to read between the lines to know: it doesn't matter your age, background, interests, or skill level… there's something at your local library for you.