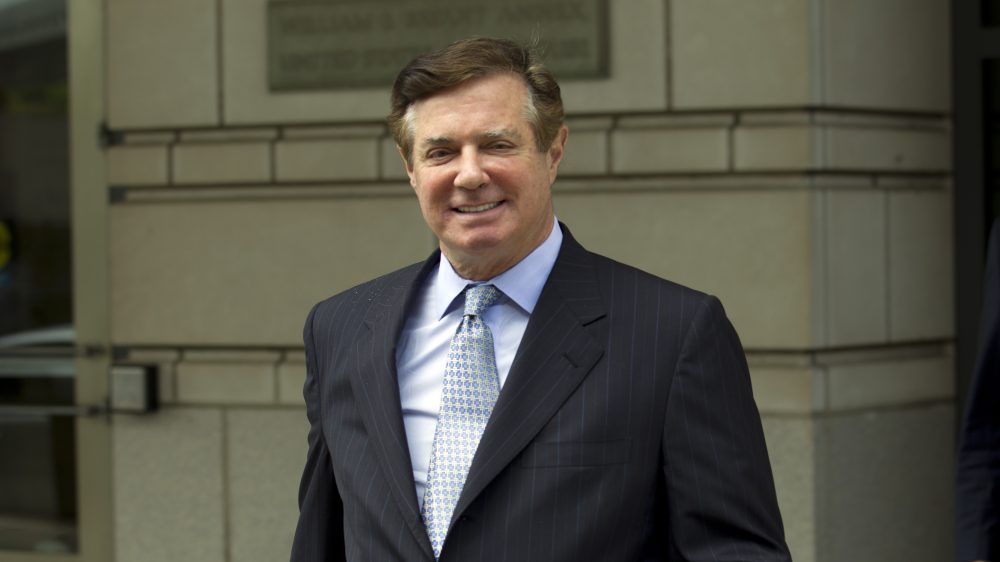 Prosecutors are accusing former Trump campaign manager Paul Manafort of witness tampering as he awaits trial on conspiracy and money laundering charges, and they asked a judge to end his house arrest and consider pretrial detention.
Lawyers working for special counsel Robert Mueller filed a motion with the U.S. District Court for the District of Columbia on Monday saying they have probable cause to believe that Manafort attempted to tamper with potential witnesses while on pretrial release.
The documents say that following an indictment against Manafort in February of this year, he and an associate — referred to in court documents as Person A — "repeatedly" contacted two witnesses, identified as Person D1 and Person D2 "in an effort to secure materially false testimony" concerning the nature of Manafort's lobbying and public relations activities on behalf of Ukraine during the tenure of its pro-Moscow former president, Viktor Yanukovych.
The motion says that after the indictment was made public, Manafort called Person D1 on a cellphone, but that the potential witness "sought to avoid Manafort" and "ended the call."
The documents say Manafort then used a text-message encryption application to contact the witness, writing "This is Paul" and "We should talk." The witnesses preserved the texts and turned them over to the government.
Further, the unnamed associate (Person A), also using a text-message encryption application, contacted the other witness (Person D2) to let them know that "My friend P is trying to reach [Person D1] to brief him on what's going on."
"Basically P wants to give him a quick summary that he says to everybody (which is true) that our friends never lobbied in the US, and the purpose of the program was [European Union]," Person A said.
In previous filings, Person A has been used to designate Konstantin Kilimnik, a Manafort associate who prosecutors believe has ties to Russian intelligence — something Kilimnik has denied.
Although the witnesses are unnamed, prosecutors have said they "were principals in a public relations firm that worked with Manafort in organizing a group of former European officials, known as the Hapsburg group, who promoted Ukrainian interests in Europe as well as the U.S.," according to The Associated Press.
"Prosecutors say Manafort directed the group's work and secretly funneled about $2 million to it to take positions favorable to Ukraine including by lobbying in the U.S.," the news agency says.
In the latest filing, Mueller's team says Manafort obstructed justice and attempted to "suborn perjury" by contacting the witnesses. It asked a judge to immediately determine whether there was probable cause that Manafort committed a crime while on bail and, if so, to place him in detention.
This is the second time that prosecutors have accused Manafort of violating the terms of his pretrial release. We reported last year that Manafort was accused of trying to sway public opinion by getting a Russian compatriot to ghostwrite a newspaper opinion piece. Prosecutors say that violated a gag order on Manafort.
Manafort joined the Trump campaign in March 2016 and served as its campaign manager from June to August of that year. The FBI reportedly opened a criminal investigation of Manafort in 2014. In July, FBI agents raided his home and seized documents. He surrendered to agents in October after being indicted by a federal grand jury.
Manafort has denied any wrongdoing and pleaded not guilty to the charges against him.
Copyright 2018 NPR. To see more, visit http://www.npr.org/.