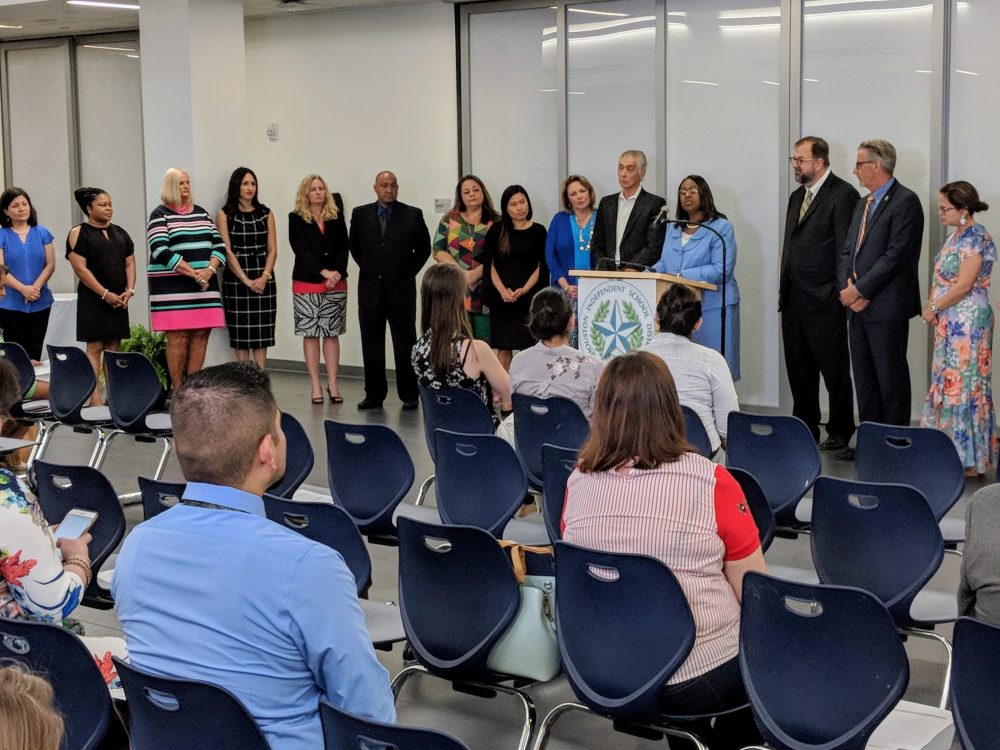 As the school year comes to a close, Houston-area schools are learning how they compare to other schools in the region through an annual ranking report.
T.H. Rogers School topped rankings for best elementary and middle schools. DeBakey High School For Health Professionals ranked highest in the region and state compared to other high schools.
While commending some schools on high-performance and achievement, the annual assessment from non-profit advocacy group Children At Risk shows performance disparities between schools of different income levels, with schools in wealthier areas faring better than low-income schools. However, several schools serving mostly low-income students still made their way onto top 10 lists.
Children At Risk considers raw test score data, year-to-year score improvements, score comparisons between schools with similar poverty levels, and for high schools, college readiness, to determine the rankings.
"When we look statewide at high-poverty and high-performing schools we see that in Houston 9 percent of the high-poverty or low-income schools are actually high-performing," Bob Sanborn, chief executive of Children At Risk, said at a press conference announcing the rankings. Schools in Dallas see a similar 9 percent figure of high-poverty yet high-performing schools, while 31 percent of schools in the Rio Grande Valley meet that same definition, Sanborn said.
The rankings come after a particularly challenging school year for Houston Independent School District, which decided in April not to take up a charter school contract meant to avoid state sanctions over under-performing schools. The district is instead seeking a waiver from state officials, citing difficulties brought by Hurricane Harvey.
"HISD just wrapped up a difficult year that tested our strength and resolve as we dealt with financial challenges and a natural disaster," interim HISD superintendent Grenita Lathan said at the press conference. "We see hard work our students and educators put into this school year showing improved scores across the board," she said. Lathan did not offer specifics when asked about plans to improve struggling schools.
Find the rankings from Children At Risk below:
Top 5 Houston Area Elementary Schools:
T.H. Rogers School (Houston ISD)

Creekside Forest Elementary (Tomball ISD)

Commonwealth Elementary (Fort Bend ISD)

Horn Elementary (Houston ISD)

River Oaks Elementary (Houston ISD)
Top 5 Houston Area Middle Schools:
T.H. Rogers School (

Houston ISD

)

Cornerstone Academy (Spring Branch

ISD

)

Houston Gateway Academy – Coral Campus (Houston Gateway Academy Inc.)

Project Chrysalis Middle (Houston

ISD

)

Houston Gateway Academy – Elite College Prep (Houston Gateway Academy Inc.)
Top 10 Houston Area High Schools:
DeBakey High School For Health Professionals (Houston

ISD

)

Eastwood Academy (Houston

ISD

)

Carnegie Vanguard High School (Houston

ISD

)

Kerr High School (Alief

ISD

)

Alief Early College High School (Alief

ISD

)

East Early College High School (Houston

ISD

)

Spring Early College Academy (Spring

ISD

)

Sharpstown International School (Houston

ISD

)

Victory Early College High School (Aldine

ISD

)

Challenge Early College High School (Houston ISD)
Gold Ribbon Schools (Schools Children At Risk labels as "high-performing" despite high levels of poverty):
Top 5 Gold Ribbon Elementary Schools
Field Elementary (Houston

ISD

)

Lyons Elementary (Houston

ISD

)

Park Place Elementary (Houston

ISD

)

Frazier Elementary (Pasadena ISD)

Taylor Ray Elementary (Lamar CISD)
Top 5 Gold Ribbon Middle Schools
Project Chrysalis Middle (Houston ISD)

Crenshaw El And Middle (Galveston ISD)

Energized For Excellence Academy Inc Middle (Houston ISD)

Pilgrim Academy (Houston ISD)

O'Donnell Middle (Alief ISD)
Gold Ribbon High Schools
Eastwood Academy (Houston ISD)

Alief Early College High School (Alief ISD)

Victory Early College High School (Aldine ISD)

Energized For Stem Academy Southwest High School (Houston ISD)