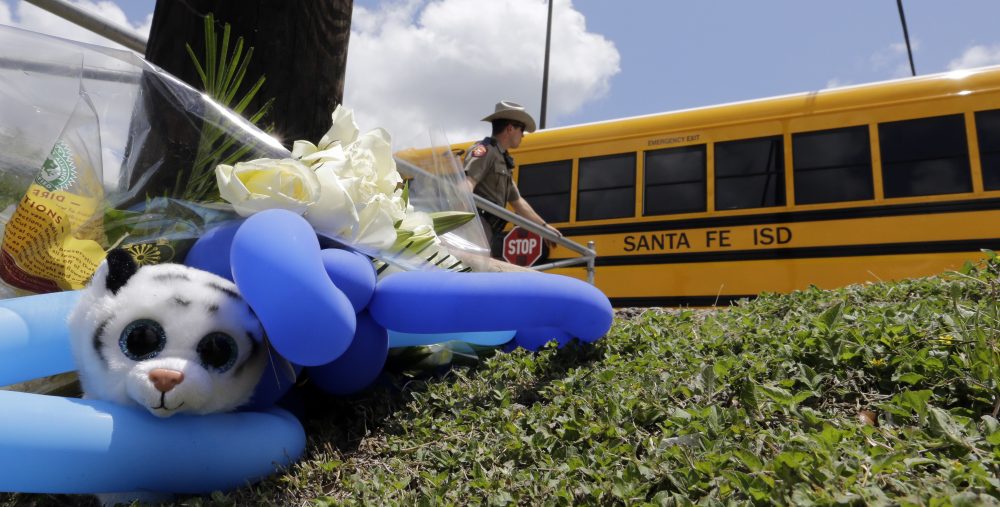 The shooting at Santa Fe High School last Friday almost tested the state's school marshal program.
More than 170 school districts across Texas, including Santa Fe, have opted to join the voluntary program, which trains a school staff member to carry a concealed weapon and respond to an active shooter.
However, Santa Fe ISD hadn't implemented the program and no one on staff had been trained as a marshal when 10 students and teachers were gunned down.
As state lawmakers, parents and others grapple with how to respond to the latest school shooting, here are five things to know about Texas' school marshal program. News 88.7 talked with state Rep. Jason Villalba, R-Dallas, who created the program.
Why Did It Start: Villalba said that he authored the law creating school marshals after the shooting at Sandy Hook Elementary in 2012. At that time, his daughters were in kindergarten and three years old, so Villalba wanted to create more protection on campus. The Texas Legislature passed the law in 2013 and it went into effect in the fall later that year. "It was because of the impact it was having on parents all around the country and people like me, who had such empathy for these parents who were going through such tragic circumstances," he said.
How Does It Work: A traditional school district or charter school can opt into the program and appoint a school marshal. That staff member, who could be a principal, coach, teacher or other individual, must complete 80 hours of training, including how to respond to an active shooter. The identity of the marshal is kept secret, unless there is an emergency on campus. Villalba maintains that it is different than arming teachers, because of the selective training. "I'm no fan of what people call 'arming the teachers' … That's not what the bill does. The bill creates a new class of peace officer who are highly trained individuals who can be that last line of defense, after all of the other defense mechanisms are exhausted," he said.
How Many Districts Participate: It's unclear exactly how many school districts participate or which ones. Villalba said that more than 170 districts — about 14 percent of all Texas school districts — have signed up, primarily schools in rural areas where there is not a lot of access to emergency responders.
How Has It Grown: Since the school shooting in Parkland, Florida that killed 17 people, interest in the program has grown significantly and more districts have requested seats in the marshal training, according to Villalba. Since that shooting, it's been highlighted by President Donald Trump and Governor Greg Abbott as a model for other schools. Also, since the original program started, it's been expanded to allow marshals at junior colleges and private schools.
How It Could Change: Villalba said that he believes the program should have a "wholesale" expansion, though he doesn't want to make it should be mandatory. He believes more districts would join if the state paid for the training, which costs about $4,000, and if there was a stronger education program to explain how it works to districts. "Every campus in Texas, in my belief, should have a school marshal or two on its premises, even if they have school resource officers in uniform," Villalba said.