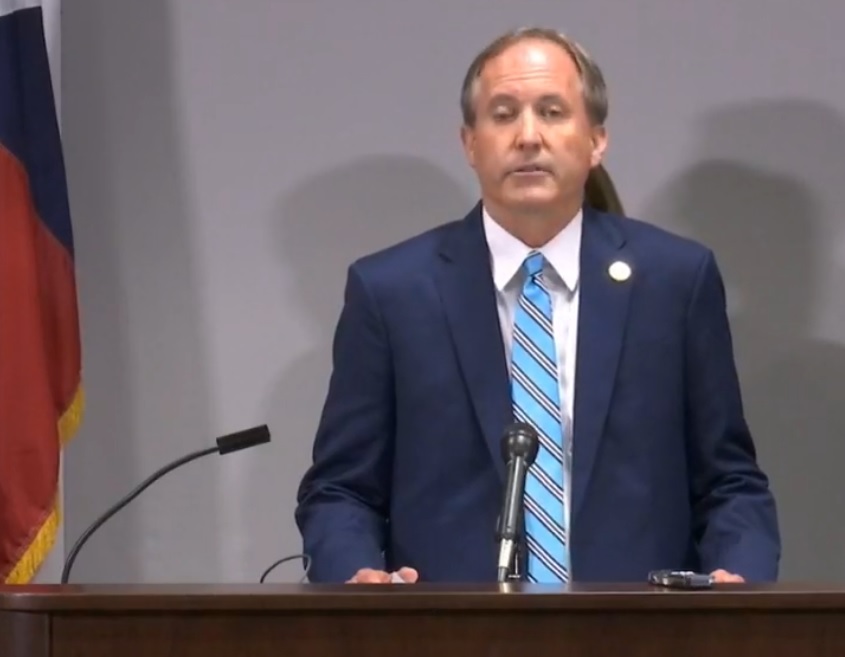 In the context of the opioid crisis, Texas Attorney General Ken Paxton announced Tuesday he has filed a lawsuit against Connecticut-based Purdue Pharma for violating the Texas Deceptive Trade Practices Act (DTPA) through deceptive marketing of prescription opioid painkillers, including OxyContin.
Specifically, Paxton's office filed a consumer protection lawsuit in Travis County District Court.
"My office is holding Purdue Pharma accountable for fueling the nation's opioid epidemic by deceptively marketing prescription painkillers including OxyContin when it knew their drugs were potentially dangerous and that its use had a high likelihood of leading to addiction," Paxton said in a press conference.
"As Purdue got rich from sales of its opioids, Texans and others across the nation were swept up in a public health crisis that led to tens of thousands of deaths each year due to opioid overdoses," Paxton added.
According to a news release from Paxton's office, the lawsuit seeks significant penalties from Purdue Pharma for its illegal conduct, and a permanent injunction to prevent future harm to Texans.
Purdue has reportedly denied the allegations.
"We are disappointed that after months of good-faith negotiations working toward a meaningful resolution to help the state of Texas address the opioid crisis, the attorney general has unilaterally decided to pursue a costly and protracted litigation process," spokesman Robert Josephson said in a prepared statement to USA TODAY. "We vigorously deny these allegations and look forward to the opportunity to present our defense."
Alleged violations
The alleged violations of DTPA by Purdue include: misrepresenting or failing to disclose the risk of addiction of opioids; misrepresenting that there is no "ceiling dose" of their opioid drugs—falsely representing that doctors and patients could increase opioid dosages indefinitely without risk; making false, unsubstantiated representations about "pseudoaddiction," and falsely representing to doctors that common signs of addiction in patients are actually signs that the patient needs a higher dose of opioid; and falsely representing that Purdue's abuse-deterrent formulation of OxyContin reduces the risks of OxyContin, including the risk of addiction.
Opioids are a family of drugs that include prescription painkillers such as OxyContin, as well as illegal drugs like heroin.
Thousands of deaths
According to data mentioned in Paxton's news release, each day, 115 Americans die of opioid overdoses. Nationwide, there were 42,249 opioid overdoses in 2016, including 1,375 opioid-related deaths in Texas.
The death toll attributed to opioids in the United States has quadrupled over the last two decades, also according to the news release.
The Texas lawsuit accuses Purdue Pharma of using a marketing campaign to convince doctors and consumers that their opioid drugs are effective for treating long term pain and have a low risk of addiction.
However, the Centers for Disease Control and Prevention (CDC) noted in its 2016 guidelines that "there is no good evidence that opioids improve pain or function with long-term use."
Other, safer drugs, such as acetaminophen or non-steroidal anti-inflammatory drugs like ibuprofen, are effective and carry fewer risks, according to the CDC.
The news release also noted that, in Texas, non-fatal opioid costs to the state are around $20 billion annually, according to research from the American Enterprise Institute.
Additionally, four of the top 25 cities for opioid abuse, are in Texas – Texarkana, Amarillo, Odessa and Longview.
Justin Nelson, the Democratic candidate for Texas Attorney General, reacted to Paxton's lawsuit saying it is "too little too late for so many Texas families suffering from the opioid crisis."
Nelson added in a written statement that lawsuits filed in other jurisdictions have been "much stronger" than the one announced by Texas and referenced one filed by Oklahoma. He also commented that what is needed is a "comprehensive solution to the opioid crisis."
You can watch Attorney General Paxton's press conference here: