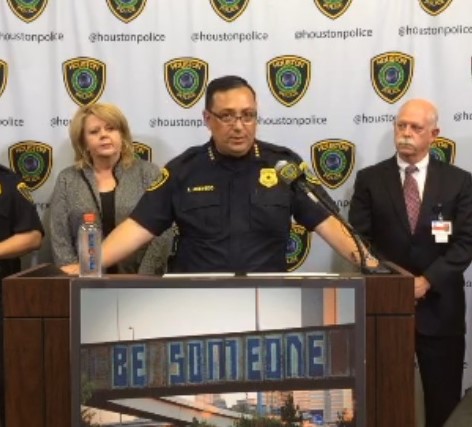 Houston Police Chief Art Acevedo informed Wednesday that a months-long investigation has found CBD oil sold in local smoke shops contains dangerous substances, including one of the components of the synthetic drug known as Kush.
Cannabidiol, commonly known as CBD, is one of the chemical compounds found in the cannabis or marijuana plant and, according to some researchers, the oil derived from it can help relieve pain and reduce anxiety, among other things.
Investigators with the Houston Police Department (HPD) conducted undercover purchases of CBD oil and almost every purchase they made that was tested in the laboratory showed the oil contained an illegal substance.
"That substance was almost always the same substance found in Kush," said Acevedo during a media briefing held at HPD's headquarters, located in downtown Houston.
On May 2, HPD officers working with the Harris County Attorney's Office served search warrants at three smoke shops and seized large quantities of CBD oil. Acevedo specified HPD has seized more than 1,000 bottles.
The smoke shops are: Fantasy, located at 1412 Westheimer Road; Smokey Doke, located at 5784 Bingle; and Dreamerz, located at 2961 Bingle.
Lieutenant Marsha Todd, from HPD's Narcotics Division, detailed that many of the bottles obtained during the investigation were tainted with an illegal substance called 5 Fluoro EDMB PINACA, which is the same type of synthetic cannabinoid found in Kush.
Todd explained that "some of the CBD oil was manufactured in other states and shipped here to the smoke shops, and some of the oil was packaged right there in the back of the smoke shops."
The three smoke shops have been sued in civil court for selling illegal substances.