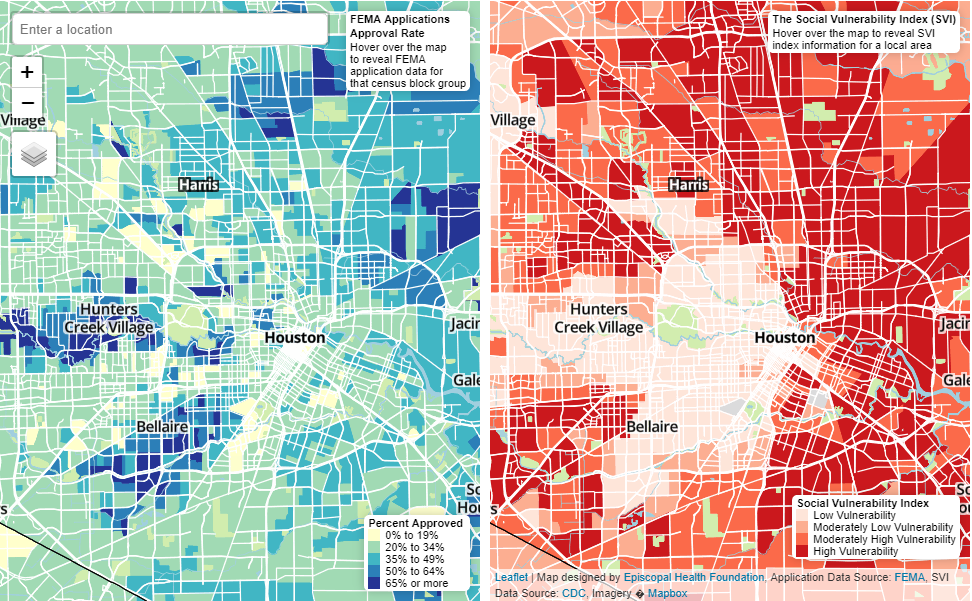 Health advocates are continuing to understand the effectiveness of Harvey recovery efforts, looking towards which neighborhoods are receiving the most federal disaster assistance. Episcopal Health Foundation is mapping Federal Emergency Management Agency (FEMA) application and approval data alongside the Centers for Disease Control and Prevention's social vulnerability index.
Early data from Episcopal Health Foundation showed wealthier areas received more federal disaster assistance than lower-income neighborhoods, a conclusion new maps released by the group seem to confirm. However, a spokesperson for Episcopal Health Foundation said the group has not run the same analysis on the new data as their previous approval-rate comparisons.
"We didn't produce the maps so we could say FEMA is good here and bad there, or different here and different there," said Elena Marks, President and C.E.O. of Episcopal Health Foundation. The maps are meant to be used by funders and stakeholders in Harvey recovery to make better decisions on where to devote resources, she said.
"When you know how FEMA has interacted, and you know the social vulnerability of a particular community, it better informs your decision making," Marks said.
Several variables can influence why particular areas apply more frequently than others yet have lower rates of approval, a spokesperson for FEMA wrote in an email. The agency says a frequent issue they encounter includes multiple people from a single household applying for assistance because they have been separated or did not know a family member already registered.