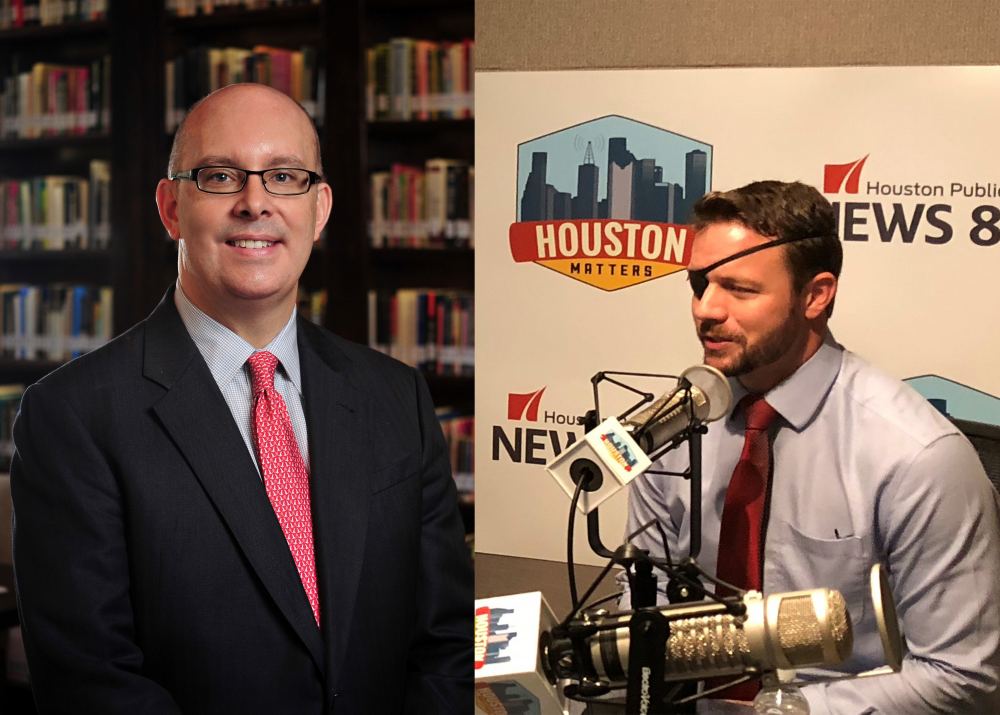 When Houston Congressman Ted Poe announced his retirement last November, it set off a blaze of activity among Republican hopefuls. Nine candidates jumped into the GOP primary to succeed Poe. State Representative Kevin Roberts and Lieutenant Commander Dan Crenshaw (USN, ret.) emerged as the top two vote-getters. The runoff between the top two men is coming May 22.
We sat down with both men to ask each why Republicans in Texas' 2nd Congressional District should vote for him.
Roberts has racked up a solidly conservative voting record during his single term representing Texas House District 126 in Northwest Houston. "I voted [for] and cosponsored the 'Sanctuary Cities' bill to protect our families, pro-life bills to ban partial birth abortion to protect the unborn, as well as passing a conservative budget, balanced budget at that, without raising taxes," Roberts says.
Crenshaw served five tours of duty as a Navy SEAL before a combat injury forced him to retire. He then earned a master's in public policy from Harvard's Kennedy School of Government.
"I've been in the national security realm for a very long time," Crenshaw says. "I've worked on the U.S. Capitol with [Dallas-area Congressman] Pete Sessions, and I've really had the inside look at how things work up there. I know far more about federal policy than my opponent does."
Both Roberts and Crenshaw said their top priorities in office would be flood control and border security. On flooding, both men say they would push federal agencies to act faster to advance projects like a third reservoir. Roberts points to his post-Harvey work in the Legislature.
"I was appointed soon after Harvey to serve on the disaster recovery and reform committee and have been involved in hours and hours of testimony before us, meeting with local officials, with state officials, and working with the Trump Administration to make sure that we are advancing flood control in the future," Roberts says.
Crenshaw argues that voting and experience are not the same thing, particularly when it comes to border security. He says he's glad Texas passed the sanctuary cities law, but "if a proposal is put my way, I don't need lots of research to figure out if it's viable or not, all right, because I've been on the ground before. I've patrolled dark, scary places just like our border agents have. And I speak the same language as our law enforcement officials and as our National Guards officials and as our border agents. So that's actual experience that you can apply to a situation."
Each candidate says he's the only who one wants to lower taxes. Roberts claims Crenshaw wants to hike payroll taxes. "My opponent has a plan to put in place a tax on every paycheck for every worker, and I just think that's wrong and terrible policy for Republicans to be suggesting," Roberts says.
Crenshaw says he opposes raising payroll taxes. He is concerned about the mounting costs of Social Security and Medicare that such taxes pay for, but his solution is to let workers contribute more to personal retirement accounts. And he says Roberts' voting record on taxes is nothing to boast about. "He also voted against his own party in many other situations, such as property tax reform. He voted for higher property taxes. He voted against Senator Bettencourt's bill," Crenshaw says.
That's not entirely accurate. We checked the record and found Roberts voted for the House version of Senator Paul Bettencourt's bill to restrict property tax growth. But that was after the bill was amended several times. The Senate didn't agree to the changes, and the bill died at the end of the special session.
Whoever wins the runoff will face Democrat Todd Litton in the general election. Texas' 2nd District has voted Republican for more than a decade. But with analysts increasingly predicting a Democratic wave this fall, the GOP nominee can't afford to take anything for granted.