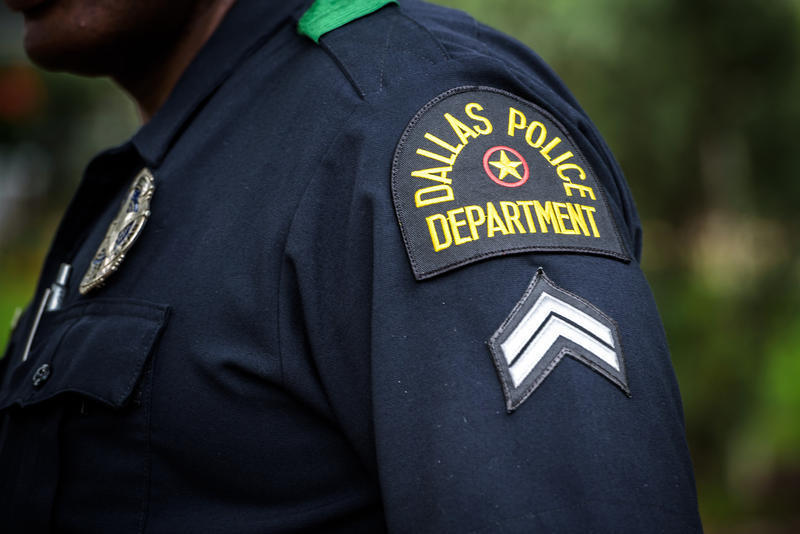 One Dallas police officer has died from his injuries and a second remains in critical condition after they were shot while trying to remove a man from a Home Depot in Northeast Dallas Tuesday afternoon.
In a City Council meeting Wednesday morning, Dallas Mayor Mike Rawlings announced that Officer Rogelio Santander, a three-year veteran of the force, died just after 8 a.m.
"It is with great sadness that we must inform you that Officer Rogelio Santander, Badge No. 10934, passed away at 8:11 this morning from his injuries," Rawlings said. "We ask that you please continue to pray for Officer Santander's family and our department as we all try to cope with this tragic loss."
Incredible police work. Thanks to @DallasPD and officers from the many other agencies who assisted our search. https://t.co/uTj8nmRPYw

— Mike Rawlings (@Mike_Rawlings) April 25, 2018
Rawlings said officer Crystal Almeida, also on the force for three years, remains in critical condition. He asked for continued prayers for her recovery and a moment of silence for Santander.
Scott Painter, a loss-prevention officer for Home Depot who was also shot Tuesday, remains in critical condition. All three wounded underwent surgery for their injuries at Texas Health Presbyterian Hospital.
In a brief update outside the hospital Wednesday morning, Dallas Police Chief U. Reneé Hall said both Almedia and Painter are making "remarkable" recoveries.
Armando Juarez L/M/29, is a person of interest in the Attempted Capital Murder of 2 Police Officers that occurred at the Home Depot located at 11682 Forest Central Drive. Anyone with information regarding this offense is encouraged to contact 9-1-1 pic.twitter.com/rbmwmMv2JC

— Dallas Police Dept (@DallasPD) April 25, 2018
Suspect Armando Juárez, 29, faces two assault charges and two previous felony theft warrants. Additional charges may be added, authorities say. Juárez was taken into custody shortly before 10 p.m. Tuesday after leading law enforcement on a high-speed car chase.
He's being held at the Dallas County jail on a bond in excess of $1 million.
Officers had spent several hours searching for Juárez after he had apparently fled the scene in a white truck, Hall said in a news conference Tuesday night.
Around 4 p.m. Tuesday, an off-duty Dallas police officer was at the Home Depot along Forest Central Drive, near the intersection of Forest Lane and U.S. Highway 75. Police officials say the officer detained Juárez and requested additional officers for assistance. After they arrived, Juárez fired a handgun, striking the two responding officers and the store employee.
"We need you right now," Hall said at the Tuesday night news conference. "Our hearts are very heavy."
Rawlings, who joined Hall at the news conference, said it is sobering to realize how quickly police officers can become victims.
"I continue to be upset at the lack of respect of our police in this city and in our country," he said.
In 2016, four Dallas police officers and a transit officer were shot dead by a sniper in an ambush that came toward the end of a peaceful protest over the police killings of black men that had occurred in other cities.
After a lengthy car chase, the suspect related to today's shooting is in custody. Now, prayers are needed for the two officers fighting for their lives!

— Dallas PD Tactical Support (@TacticalDPD) April 25, 2018
Our thoughts and prayers are with @DallasPD and the two officers shot and critically wounded. Texas honors all the men and women who protect and serve our communities, and justice will be served. https://t.co/gkUnxciFOs

— Gov. Greg Abbott (@GovAbbott) April 24, 2018
Sending our support to our friends @DallasPD .#PoliceFamily

— Fort Worth Police (@fortworthpd) April 24, 2018
Prayers to officers and their families for God's grace

— Chicago Police Superintendent David O. Brown (@ChiefDavidBrown) April 24, 2018