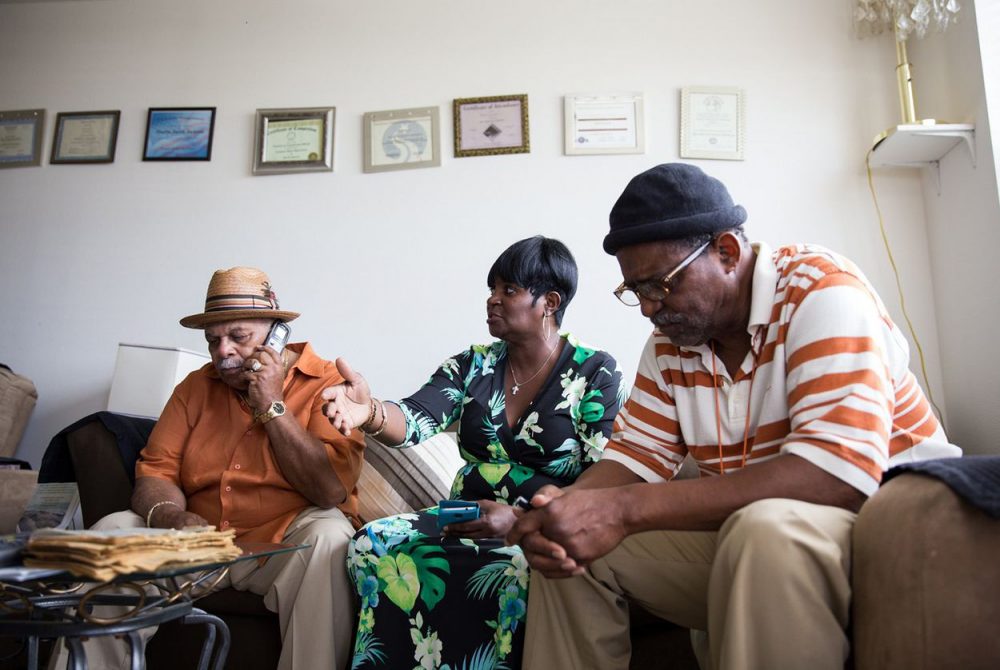 Sometimes, money is the easy part.
After Hurricane Ike ravaged this island town in September 2008, the federal government poured millions of dollars into local coffers to jump-start the recovery process. The results are obvious nearly 10 years later: Near the Strand, a historic street lined with 19th-century buildings, workers pour concrete for road projects, while others install streetlights and sidewalks a few blocks away.
Still, about $76 million of that recovery money remains unspent: The dollars earmarked to rebuild public housing for the city's poorest residents. After Ike's head-high floodwaters and 110 mile-per-hour winds damaged three Galveston public housing developments beyond repair, the city demolished all 569 units — and the city's housing authority promised that it would rebuild all of them.
But once the storm waters receded, it didn't take long for some Galveston residents to begin asking whether the city should rebuild the public housing at all. The ensuing debate would reshape the island's politics for a decade.
"All across Galveston you hear people saying it would be a good thing if the projects were not rebuilt and FEMA were not allowed to provide trailers," Galveston County Daily News editor Heber Taylor wrote in a 2008 opinion column. "The idea is that the island would be a better place if the poor people went elsewhere."
City leaders began holding town hall meetings to discuss how — or whether — to rebuild homes for the city's poorest. One, in October 2009, erupted into a shouting match between the mostly white residents who opposed public housing and the mostly black residents who supported rebuilding, according to an account published in the Daily News.
Opponents were outraged at the housing authority's plan to replace all the public housing, claiming it created a haven for drugs and crime. Rebuilding the dense developments "will just produce the same type of ghettos we had for the last 50 years," Buddy Herz, an attorney who attended the meeting, was quoted as saying.
Today, nearly a decade after Ike, fewer than half of those public housing units — whose residents were mostly black — have been rebuilt.
Galveston's ongoing post-Ike saga, which has sparked racial strife, threats of federal lawsuits and a multimillion-dollar contract benefiting the mayor's son, offers a cautionary tale for the rest of Texas as the state begins the long-term recovery process after Hurricane Harvey — whose devastation dwarfed Ike's.
John Henneberger, co-director of the Texas Low-Income Housing Information Service, a statewide housing advocacy group, said Galveston exemplified the way local opposition and delaying tactics could thwart civil rights laws aimed at stopping housing discrimination.
"I mean, coming up on 10 years, and the only housing that hasn't gotten rebuilt after Hurricane Ike is the housing for poor people of color," he said. "We aren't going to do this again with Harvey."
A March report from the Federal Reserve Bank of Dallas, which studies community development and monetary policy, found that Galveston, to the detriment of the local economy, had "default[ed] on its commitment" to rebuild public housing.
"The result of this inaction is a community that is less economically diverse and a city that is likely to face serious workforce challenges in the coming years as it seeks to compete in one of the fastest-growing regions in the nation," it said.
Another result of the inaction: The island's very makeup has changed. While Galveston's population is down almost 13 percent since the hurricane, its African-American population dropped by more than 15 percent between 2009 and 2016, Census data shows. Meanwhile, the median income on the island has risen by more than $6,000, suggesting that low-income families bore most of the brunt of displacement.
"They were all exported," said Joe Compian, a public housing supporter and organizer with Gulf Coast Interfaith. "It's our form of apartheid."
A warning from Washington
The city's post-Ike battle over public housing was so divisive that it ushered in a new era of local government. In 2012, a group of public housing opponents arrived on the city council, propelled by campaigns against the housing authority's plan to rebuild.
"My position on rebuilding public housing is very simple: Don't do it," the newly-elected mayor, Lewis Rosen, wrote on his campaign website. Just days after the vote, Rosen made Herz, the lawyer from the meeting, chairman of the housing authority board.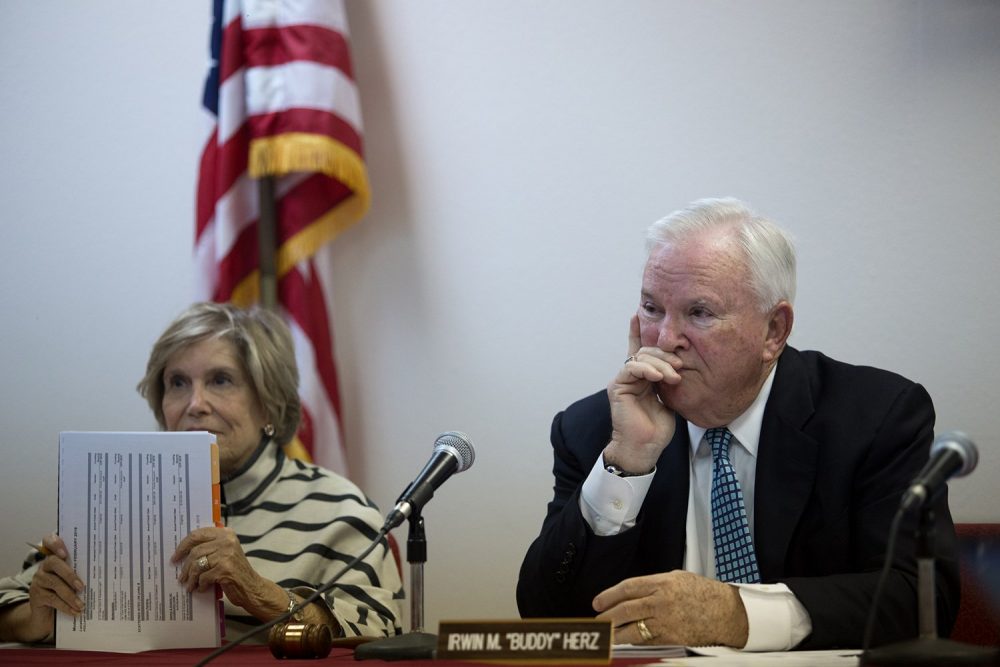 Herz, who had bemoaned the rebuilding of "ghettos," recalled in a recent interview how Galveston teetered on the edge of a "revolution" over public housing when he arrived on the board.
"I was shocked by the animosity," said Herz, whose term at the housing authority expires in June. "We've never had racial strife. We integrated our high school in one year."
"This time, there was hatred," he said.
"The race-based opposition to rebuilding public housing started very, very early," said Maddie Sloan, a fair housing advocate with the nonprofit Texas Appleseed who has worked extensively in Galveston. "It was openly racist opposition."
But Rosen's campaign promise not to rebuild was easier said than done. Two years earlier, Texas Appleseed and other fair housing advocates, concerned by the rhetoric surfacing around the issue in Galveston, filed a complaint with the U.S. Department of Housing and Urban Development. They reached a legally binding agreement with the state and federal governments that put Texas on the hook to replace all 569 units in a way that would "affirmatively further fair housing."
In other words, the state was responsible for overcoming local opposition and making sure the public housing was not just rebuilt, but rebuilt throughout the community — including in the island's wealthier neighborhoods.
After the city council voted to reject a plan for rebuilding, U.S. Housing and Urban Development Secretary Shaun Donovan summoned Galveston officials — including Herz and Rosen — to Washington, D.C., for a dressing down. They returned to the hurricane-battered island with a reminder that if they didn't rebuild the housing in high-opportunity areas, the city could lose more than $100 million in federal disaster recovery money for road, water and sewer repair — and be forced to pay back another $100 million they had already received.
Finally, in 2013, a reluctant Galveston City Council voted to support a rebuilding plan that Rosen said was "forced down our throats" but which had the blessing of both the state and federal government. On the land where the old housing projects had stood, two new mixed-income developments would provide 145 homes for public housing residents. The rest of the units would be rebuilt as "scattered sites" — single-family homes and duplexes that would be tucked throughout the island's residential neighborhoods.
Former resident: I'm not going back
A vacant lot sits on the city's hardened north side, in a historically segregated neighborhood that's spitting distance from the county jail.
This was where the Oleander Homes stood, before Ike flooded them and sentenced them to the bulldozer. And it's a testament to the complexities of rebuilding public housing in Galveston.
Local officials considered rebuilding the public housing where it stood, but the proposal ran afoul of the federal guidelines that Galveston leaders had agreed to. Instead of simply rebuilding Oleander Homes, the new public housing needed to be built closer to good schools and other neighborhood amenities.
As part of its rebuilding plan, the Galveston City Council guaranteed the old residents of public housing a "right of first return," should they want to come back to the island.
That was the plan, at least. But the rebuilding has languished so long that many former public housing residents gave up waiting and left the island altogether. Of the 544 families displaced from public housing by the storm, only 101 have returned to public housing. Of those, only 59 landed a spot in one of the new mixed-income developments.
By comparison, 206 families left the housing program altogether after the storm. Another 43 heads of households, by the housing authority's count, have died.
Sandy Taylor, a former Oleander Homes resident, left Galveston after floodwaters ruined the first-floor apartment she and two of her children called home. She now lives in La Marque, an industrial city on the mainland about 15 miles away, where a federal housing voucher helps her pay rent.
"It was hell after the storm," Taylor, 40, recalled in a recent interview. "I couldn't find nothing in Galveston."
Taylor grew up in Galveston and had a large network of friends and family in Oleander, a community so tightly knit that even unrelated residents said they often called each other "cousin." Now, Taylor says, she and her friends have mostly fallen out of touch; many of her old neighbors, unable to afford to live in Galveston without public housing, relocated to Texas City and Houston.
Taylor, who works as a home health attendant, said she has no plans to return to the island anytime soon. On paper, her new living arrangement might not be considered a move into "higher opportunity." La Marque's unemployment rate is more than 4 points higher than Galveston's, Census data shows, and in 2016 the state forced the local school district to be absorbed by a neighboring district because of falling test scores and student enrollment.
But the rent is affordable, and Taylor has put down roots. With two children in public school, she said, picking up and moving again is simply not on the agenda.
"I just don't go down there," Taylor said of her old hometown. "Ain't nobody down there for me."
Private company will own some public housing
In June 2017, Texas Land Commissioner George P. Bush paid a visit to Galveston for a ribbon-cutting ceremony at the Villas on the Strand, one of the two mixed-income developments built with Ike recovery funds.
The buildings won praise from Henneberger and other advocates, who view them as a model for how to build integrated housing. Students from the nearby medical school, teachers and other middle-income tenants pay market rate for apartments next to neighbors in subsidized units. Even Herz, the housing authority board chairman who was once staunchly opposed to the mixed-income developments, says he's changed his mind and now calls them "wonderful."
Bush's prepared remarks were optimistic. "We're so close to being done here in Galveston," he said.
But the developments, managed by a private firm and built for about $78 million on land the housing authority already owned, represented only 145 units, about one-quarter of total required to replace what was lost to Ike. And while Bush and others have sung the praises of Villas on the Strand, Herz said officials from Bush's agency have told him they will not permit any more mixed-income developments because there simply isn't enough disaster recovery money to pay for them.
Instead, the remaining 384 homes are planned for sites around the island, at a total cost of about $88 million. The first 97 are in various phases of permitting and construction and are supposed to be finished by June, though local officials are skeptical of that timeline.
Financed with project-based vouchers from the federal government, private developers will build and own the 97 homes, which are required to be leased to public housing residents for a minimum of 15 years and a maximum of 30. After that, the developer can sell or rent them on the private market.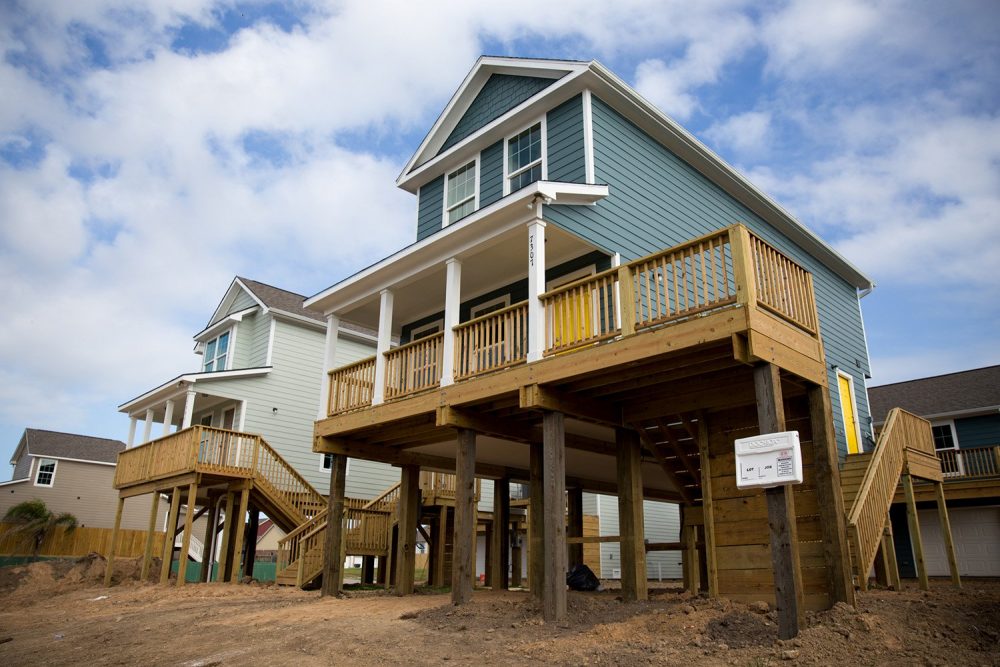 One of those developers, J&S Property Holdings, has ties to the mayor's son.
J&S owner Jim Schumer won a nearly $11 million contract to build 23 of the public housing properties. Paperwork filed with the federal government shows Schumer is funneling most of that money — about $8.6 million — to another company he owns, DSW Homes, to actually construct the buildings. Beau Yarbrough, son of Galveston Mayor Jim Yarbrough, is an executive at DSW.
Though Jim Yarbrough appoints the board of the housing authority, which will contract with Schumer's firm to determine a "reasonable rent," officials say there is no conflict of interest because the firm was chosen by the General Land Office, not the city. Paperwork filed with the federal government shows Schumer expects to bring in $560,000 per year in rent from the properties.
Beau Yarbrough did not return phone calls seeking comment, nor did Jim and Sheila Schumer, the registered owners of J&S.
Brittany Eck, a spokeswoman for the General Land Office, said her agency was aware of Schumer and Yarbrough's relationship and that Schumer had disclosed it. "He signed an applicant disclosure," Eck said. "That's part of the process, and they adhered to it."
The elder Yarbrough last year told the Galveston Daily News that his son had no connection to the homes' construction or management, but in a recent interview he confirmed his son was now involved in building the scattered-site homes.
"Given the fact that the GLO handled that, I have tried not to get involved in the details," Jim Yarbrough said.
Herz, the housing authority chairman, downplayed any concerns when asked about the contract. "I doubt that they're making a lot of money," he said.
The General Land Office says the remaining 287 homes will not be built under a similar ownership arrangement. Instead, the Galveston Housing Authority will own the properties and maintain them as public housing units indefinitely. But the proposal already faces resistance. Local housing officials oppose the idea — Herz said it would "bankrupt" the housing authority to operate and repair hundreds of individual homes around the island — and now local advocates are gearing up for another fight.
Leon Phillips, head of the Galveston County Coalition for Justice, which supports the rebuilding of public housing, said: "We're going to have a fight over the remaining 200-something units, and if they've only built 20 of 'em and it's been this long, how long do you think it's going to take?"
If history is any indication, the process is likely to be slow and difficult. Eck, the Land Office spokeswoman, said finding property on the island that meets federal fair housing standards "has been a challenge."
Sloan, the fair housing advocate, said she worries that Galveston's slow pace of rebuilding could jeopardize Texas' current recovery efforts after Hurricane Harvey. Texas is in the midst of deciding how to spend $5 billion in Harvey aid from the U.S. Department of Housing and Urban Development — and has asked for much more after last year's storm wreaked an estimated $120 billion worth of devastation on Houston and parts of the Gulf Coast.
Galveston's example "is a real problem for Texas for disaster recovery," Sloan said. "You have what looks like a pretty substantial amount of unspent money from Ike, and you have federal elected officials looking at that and saying, 'Why do you need more money?'"
'If you give them a chance, they'll come back'
Minutes before passing a resolution honoring April as Fair Housing Month at a March housing authority board hearing, Herz criticized the state and federal government for the delays in rebuilding public housing. A staff update showed that 205 public housing units were currently occupied in Galveston — or about 36 percent of the total local officials promised to rebuild nearly a decade ago.
Who is to blame for the sluggish pace? "There are other people that need to be asked, but not this board," Herz said.
Ann Masel, another board member, chimed in: "We've done exactly what we said we would."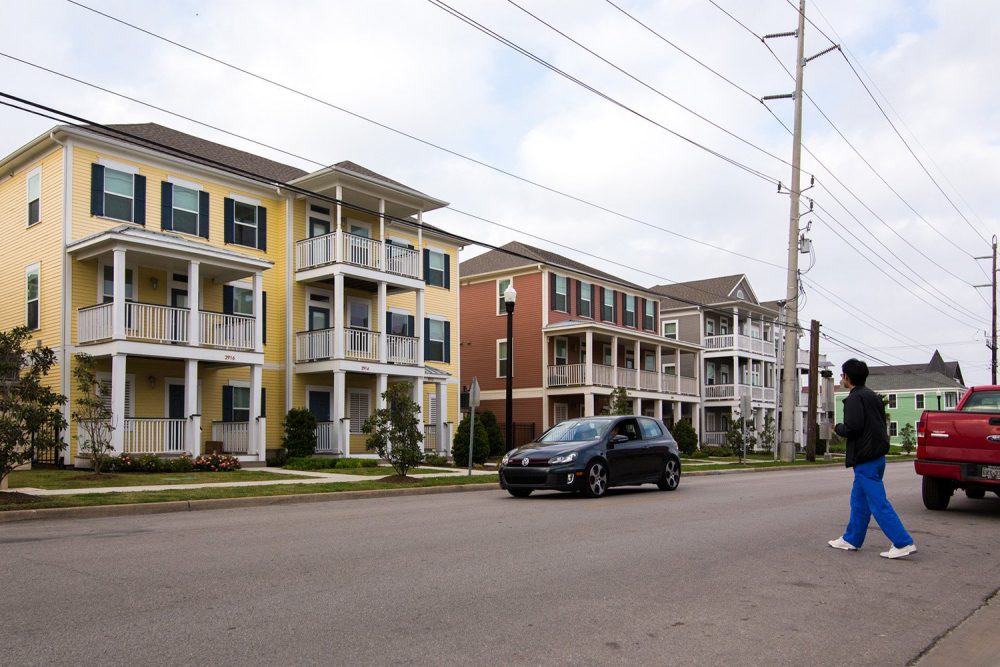 Three days before, a woman named Rosalyn Jackson went to visit her father in his third-floor apartment at the Cedars at Carver Park, one of the mixed-income developments built with hurricane recovery money. Outside, a sign staked into the lawn read, "Welcome home."
Jackson, a former public housing resident who now holds the informal title of advocate for many in the island's African-American community, reminisced with her father about a reunion held for public housing residents late last year. Dozens of people had traveled to Galveston to see the people they grew up with.
Even though Galveston had been home to many of their families for generations, "Most of them really don't have a desire to come back," Jackson said. "They settled down where they're at right now."
Asked if there was anything that could change their minds, Jackson paused before answering.
"If you give 'em a chance, they'll come back here," she said. "But right now they can't. There isn't anything for them to come back here for."
This story was produced in partnership with the Ravitch Fiscal Reporting Program at the CUNY Graduate School of Journalism.