Twenty-three schools and more than 16,000 students in Harris County are within 1000 feet of suspected illicit massage parlors which themselves are concentrated in wealthy neighborhoods, a new study from Children At Risk found.
The group compared maps of schools and the addresses of suspected business which they obtained from a sexually-oriented business review website.
The study identified 689 total suspected businesses in Texas, 259 of which are in Harris County. Children At Risk said there are fifty-five schools total in the state which are within 1000 feet of one of the businesses.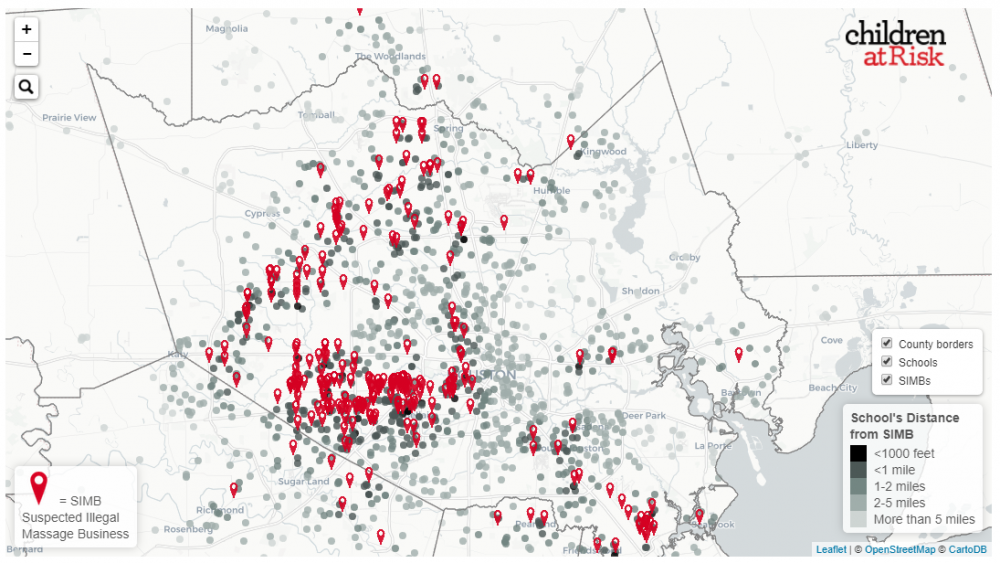 "These are primarily white men who have affluence, who have money, and they're going and they're buying young women," said Robert Sanborn, president at Children At Risk. The businesses set up in wealthier neighborhoods because "that's where the money is," he said.
County officials said they are trying to put more pressure on clients and landlords that allow massage parlors to operate instead of workers, who are often victims of human trafficking.
They said they're still charging workers with prostitution, but are trying to offer resources to those they believe have been trafficked.
According to a press release from the City of Houston "the city has taken this problem seriously and used a multi-pronged approach to address this issue."
"We (the city of Houston) first amended our massage establishment ordinance and trained the Houston Police Department's differential response team officers who then canvass all locations with outreach cards translated into multiple languages in case the women working there, under coercion or not, decide to seek help. The HPD Vice and DRT canvasses have resulted in a drop from 289 open and advertising locations to 220 open and advertising locations."
Thank you Captain J.B. Dale of the #Houston Police Department in joining us this morning and every day in the fight against #humantrafficking #txlege pic.twitter.com/dVpgWKBytD

— CHILDREN AT RISK (@childrenatrisk) April 12, 2018
Thank you @Senfronia4Texas for joining us this morning in the fight against human trafficking across #Texas #txlege https://t.co/fxmhnEZIMJ pic.twitter.com/viPrtxjrk0

— CHILDREN AT RISK (@childrenatrisk) April 12, 2018
Our very own @DMcClendonPhD sharing with the public how we scraped data and developed a map showing the proximity of suspected illegal massage businesses (often fronts for human trafficking) to schools. Explore the map & policy recommendations: https://t.co/fxmhnEZIMJ pic.twitter.com/4mS2uJGotg

— CHILDREN AT RISK (@childrenatrisk) April 12, 2018
Holding a press conference in #Houston unveiling a map that shows over 16,000 children in Harris County (35,000 in #Texas) are attending school within 1,000 feet of a suspected illegal massage business suspected of selling sexual services: https://t.co/fxmhnEZIMJ pic.twitter.com/g9BsGuZmPq

— CHILDREN AT RISK (@childrenatrisk) April 12, 2018