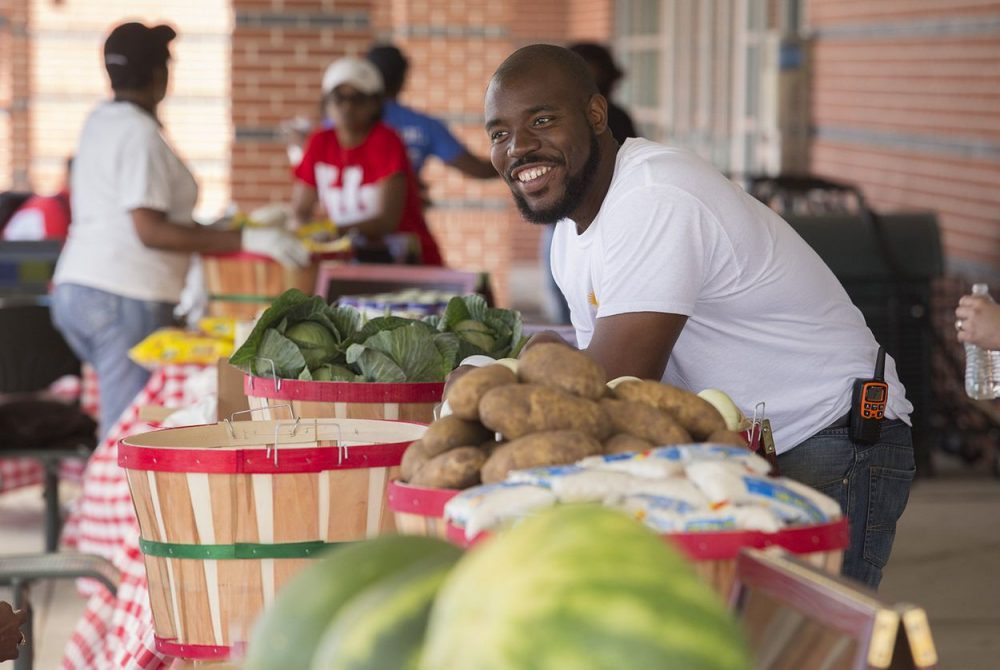 Joel Philistin, a financial coach at Houston Community College, has had students come to his office hungry. Not on-a-diet hungry, or only-eating-ramen-noodles hungry. But so hungry they can't concentrate in class. Hungry enough that Philistin, whose job is somewhere between a financial literacy coach and a social worker, will peel bills out of his own wallet and tell the student to go buy a meal.
"I experienced this in college," Philistin said, "but not to this extent."
At colleges across Texas and the nation, concern has quietly mounted about a new trend: Students – particularly those coming from low-income families – are going hungry, and researchers say it's largely because the price to earn a degree has become so steep.
To go to an in-state public university, students in Texas now pay more than double what they did 15 years ago.
A student today would have to work 62 hours a week at a minimum wage job to cover the full cost of attending a public four-year college, according to research from Trellis, a nonprofit that tracks student debt issues.
And unmet need – the price of attendance minus any public grants, financial aid and the family's expected contribution – was about $8,000 at state schools in 2015.
These rising costs don't just mean students graduate with more debt. Administrators and researchers say students are plugging gaps in their finances — this "unmet need" — by making a host of lifestyle changes, including eating erratically, unhealthily, or just going hungry.
"People think students are just sitting around and going to frat parties, and it's not," said University of Houston health and human performance professor Daphne Hernandez. Many students are "actually working two jobs and trying to make ends meet, and it's still not physically possible."
Hernandez is one of several researchers studying the issue of campus food insecurity — a term students "don't go around using," she said, but that means "the lack of access to food because of resources."
In some ways, the problem isn't surprising, Hernandez says. There's no college-equivalent of the subsidized lunch program that fed more than 3 million Texas school children last year. That need "doesn't just disappear" when those students graduate, Hernandez said.
Not only are those students at risk of going hungry in college, but food insecurity can deepen the socio-economic divide that already plagues higher education. Low-income and minority students tend to struggle more in college than their well-off peers. Adding hunger to that equation, researchers like Hernandez say, can burden those students further and cripple their ability to perform as well as they could.
"They're trying to further their education, but it's really difficult when you have a basic need — a gap in the basic need — and it's not being addressed," Hernandez said.
Schools across the state have already keyed to this trend. Many now have food pantries or offer small sums to students through the financial aid office — supplemental funds sometimes called "microgrants" that are earmarked for food.
But the community college system in Houston, where Philistin works, is among the first to offer a large-scale "food scholarship" program to its students — one developed specifically to help reduce students' dropout rates.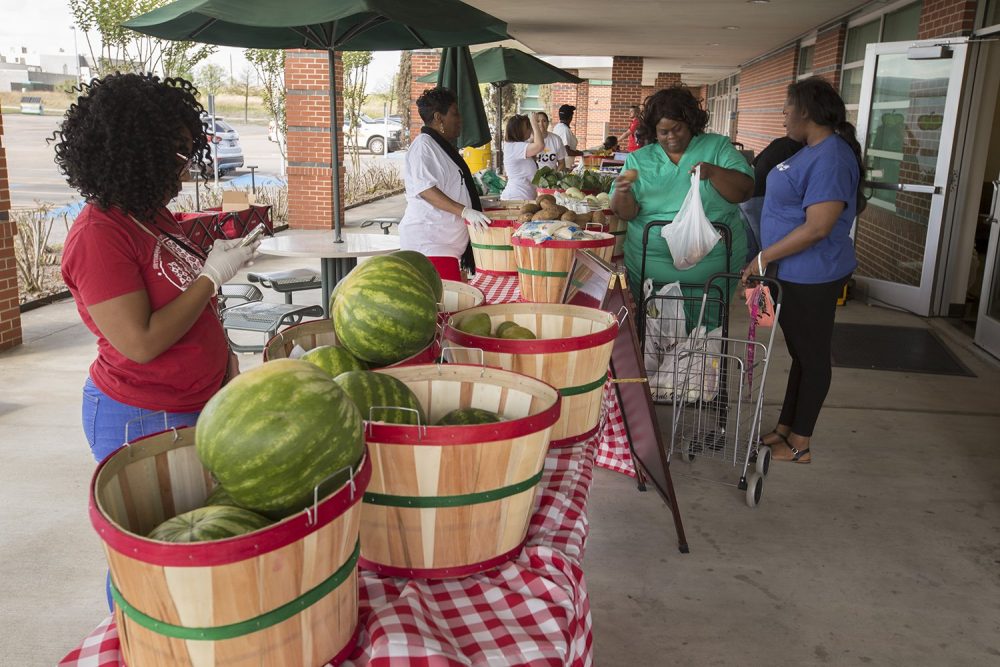 About 2,000 low-income students there, mainly Latino and black students, have been selected to get 120 pounds of free food each month donated by the Houston Food Bank. Hernandez and other researchers, including Temple University's Sara Goldrick-Rab, are tracking those students to see if having regular, healthy food helps them academically.
"We're fully aware that their GPAs are not going to jump — skyrocket — overnight," Hernandez said, "but what it could definitely do is assist in retention rate."
Nearly half of HCC's students now leave within a year of enrolling. Having a reliable food source, researchers like Hernandez say, could help keep those students working toward their degree.
Hierarchy of needs
In March, a few weeks after the start of the food scholarship program, HCC hosted what looked like a farmer's market in one of the campus' parking lots.
Tables covered in red-and-white checkered cloths were topped with neat stacks of cans and wooden crates brimming with watermelon, cabbages and potatoes. Sandwich boards advertised the different items in colorful chalk and the student-recipients of the scholarships walked table to table, shopping.
The food scholarship program began just last month. But the school has partnered in the past with the Houston Food Bank to offer similar food distributions to HCC students, who pay about $800 a semester for tuition.
One of those students, Ashley Elliott, 25, described the past distributions as "a blessing." When Elliott enrolled at HCC last fall, Philistin, the financial coach, told her about the distributions. And he helped her load up a 5-gallon cardboard box with bananas, chicken and pears at a distribution a little after Hurricane Harvey deluged the city and spoiled the food she had at home. Elliot remembers struggling to maneuver the box — heavy with fruits and vegetables — onto the bus she rode home that day.
The access to food the distributions offered became "one less thing to worry about when you're sitting in class and your stomach is grumbling or you're thinking about what you're going to eat later on that day," Elliott said. "It's the hierarchy of needs. If you don't have housing, water, food, it's proven that you're just not going to perform."
Elliott attended a North Texas university before moving to Houston shortly before her parents died. She struggled financially, lived in a shelter for a period and remembers freezing when she tried to sign up for graduation and realized she needed to supply a permanent address.
She's on track now to receive a certificate in licensed chemical dependency counseling, and has a work-study job in the library. She plans to work her way up to receiving a bachelor's degree.
"It's the hierarchy of needs. If you don't have housing, water, food, it's proven that you're just not going to perform.'"

— Ashley Elliott, Houston Community College student
Elliott said having the food distributions gave her more mental capacity to concentrate on school and get good grades.
"It's a system that works," she said.
In contrast, scarce access to food felt like "being on a diet without actually wanting to be on a diet."
"You have to make decisions like whether I'm going to skip breakfast, eat breakfast, eat a snack," she said. "They make fun of college students and ramen noodles but, hey, that's true. I ate noodles just about every day. It's a reality."
Elliott's not alone in feeling that healthy food — sometimes any food — is out of reach. A report released last week found more than one-third of college students across the country lacked reliable access to healthy food in 2017. The numbers are higher for community college students, and among students who work full time. Half of students working more than 40 hours per week said they were food insecure, while about 35 percent of those working 20 hours or less reported they were. The combination, the report suggested, could make it harder for those students to get good grades.
But Goldrick-Rab, the lead author of the report and one of the best-known researchers on food insecurity, said the topic had, for a long time, been considered a nonacademic issue.
"It's nonsense to pretend like a test score doesn't partly reflect what a student learns in school and partly reflect whether they had breakfast," she said.
Goldrick-Rab, who is working with Hernandez on the HCC study, said she hopes the students there will be better able to stay awake in class if they're eating regularly and not worrying as much about money.
"It's been very hard in higher education to change graduation rates, it's not an easy thing to do," she said. "So if we generate any change, frankly, any change would be a win here."