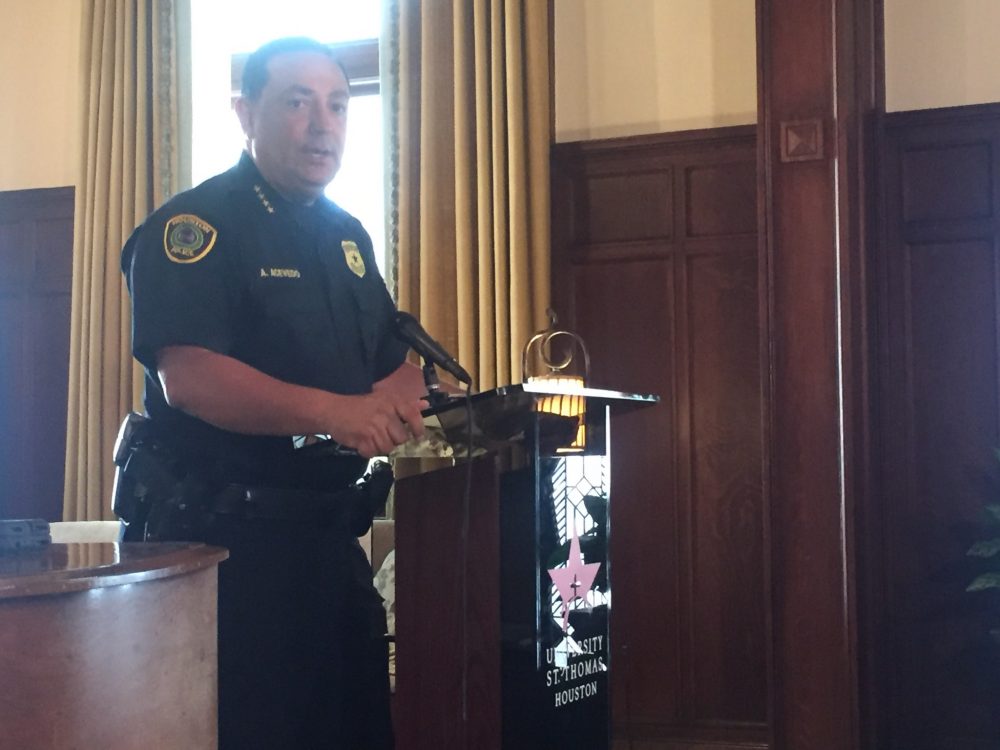 The Houston Police Department, the University of St. Thomas and the Taipei Economic and Cultural Office in Houston have launched a partnership that will provide training in Mandarin Chinese to local police officers.
The training will be provided by an adjunct faculty member of the University of St. Thomas – through its Center for International Studies (CIS) – and offered as an elective course for two 10-week sessions at HPD's West Side Station.
The first class will have 25 students who will start their training on March 28.
Additionally, the CIS will offer elective training in multicultural and situational awareness for HPD officers at the department's academy throughout 2018-19.
Both training courses are offered as professional credit programs.
Chief Art Acevedo often emphasizes that one of his goals is to keep developing the practice of community policing within HPD by strengthening the relationships that the department's officers create and cultivate with Houstonians.
Therefore, as Acevedo said at the launching event held Thursday at the University of St. Thomas, one of the things HPD wants to do is to be able to communicate with the "very quickly growing Asian community." "This is a first step to doing even better," the chief added in reference to the new training.
Captain Kristine Anthony, of HPD's Training Division, explained the language lessons the officers will learn will have the goal of mostly allowing them to develop such community policing with Houston's Mandarin Chinese-speaking residents, not necessarily through a great level of fluency but, rather, through a more pragmatic approach.
For example, the training will teach them how to ask about physical descriptions of suspects and give instructions or warnings during their interactions with the public.
"Even if it simply is 'Hello,' 'How are you?', 'My name is officer so and so' and 'Thank you.' If you say that in the native language and you took the opportunity and the initiative to learn that, it means so much to that individual," Anthony underlined.
Hans Stockton, associate dean of the School of Arts and Sciences and director of the University of St. Thomas' CIS, noted that in the area served by HPD's West Side Station – where the training will be provided —"one of the most common encounters that officers have are with speakers of Mandarin language or related languages."