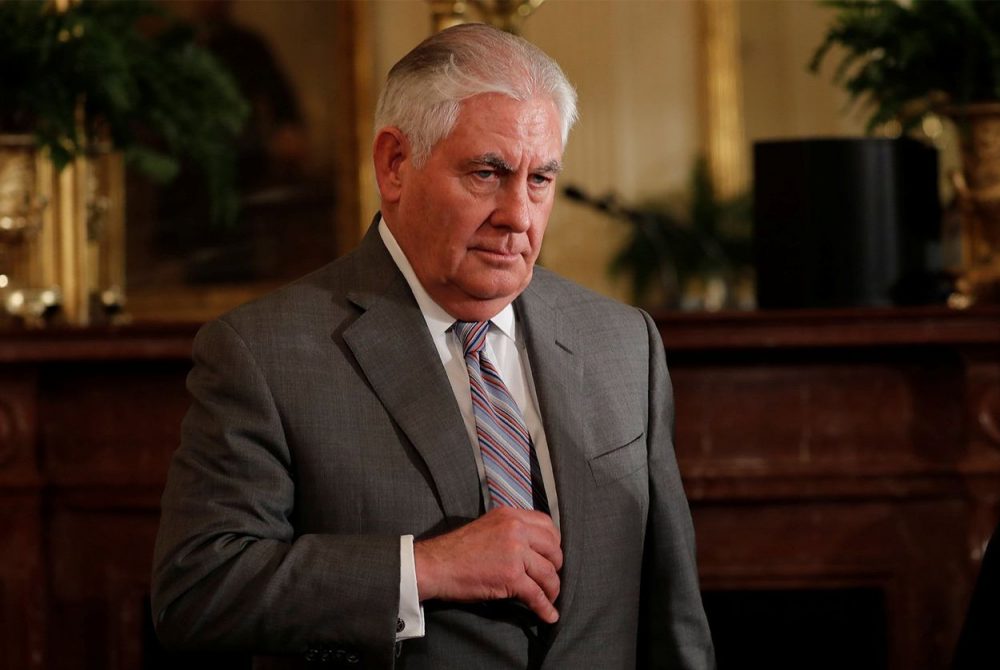 President Donald Trump has removed U.S. Secretary of State Rex Tillerson, a native Texan, from his Cabinet post, replacing him with CIA Director Mike Pompeo.
The president made the move on Friday, according to The Washington Post, and in a public statement said "a great deal has been accomplished over the last 14 months" of Tillerson's tenure.
But other details emerged Tuesday that conflicted with that account, including an NBC report suggesting Tillerson found out he was fired from the president's tweets.
The latter scenario would indicate that Tillerson's termination came after he took a hard line supporting British allegations that Russian operatives poisonedan ex-Russian spy and his daughter. Trump has been hesitant to criticize Russia, even as special counsel Robert Mueller investigated whether the Trump campaign colluded with Russia in the 2016 presidential election.
https://twitter.com/realDonaldTrump/status/973540316656623616?ref_src=twsrc%5Etfw&ref_url=https%3A%2F%2Fwww.npr.org%2F2018%2F03%2F13%2F555597223%2Ftrump-replacing-secretary-of-state-tillerson-with-cia-director-mike-pompeo
When speaking to reporters on Tuesday, Trump indicated the Tillerson decision had long been on his mind and said the two "disagreed on things" and "were not thinking the same." But he said he still hoped to maintain a relationship with Tillerson.
"I actually got on well with Rex," he said, "but it was a different mindset."
The news follows a year of escalating tensions between Tillerson and Trump, including reports in October that Tillerson called Trump "a moron."
The change at the State Department comes at a consequential moment in American foreign policy: Trump agreed last week to meet with North Korean leader Kim Jong-un.
A series of senior Trump administration officials have left the administration in recent months, a remarkable level of churn so early in a presidential term.
Tillerson leaves behind a State Department that is widely viewed as understaffed, strapped for resources and demoralized, due to Trump administration pushes for budget cuts.
A Wichita Falls native, Tillerson was a surprise choice for the position but had the backing of much of the Republican foreign policy establishment. He had no diplomatic experience, but was the longtime CEO of ExxonMobil.
Tillerson is closely aligned with a fellow Texan, NATO Ambassador Kay Bailey Hutchison.