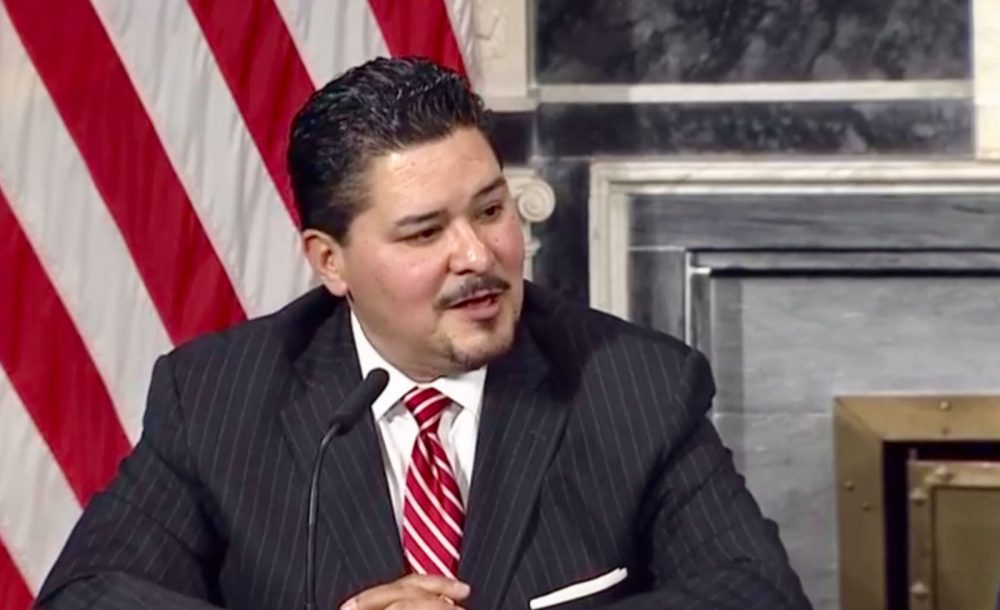 Houston ISD's superintendent Richard Carranza announced Monday that he intends to leave Texas' largest school district to lead the nation's largest in New York City.
Carranza made the announcement at a press conference in New York, where Mayor Bill de Blasio was scrambling to find a new school chief since his top pick for the job – Miami's school chief – turned it down last week.
Join me at City Hall for an announcement on the future of our city's schools. https://t.co/Qze5gC5P6s

— Mayor Bill de Blasio (@NYCMayor) March 5, 2018
Carranza's departure — which doesn't have a clear date — leaves HISD in an even more complicated situation. With over 200,000 students, HISD faces multiple challenges, including a budget shortfall, continued recovery from Harvey and intense state pressure to improve struggling schools. Now it must add to its to-do list: Find a new superintendent.
For his part, Carranza said it was an easy to make decision to leave for New York, saying he'd rather focus on classrooms than "bathrooms," a reference to Texas' push to require people to use school restrooms and other facilities that matched the sex on their birth certificate.
Still, Carranza thanked his colleagues back in Houston.
"I owe a tremendous debt of gratitude to my school board in Houston Texas who gave me an opportunity to come to Houston and serve. I owe a great debt of gratitude to Mayor Sylvester Turner in Houston who was a true partner," Carranza told the New York press corps.
Carranza came to Houston ISD from San Francisco less than two years ago, in August 2016. He warmed students and trustees alike with his mariachi skills.
During his tenure as superintendent, Carranza helped schools recover through Harvey's devastation and was grappling with other challenges. At his state of the district address, Carranza renewed his pledge to bring more equity to Houston schools. He set an agenda to centralize the district more, including its campus-based funding, and overhaul magnet schools. But many of those proposals have met with intense questions and many of the changes to the school choice system have been tabled, for now.
Carranza had more than a year left on his contract with HISD, with a base pay of $345,000. His pay in New York is expected to be the same.
Some local education leaders said that his departure will leave HISD in a lurch.
"The timing is not ideal — to be in the middle of a very contentious budget process, with a budget deficit," said Anna Eastman, a former HISD trustee who helped bring Carranza to Houston.
Zeph Capo, president of the Houston Federation of Teachers, echoed some of that sentiment, but noted some of the challenges that Carranza is leaving already existed before he came.
"I'm sad that we're losing our superintendent at this very critical junction. There are many really big decisions that we are right in the middle of," Capo said. "2017-18 is going to go down in the record books as a highly volatile and unstable year for the school district for multiple reasons."
To start, the district is still recovering from Hurricane Harvey. The board has to close budget deficit of $115 million. And it could be forced to shutter several schools or have outside managers take over the entire school board if it doesn't improve 10 chronically failing schools this school year.
"But I think that there was some writing on the walls that something like this would happen.So it's just very disappointing — A sad day for HISD, but we move forward," said Juliet Stipeche, director of education for Houston Mayor Sylvester Turner. She said that Carranza brought a collaborative spirit and worked well with the city.
The HISD school board will meet Thursday to discuss next steps.
In a statement, HISD said that it's confident it will be able to overcome its challenges.
"We the Board wish Carranza the best in his endeavors and appreciate the leadership he brought to this district," said Board President Rhonda Skillern-Jones in a statement. "We are committed to continuing the work he began and moving the district forward."