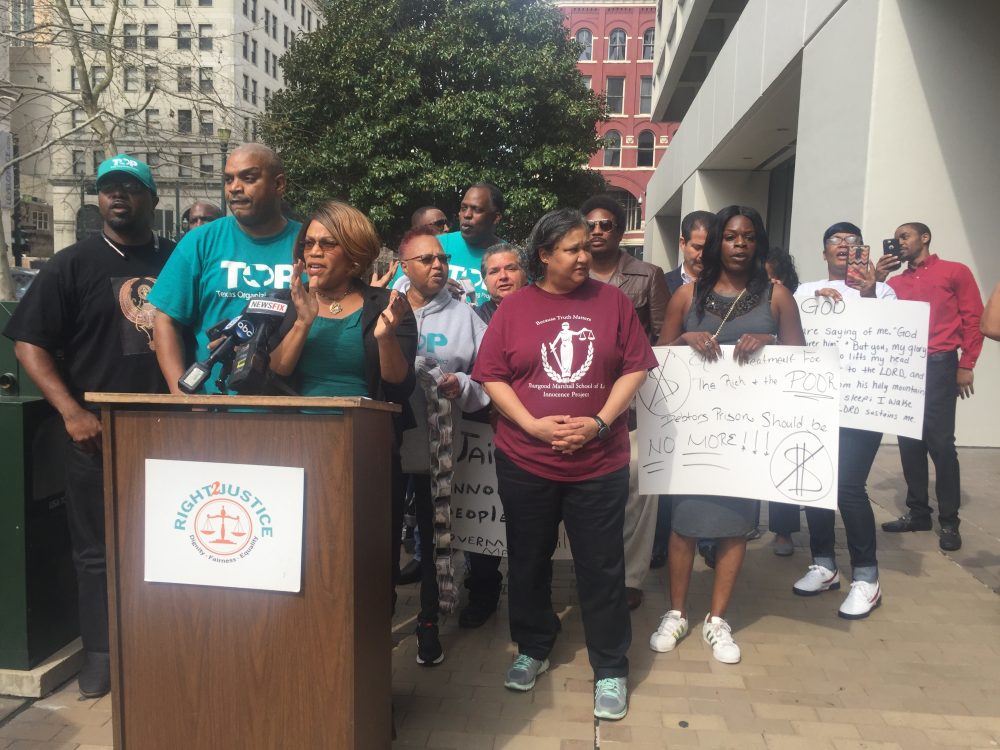 The Texas Organizing Project (TOP) demanded Wednesday in Houston that Harris County settles the lawsuit about its bail system, which –according to a ruling U.S. District Court Judge Lee Rosenthal issued in April 2017– discriminates against poorer defendants.
The 5th U.S. Circuit Court of Appeals upheld this month most of judge Rosenthal's historic ruling.
A group of about 15 people, most of them members of TOP, held a press conference at the entrance to Harris County's Administration Building, located in downtown Houston.
Lina Hidalgo, who is running unopposed in the Democratic primary election to be the candidate for the position of county judge and who advocates for reforming the bail system, was also at the press conference and said in an emailed statement that "taxpayer dollars should go toward implementing policies that keep people safe, not toward defending an unconstitutional and ineffective system."
"It's hard to admit when you are wrong, but it's time that Harris County Judge Emmett and the commissioners settle the lawsuit now," said Tarsha Jackson, TOP's criminal justice director, who underlined the relevance of a settlement would be that it would present an opportunity for Harris County to reform its bail system.
Robert Soard, first assistant within the County Attorney's Office, said the county has presented a settlement proposal to the plaintiffs "within the framework of that proposed by the 5th Circuit in their opinion," but Joe Stinebaker, director of communications for Judge Emmett's office, noted the plaintiffs have not responded.
"In order to settle, the plaintiffs have to be willing to talk," added Stinebaker.
Jackson said in a statement regarding the settlement proposal that "the county has tried to argue that their risk assessment tool is change, but the courts have said it is not enough."
"Until Harris County institutes policy changes to stop incarcerating people because they can't afford to buy their freedom," Jackson's statement added "it will not be enough."
Two of the county judges who are listed as defendants in the lawsuit, Darrell Jordan and Mike Fields, have also called on county leaders to settle.