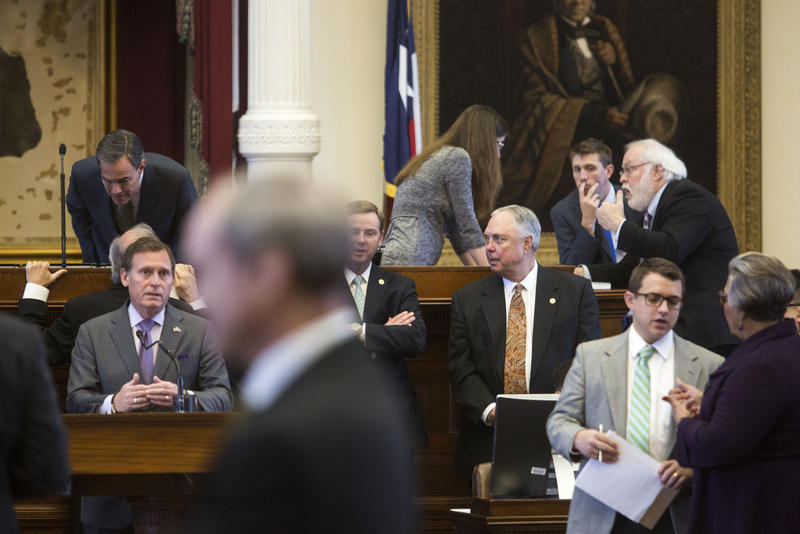 Midterm elections, especially after a new president comes into office, often bring interesting stories. Just look at 2010, when we saw the rise of the Tea Party and a "red wave" that swept out dozens of congressional Democrats nationally and pushed an almost evenly split Texas House (76-74) to a GOP supermajority (101-49).
This year, journalists, pundits and activists across the country are focusing on the possibility of a "blue wave" that could flip the U.S. House and even the Senate. Believe it or not, that activism excitement has made its way to Texas. Democrats here are running more candidates in more races than they have in decades. There's a Democrat running in every single congressional race. And when political pundits asked who could be the next Doug Jones, after the Democrats' upset win in Alabama, the answer often landed on Beto O'Rourke.
______________
TEXAS HOUSE
______________
Democrats Donna Howard, Celia Israel and Eddie Rodriguez not only have no primary opponents, but they also will not have a Republican challenger in November.
Democrat incumbent Gina Hinajosa is also unchallenged in the primary, as is her expected Republican challenger Kyle Austin.
But there are still some interesting races out there.
East Austin Democrat Dawnna Dukes, who has already served 12 terms, is once again running for re-election. But this time, she's got five high-quality challengers.
Dukes has drawn criticism for her well-documented absences from the last two legislative sessions. She attributes this to health issues stemming from a car wreck. A botched indictment (all charges were dropped) by the Travis County DA gave Dukes a stronger leg to run on. But she'll have a tough race.
Southwest Travis County Republican Rep. Paul Workman will have his own primary challenge this time around. Jay Wiley and Patty Vredevelt are also hoping to be the Republican nominee. Whoever gets the nomination will face off against the winner of a five-person race on the Democratic side.
South Williamson County Republican state Rep. Tony Dale won his 2016 re-election bid by 10 points even though, according to The Texas Tribune, Hillary Clinton won his district by 2.5 points. Dale doesn't have a primary opponent, but he'll face a John H. Bucy III in the fall. He hopes that Clinton support can flip the district.
House District 45 incumbent Republican Jason Isaac is not seeking re-election to instead run for Congress. That's led to five Republicans and three Democrats joining the race to replace him in the district that includes Hays and Blanco counties.
Republicans:
Democrats:
And here's a rundown of the other state house races in central Texas:
House District 17 (Bastrop, Caldwell,Gonzales, Karnes and Lee Counties)
Republican State Rep. John P. Cyrier has no primary opponent. He'll face Democrat Michelle Ryan, also unopposed in the primary, in the fall.
House District 20 (Burnet, Milam and Williamson Counties)
Republican State Rep. Terry M Wilson has no primary opponent. He'll face Democrat Stephen M. Wyman, who is also unopposed in the primary, in November.
House District 52 (Williamson County)
GOP incumbent Larry Gonzales has decided to not seek re-election. Three Republicans are hoping to replace him on the ballot in November: Christopher L Ward, Cynthia Flores and Jeremy Story. James Talarico is unopposed in the Democratic primary.