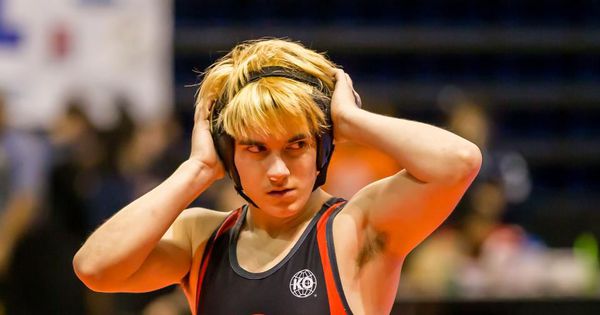 Mack Beggs is back.
He's still wrestling, still competing for a state championship and still undefeated.
And he's still wrestling against the girls. It's just been a lot quieter since last year when his march to a state championship was dogged by a last-minute lawsuit that tried to stop him and boos from the crowd when his hand was raised as the victor.
The senior from Euless Trinity High School near Dallas is transgender and in the process of transitioning from female to male. It was his steroid therapy treatments while wrestling girls that stirred a fierce debate about competitive fairness and transgender rights last season. He's still taking steroids, which his mother said are just strong enough to create a wisp of facial hair and stop the menstrual cycle but not build muscle.
The 18-year-old Beggs wrestles in the girls' division because the rules for Texas public high schools require athletes to compete under the gender on their birth certificate. Starting Friday, he'll defend his title in the girls' Class 6A 110-pound division at the state tournament in Cypress, near Houston.
"He has so much respect for all the girls he wrestles," said Beggs' mother, Angela McNew. "People think Mack has been beating up on girls … The girls he wrestles with, they are tough. It has more to do with skill and discipline than strength."
Beggs went 56-0 on his way to the state championship last season, and he's 32-0 this year after cruising through the regional finals last weekend.
"People don't realize that what happened during state, that was really, honestly, nothing," Beggs recently told the Dallas Morning News . "That didn't stop me from competing. That didn't stop me from being who I was.
"It sure as hell didn't stop me from doing what I wanted to do in the past, and it won't stop me from what I want to do in the future," he said.
McNew would not make Beggs available for interviews this week ahead of the state meet. The solitude allows him to concentrate on the task ahead and perhaps shield him from attacks on social media and occasional insults from the stands — or even other wrestling mats — during meets.
"Somebody posted they should put Mack in a men's prison and he should be raped," McNew said. "It has really gotten to me sometimes. He's still a teenager, a young adult trying to find his way … Do people not have children of their own?"
Beggs' road to the championship last season included two forfeits in the regional tournament by wrestlers who feared injury. Beggs faced only one forfeit this season. The opposing coach and teammates had insisted the girl wrestle Beggs, but she refused, McNew said.
"Everyone told the girl, 'You are a wrestler, get out there and wrestle,'" McNew said.
Beggs' family has repeatedly said he wants to wrestle boys, but state competition rules won't allow it. The birth certificate rule was approved in 2016 by the University Interscholastic League, the governing body for Texas high school sports. It was done to help schools determine competition, said Jamie Harrison, the UIL's deputy director.
"The UIL is not in the gender-determining business and schools don't want to be either," Harrison said.
Harrison said the UIL is willing to consider making exceptions to competition rules if asked. The UIL has not received a request from the Beggs family or his school to allow him to wrestle boys, Harrison said. And despite the national attention Beggs' drew last year, the UIL wouldn't initiate a move to let him wrestle boys unless asked, Harrison said.
"We don't think it would be appropriate to initiate," Harrison said. "We don't make value judgments. That's a matter for a person and their family to decide."
McNew said the family didn't ask because the birth certificate rule is clear that Beggs must wrestle as a girl.
A group of Texas state lawmakers attempted to intervene last year with a bill that would have barred Beggs from competing because of his steroid use. The proposal — which didn't specifically name Beggs — passed the Senate but stalled in the House without a vote. The Legislature won't reconvene until 2018 when Beggs' high school career is finished.
Texas law bans steroids use by high school athletes, but the state stopped testing for it after 2015. Beggs can take testosterone and still compete because Texas allows a "safe harbor" exception for athletes taking performance-enhancers under a doctor's guidance for medical purposes.
If Beggs wrestles in college, he'll compete against men. Rules set by the NCAA, USA Wrestling and the U.S. Anti-Doping Agency already classify him as male because of his testosterone treatments. Beggs' family says he's considering a small college scholarship but won't say which school has offered.
Once his high school wrestling career is finished, the family will consult with a doctor about "top surgery," a procedure to remove breast tissue, giving Beggs a more masculine physique, his mother said.
"I know he's really excited to go off to college," McNew said. "He has put his life on hold as far as physically. I'm excited for him to be able to take a step forward and be where he wants to be."