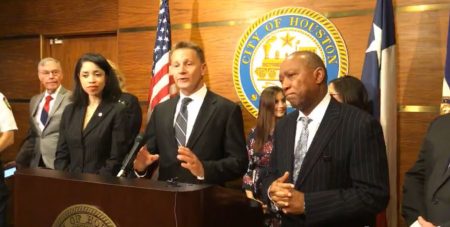 Houston Mayor Sylvester Turner has appointed former police administrator George T. Buenik, who recently worked as security auditor for the Houston Texans.
"George has managed large-scale events including the Super Bowl, Major League baseball and NBA All-Star games and the NCAA Final Four and the World Series," said Turner.
Buenik will oversee Homeland Security, and help coordinate safety at public events.
"Use our intelligence information, doing proper follow up. The other thing is we follow things in patterns — we made some adjustments on some of our large events as a result of some of the trucks driving through where we have large crowds," said Buenik.
Buenik will oversee the 911 call center and will coordinate hurricane and flood response. He replaces Dennis Storemski, who is retiring after 52 years.
Welcome aboard Chief Buenik, Houston's new Director of Public Safety & Homeland Security! @HoustonOEM pic.twitter.com/pQF356PEfo

— Sylvester Turner (@SylvesterTurner) February 20, 2018
Press conference to announce Director of Public Safety Homeland Security @HoustonOEM https://t.co/4VoYGvunpG

— City of Houston (@HoustonTX) February 20, 2018
Happy to announce George Buenik is @HoustonTX's new Director of Public Safety & Homeland Security @HoustonOEM pic.twitter.com/WOvMroFz40

— Sylvester Turner (@SylvesterTurner) February 20, 2018
It was important to find someone familiar with the existing operation…who is well prepared to step in. I was fortunate that George Buenik was available to serve as the Director of Public Safety and Homeland Security. pic.twitter.com/Vd0Ro4DJ0E

— Sylvester Turner (@SylvesterTurner) February 20, 2018