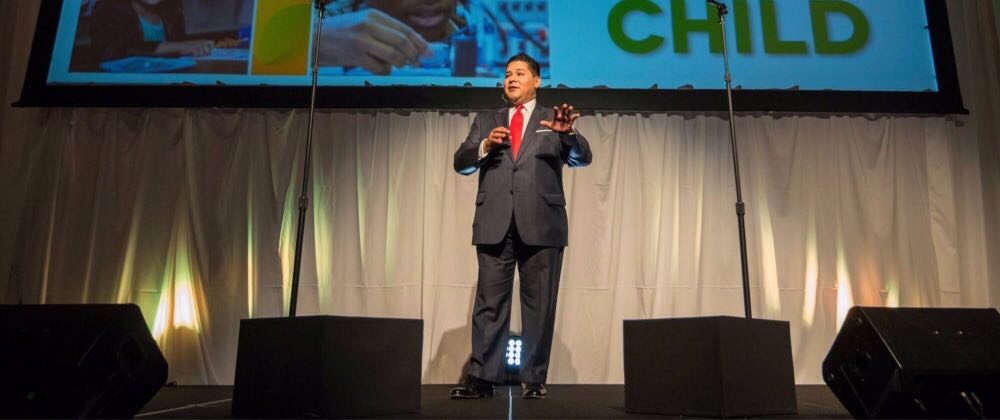 Before a crowd of over 1,000 people at the Hilton Las Americas downtown, Superintendent Richard Carranza defended early plans to overhaul how the district distributes funds to campuses and other plans to deal with a myriad of challenges facing the Houston Independent School District.
Some of those challenges: a $200 million budget shortfall, in part due to Hurricane Harvey's drag on property values; state pressure to improve 10 failing schools; and thousands of undocumented HISD students who may lose legal status in a few weeks because of federal immigration policy.
In the annual "State of the Schools" address, Carranza maintained that it's necessary to make sure all kids have the same opportunities, renewing the board's policy for equity.
He cautioned that district administrators and the board are still working out plans. Still, Carranza defended his goal to change how HISD funds campuses and also to ensure specialty magnet schools reflect the district's diversity.
"I was hired to be the superintendent of all 214,000 students, and they all deserve the best, no matter what part of Houston they live in," Carranza said.
As for the budget, Carranza said that the new model tries to distribute funds in a more equitable way. But he called on state lawmakers to reform the state's school finance system, which relies heavily on local property taxes. That's one reason why HISD is facing a budget shortfall, as property values are expected to fall in the wake of Harvey's flooding.
As for struggling schools, Carranza said that he won't let schools in under-served neighborhoods be closed and that's why HISD is exploring alternatives, such as partnerships with nonprofits or universities. He said that the district won't hand over control to private charter managers. State law mandates that 10 Houston schools must improve this year or face sanctions, from closing down those schools or a board of outside managers for the entire district.
Carranza tried to allay concerns of those communities: "I as your superintendent will not allow for schools in historically undeserved neighborhoods to be closed," he said, later adding, "We hear your pain. And we hear and know your struggles."
The superintendent also signaled that he and the board are looking beyond the current crises to the future, including the development of a capital campaign that could call for a series of four bond elections over the next 20 years.
"We aren't announcing a bond just yet. But I want to be transparent and tell you that we are, in fact, already thinking about our future needs and already figuring out a plan to meet them."
The livestream of the event can be viewed here.