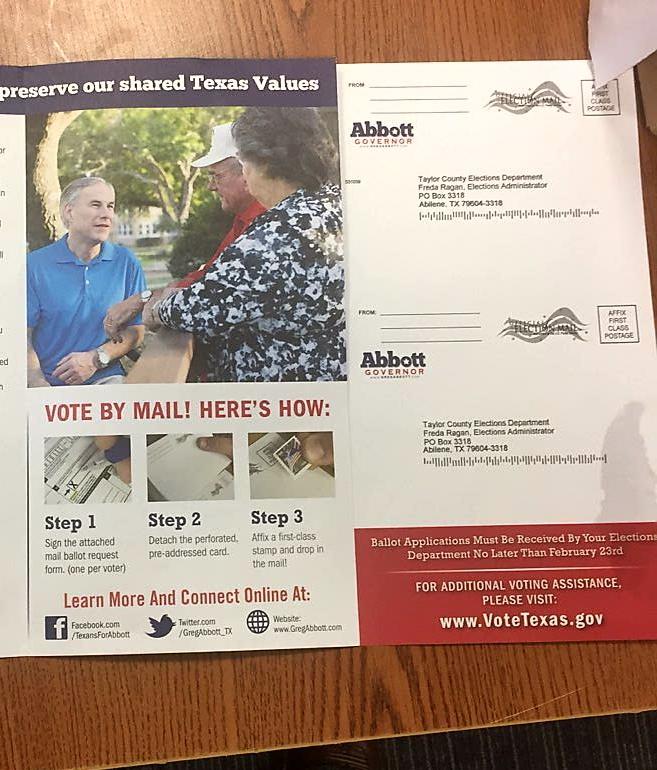 Gov. Greg Abbott's campaign to register mail-in ballot applications for seniors ahead of the deadline is creating costly headaches for many county election officials.
During a primary election season, campaigns will try to help senior citizens register for mail-in ballots. But Texas election officials, including Bexar County's election administrator Jacquelyn Callanen, are mailing back hundreds of applications, all of them linked to one campaign.
"When we receive a primary election, we receive a number of mail-in ballot applications from a number of campaigns and we started to receive some last week that did not have a party check on them," Callanen said.
Those incomplete applications came from Abbott's re-election campaign and were mailed not only to seniors that voted Republican in the last election but also to traditional Democrat and independent voters, according to the campaign.
Campaign spokesman John Wittman said part of its effort is to attract voters who don't traditionally vote in a Republican primary.
"This mail-in ballot application drive is result of a test that Texans for Greg Abbott did in 2014. This election, we've expanded it 10-fold," Wittman said.
Glen Maxey, who heads up the Texas Democratic Party's mail-in ballot campaign, was one of the first to notice problems with the Abbott application, which he said is decorated with the Abbott campaign logo and has very small printed instructions informing the voter they must indicate whether they need a Democrat or Republican mail-in ballot.
"This application is about six-point type. A person of age — such as myself — I can't read the application even with my glasses," Maxey said.
Callanen said it is costing individual counties hundreds of dollars to reject the incomplete applications, and the extra effort of sending out all the rejection letters is slowing down her office's productivity.
The deadline to submit an application for a mail-in ballot is Feb. 23.